In the third in a series of profiles of the young men competing in this year's Alpha Beautillion, we spotlight Samson Douglas.
His profile, courtesy of the Alphas, says: "Samson Branch Douglas was born on April 28, 2000 in Bermuda. He is the son of parents Samantha Branch and Keith Douglas and he has one sister who is named Safiya Harvey.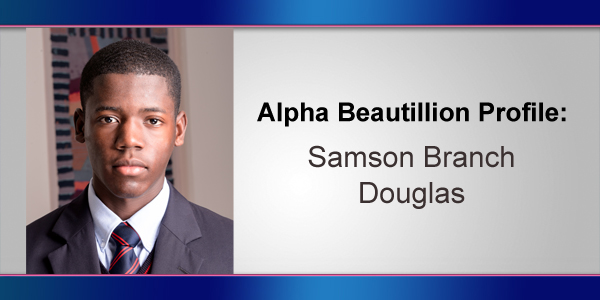 "Samson attended Warwick Pre-school and then Purvis Primary School for six years. In his final year in primary school, he was selected as Deputy Head Boy. Currently, Samson attends Saltus Grammar School and participates in many sports events including cricket, football, track and field; additionally, he has participated in the Senior Orchestra and String Quartet.
"Outside of school, he has played the violin with the Bermuda School of Music for 12 years, and has also completed Grades 1, 2, 3 and 5 for ABRSM music theory. During these past 12 years with the Bermuda School of Music he has performed in solo concerts, and with the Junior and the Senior Orchestra.
"Samson has also played in a number of different string ensembles and has also been on two music trips with to North Carolina and Boston. Over the past 3 years, however, Samson has focused on golf, and has completed his Bronze Duke of Edinburgh; currently, he is working towards obtaining his Silver award.
"Samson is always working hard when it comes to academics. This hard work has paid off as Samson has consistently received high scholastic achievements in school. Samson passed all of his GCSE's with grades of A* to C as a result, he was given an award for achieving outstanding results in his GCSE's. Due to his hard work and persistence Samson has put in throughout his years at Saltus, he has been placed on the honor roll on many different occasions.
"In his free time, Samson is always trying to learn new things. It can take him an hour or so to complete a 30-minute research assignment because he has an insatiable thirst for acquiring knowledge. Daily he would ask a question like "Did you know that…?" and a question of this nature always culminates with a lengthy speech on how the economy can be improved. Although Samson is a quiet person, don't let that surprise you, because his mind is constantly working overtime. He is vastly interested in the economy, politics and sports.
"Samson is in his penultimate year at Saltus Grammar School. He plans on going to University in the United Kingdom were he wants to study Accounting and Finance. He then hopes to come back to Bermuda to start a professional career in that field and eventually start up and operate his own company."
"Samson is greatly inspired by the great boxing legend Muhammad Ali and inspired by a quote by him that says "Impossible is just a big word thrown around by small men who find it easier to live in the world they've been given than to explore the power they have to change it. Impossible is not a fact. It's an opinion. Impossible is not a declaration. It's a dare. Impossible is potential. Impossible is temporary. Impossible is nothing."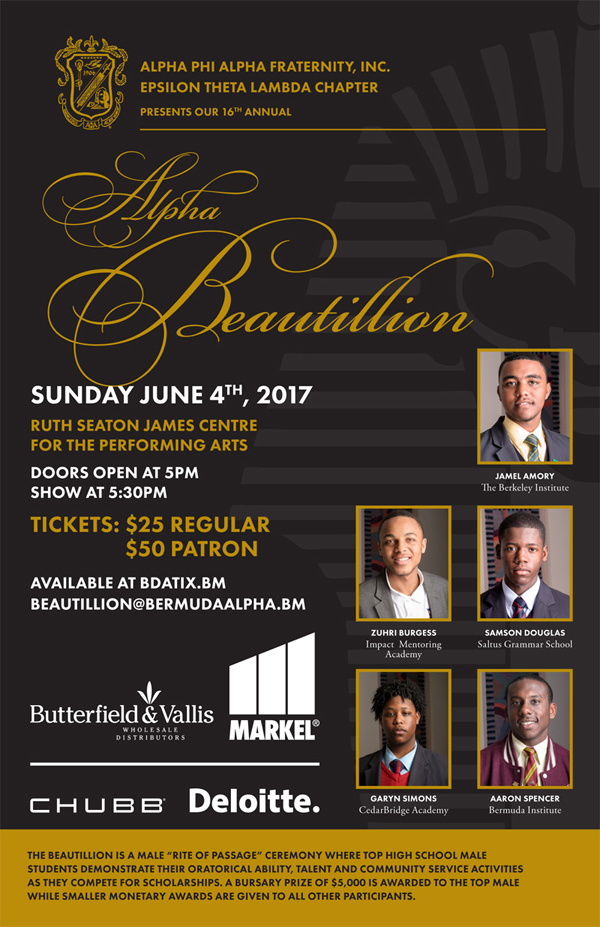 The Alpha Beautillion is a "Rite of Passage" Ceremony where top high school male students demonstrate their oratorical ability, talent, and community service activities as they compete for scholarships, with a bursary prize of $5,000 awarded to the top male and smaller monetary awards given to all other participants.
The 16th Annual Alpha Beautillion will be held on Sunday June 4th at the Ruth Seaton James Auditorium, with regular tickets costing $25 and patron tickets costing $50.
Tickets are available at bdatix.bm, and for more information please email beautillion@bermudaalpha.bm. For all our coverage of the Alpha Beautillion click here.

Read More About