In the fourth in a series of profiles of the young men competing in this year's Alpha Beautillion, we spotlight Jamel Amory .
His profile, courtesy of the Alphas, says: "Jamel Dwayne Amory Jr. was born in Bermuda on March 21st, 1999, to loving parents Jamel Amory Sr. and Shakera Richardson. He attended Prospect Primary, West Pembroke Primary, and Sandys Secondary Middle School. He is currently an honor roll student at the Berkeley Institute, and will graduate in June 2017. Jamel is set to further his education at Thomas College in the fall.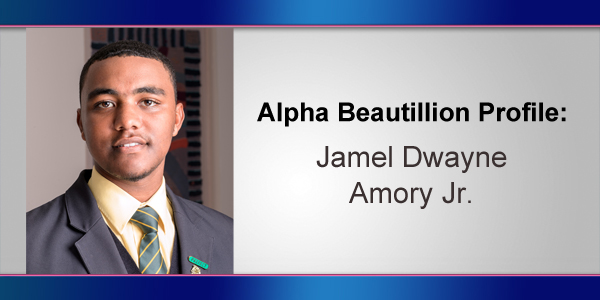 "Growing up, Jamel always had a love for all sports. He has played for football clubs in Bermuda such as the Devonshire Cougars and the Dandy Town Hornets. He has been the captain of his school football team and led them to both League and knockout championships.
"He is also a two time Allstar Champion for the West; winner in the 2015-16 season and runner up in the 2016-17 season. Jamel was also a part of Devonshire Recreational Club's cricket team.
"Jamel is a determined, ambitious, and motivated young man. He is dependable, very organized, responsible, multi-talented, and has remarkable leadership qualities. Jamal has always exhibited high ethical and moral standards, and has a keen sense of personal and community pride. He also has a wonderful sense of humor, and a tremendous passion for life.
"Jamel is a very versatile and innovative individual. When he is not playing football, keeping up with school work, or socializing, he is spending his time designing clothing.
"Jamel has always been interested in fashion, and at the tender age of eleven, he dreamed of owning his own clothing line. In taking steps to achieve his goal, Jamel started his clothing line 'Rookie Fashion' at the age of 15. All of his designs and products are original and sold locally."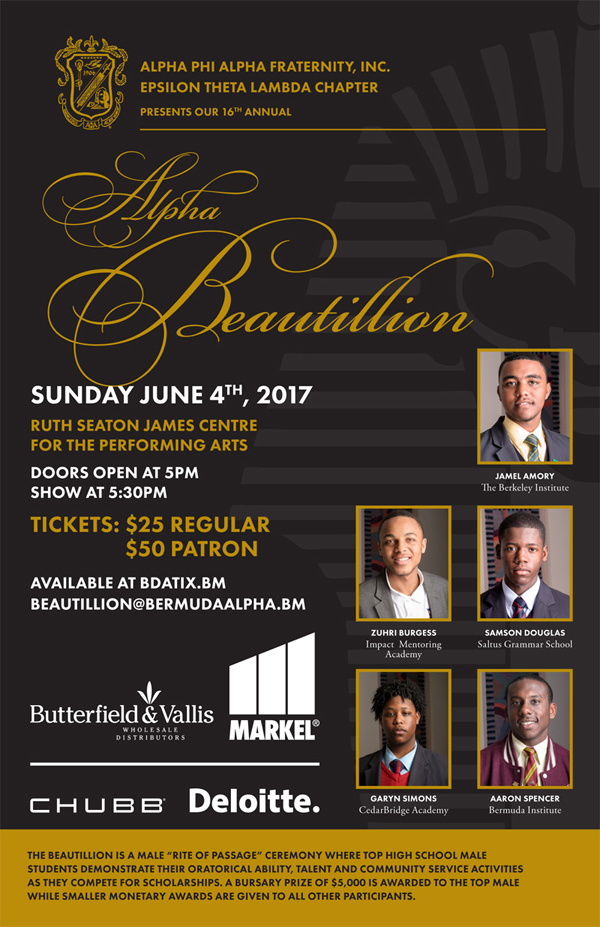 The Alpha Beautillion is a "Rite of Passage" Ceremony where top high school male students demonstrate their oratorical ability, talent, and community service activities as they compete for scholarships, with a bursary prize of $5,000 awarded to the top male and smaller monetary awards given to all other participants.
The 16th Annual Alpha Beautillion will be held on Sunday June 4th at the Ruth Seaton James Auditorium, with regular tickets costing $25 and patron tickets costing $50.
Tickets are available at bdatix.bm, and for more information please email beautillion@bermudaalpha.bm. For all our coverage of the Alpha Beautillion click here.

Read More About