In the second in a series of profiles of the young men competing in this year's Alpha Beautillion, we spotlight Aaron Spencer.
His profile, courtesy of the Alphas, says: "On October 30, 1999, on a sunny day in Bermuda, William Aaron McDonald Spencer II was born to Marcia Spencer and William Aaron McDonald Spencer. His parents always knew Aaron was destined for greatness.
"His motto in life is "I can do all things through Christ who strengthens me" Phil. 4:13 and with this he deems every challenge as an opportunity. Aaron is proud of his multicultural heritage and attributes his easy-going yet unwaveringly determined personality to being a product of Bermudian and Jamaican parents. He has two beautiful sisters Dr. Michelle Spencer, MD and Monica Spencer.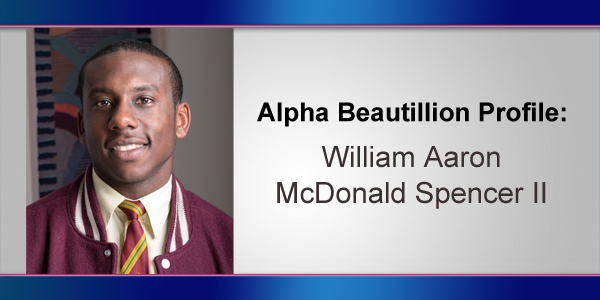 "Aaron has attended Bermuda Institute [BI] for 13 years starting in kindergarten. He is a member of the National Honors Society, serves as a prefect, and is class pastor of the Bermuda Institute 2017 graduating class. He represented BI in the KPMG Investment Challenge and he and his teammate won the Investment Challenge winning $10,000 for his school.
"After high school Aaron plans to attend the Oakwood University and will major in business with an emphasis in accounting and minor in music. Aaron has excelled academically and he enjoys participating in extra-curriculum activities. He is a martial artist in Jiu-Jitsu, a saxophonist, and a footballer.
"In Jiu-Jitsu Aaron is a brown belt. He trained for ten years with the Jiu-Jitsu Club of Bermuda under the direction of Professor Alvin Lee and has participated in numerous martial arts tournaments.
"Aaron has been recognized as one of Bermuda's best young musicians. He plays the saxophone and has passed the Royal School of Music [RSM] grade 8 exam with a merit. He has completed up to grade 5 in RSM theory. Aaron excelled quickly in learning the saxophone and he only needed to take three practical exams before passing grade 8.
"Aaron is very thankful to have had a great teacher and musician in Wendell "Shine" Hayward tutor him. Aaron won the Ghandi Burgess Award for being a promising young musician three times. You can find him playing at churches, weddings, parties and other functions.
"Some of the notable functions Aaron has played at include the 2016 Premier's Concert, Cablevision Banquet, PLP's Founders Banquet and 2016 National Hero's Reception when Sir. John W. Swan was inducted.
"He also uses his talents to provide community service at PAL's Tea, Ovarian Cancer Fundraiser, and at many rest homes particularly at Loraine and Matilda Smith. He has had the privilege at a very young age to play with some of Bermuda's best musicians in the Sax Attack. He was recently nominated for the Teen Services Performing Arts Award.
"Aaron is also a talented young footballer. He was also nominated for the Teen Services Sports Awards. He is a member of the X-Road Warriors, who have recently been promoted to the Premier Division for the first time, after winning the First Division. Aaron was very helpful in his team's success with four goals and many assists in the league.
"He was nominated for the Bermuda Football Association's First Division Most Valuable Young Player Award and was a finalist. He has also represented Bermuda in the under-17 World Cup Qualifiers and the Copa de Mexico tournament.
"Aaron loves to play football and if he is not playing football he is talking about it. He is extremely thankful for Andrew Bascome's summer camps at Bernard's Park that he attended for several years that helped to develop his football skills.
"Aaron recognizes that to whom much is given much is required. He is thankful to his parents for everything they have done to mold him into the young man he is today. His advice to Bermuda's young people is, "Never give up!"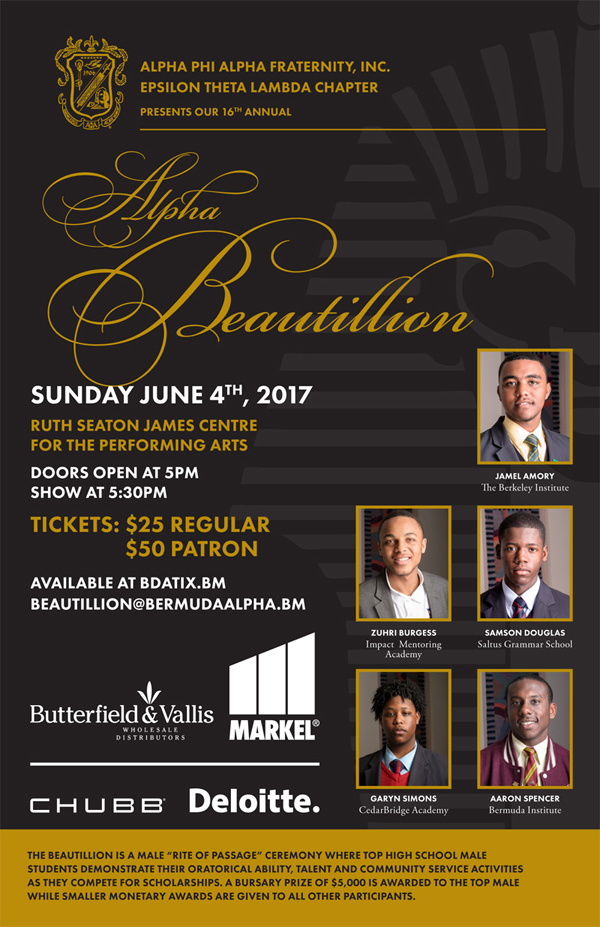 The Alpha Beautillion is a "Rite of Passage" Ceremony where top high school male students demonstrate their oratorical ability, talent, and community service activities as they compete for scholarships, with a bursary prize of $5,000 awarded to the top male and smaller monetary awards given to all other participants.
The 16th Annual Alpha Beautillion will be held on Sunday June 4th at the Ruth Seaton James Auditorium, with regular tickets costing $25 and patron tickets costing $50.
Tickets are available at bdatix.bm, and for more information please email beautillion@bermudaalpha.bm. For all our coverage of the Alpha Beautillion click here.

Read More About