In the first in a series of profiles of the young men competing in this year's Alpha Beautillion, we spotlight Zuhri Burgess.
His profile, courtesy of the Alphas, says: "Zuhri Kebede Tahjame Burgess was born on the island of Bermuda on March 16, 2000 to Aljame Zuill and Takiyah Burgess. Zuhri also has a five year old sister name Zoei Burgess.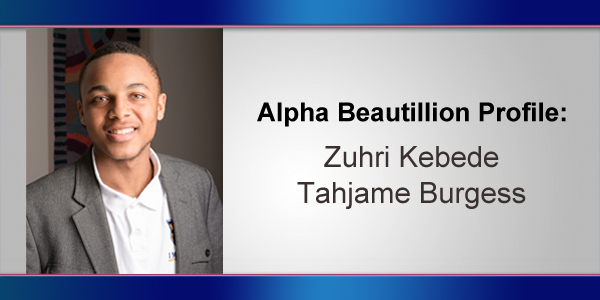 "Zuhri began his educational journey in 2004 attending Lyceum Pre-School before moving on in 2005 Francis Patton Primary and Clearwater Middle School. In 2014, Zuhri spent his first year of high school overseas at IMG Academy in Florida before returning home a year later beginning his journey at Impact Mentoring Academy.
"Zuhri has always had a calm, humble spirit and is known for his leadership skills, passion and athleticism; he enjoys traveling, spending time with his family and his passion – football. During Zuhri's younger years he was always interested in playing and watching football looking up to Arsenal Striker Thierry Henry.
"From a very young age Zuhri spent his weekends playing for the Hamilton Parish Hot Peppers. Whilst playing football, Zurhi gravitated towards track running after realizing his speed on the football field.
"Beginning his track career at the age of five years old; Zuhri won the Telford Electric Mile four years in a row. His success in both sporting areas encouraged him to continue his journey playing football and running track throughout middle school.
"Eventually realizing he had a greater passion for football, Zuhri focused more on bettering his football career; as a result, winning numerous amount of awards, medals, and trophies. Zuhri has been playing with The Bermuda National Academy and has represented Bermuda whilst serving as captain of the country since the age of twelve years old.
"After completing Clearwater Middle School, Zuhri had the unique opportunity of studying overseas at IMG Academy while being apart of the football team. In his fifteenth year Zuhri played with the IMG Academy's under sixteen's Florida Seminole League. Zuhri currently plays in the Premier League with Robin Hood Football Club.
"Zuhri hopes to further his studies in The United States to pursue a degree in Physiotherapy. He looks forward to working for a professional football team, even aiming to be a professional football player.
"Zuhri is continuing on his path to reaching his dreams, taking pride in everything he strives to accomplish, taking one step at a time while continuing to hold his head high. As Zuhri strives for success, it is his goal to continue working to his full potential.
"He is assured that he will fulfill his dreams because he has the love and support of family and friends undergirding him every step of the way."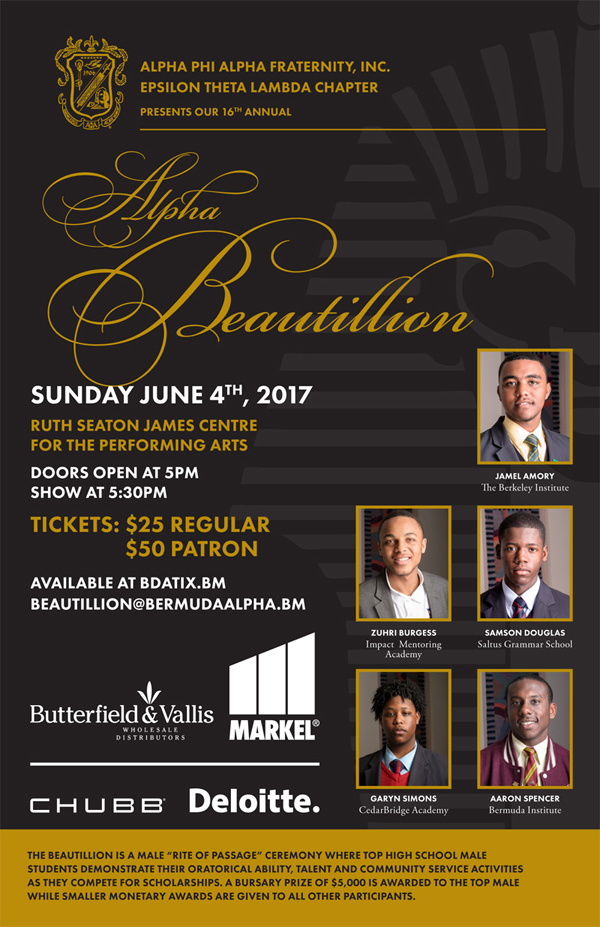 The Alpha Beautillion is a "Rite of Passage" Ceremony where top high school male students demonstrate their oratorical ability, talent, and community service activities as they compete for scholarships, with a bursary prize of $5,000 awarded to the top male and smaller monetary awards given to all other participants.
The 16th Annual Alpha Beautillion will be held on Sunday June 4th at the Ruth Seaton James Auditorium, with regular tickets costing $25 and patron tickets costing $50.
Tickets are available at bdatix.bm, and for more information please email beautillion@bermudaalpha.bm. For all our coverage of the Alpha Beautillion click here.

Read More About