The crew of the Race for Water is enjoying their stopover in Bermuda – but it has not been a holiday since they arrived safely in port 10 days ago.
Although, after a month crossing the Atlantic, using only the power of the sun and the wind, the crew were happy to get their feet back on dry land and to be joined by some reinforcements from the shore team to handle a busy first few days.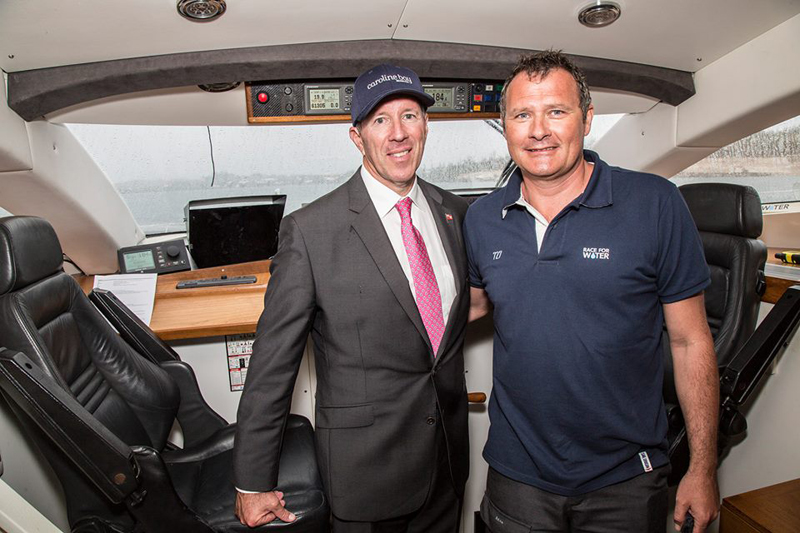 As soon as it had moored on the pontoon of the Caroline Bay Marina, which had been inaugurated that day, Race for Water was given an welcome by Premier Michael Dunkley.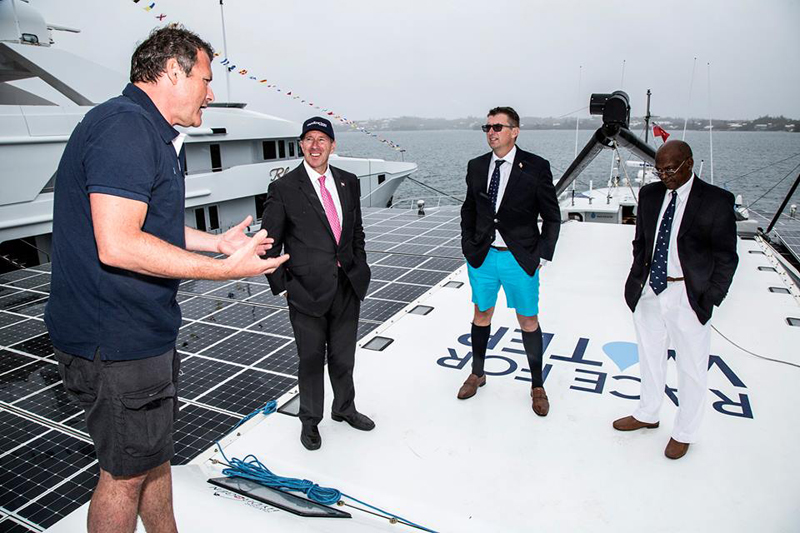 Anne Hyde, President of the Keep Bermuda Beautiful foundation, who had also welcomed the Odyssey 2015, came to greet the crew as well and talk with them about ocean conservation.
Likewise, Stuart Kriendler and his team from BeSolar, who took advantage of the opportunity to present Simeoni with their latest generation solar panel.
There was a continuous flow of these visits, planned and impromptu, over the course of the first few days before leaving space for the guests of Groupama Team France.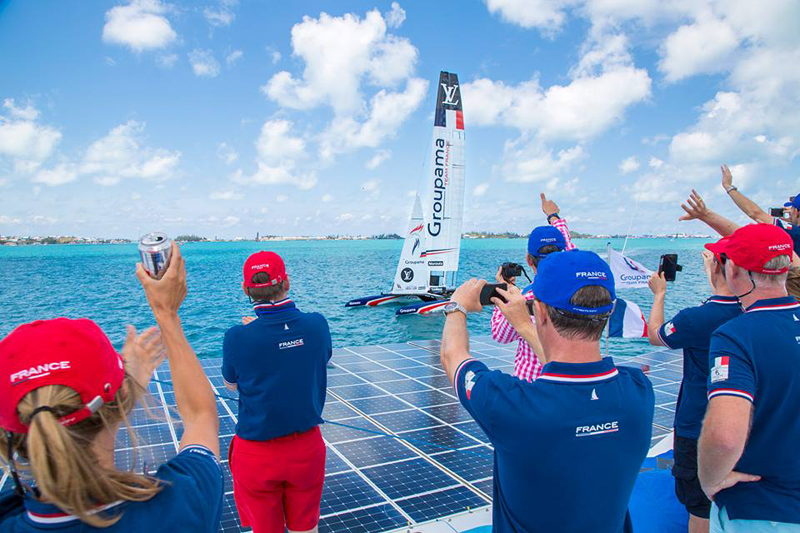 The Race for Water Foundation is an official supporter of Groupama Team France, as the environmental partner of the French team competing in this 35th edition.
It is a partnership that has grown organically as the two teams have the same home port [Lorient] and share the same nautical values and interest in technology: sporting for the crew of Franck Cammas and environmental for that of Marco Simeoni's.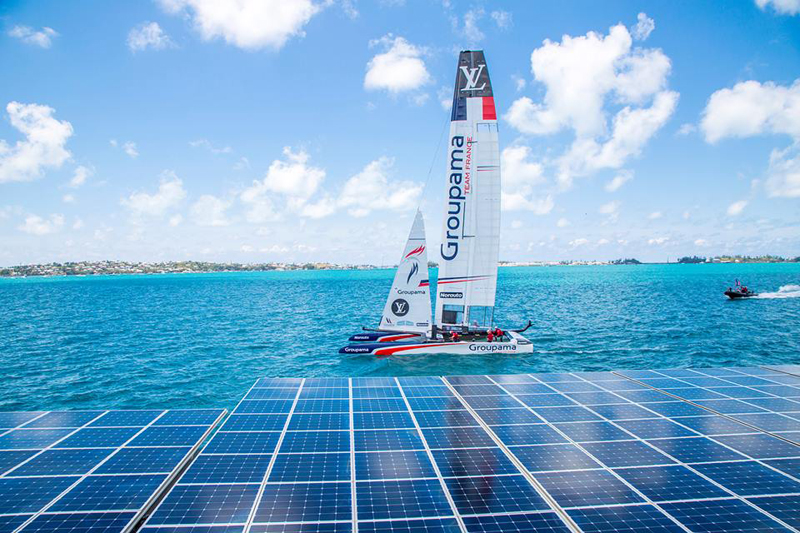 During the competition, the Race for Water welcomes the guests of Groupama on board so that they can experience, as closely as possible, the deeds of the French sailors while benefitting from the expert analysis of Michel Desjoyeaux [an ambassador for the Race for Water Foundation and Groupama Team France].
Race for Water, with its futuristic design, is anchored as close as is possible to the field of play in order to follow the match racing. The vessel has not gone unnoticed and has plenty of curious visitors on the water as well.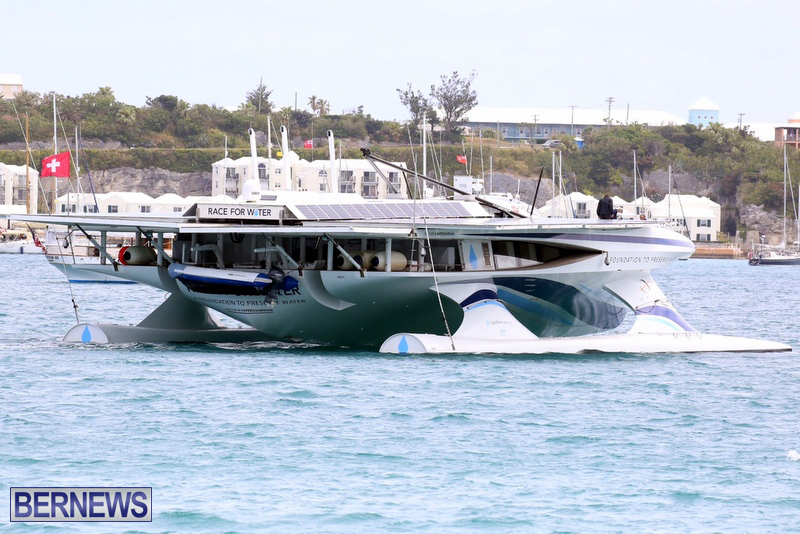 Alongside the America's Cup, Marco Simeoni and members of the Race for Water Foundation are continuing their work around ocean conservation.
They will hold a workshop on the energy recovery from waste on June 1 and will host a gala cocktail evening that night on board Race for Water.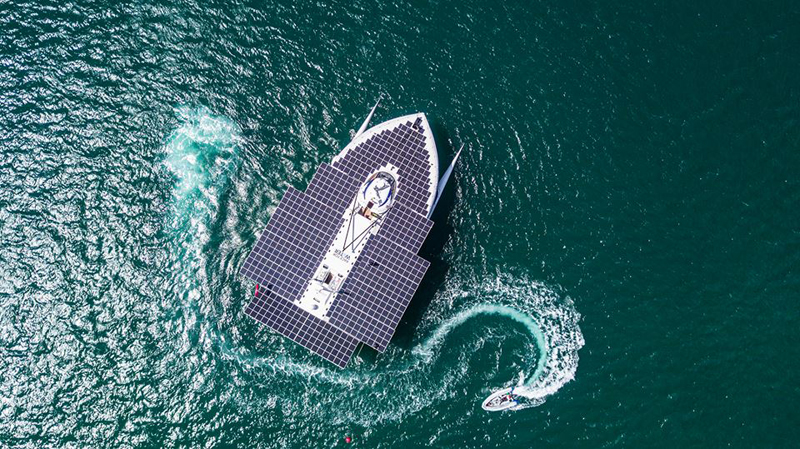 The Race for Water Foundation program in Bermuda from May 20 to July 7, 2017
June 1: Workshop "Waste to Energy"
June 1: Gala cocktail evening
June 7, 8, 12 and 13: School visits organized by the Bermuda Department of Energy
June 13: Cocktail evening for the Young Presidents Organization
June 30: "Environment" Workshop
June 29 to July 7: Scientific study for the EPHEMARE program [JPI Oceans]
Read More About