After more than a month in the waters of Bermuda, acting as a forum for discussions around the conservation of the oceans and supporting the French campaign in the America's Cup, the Race for Water vessel left Bermuda on Saturday [July 8] for Cuba, the first stop on their 2017-2020 Odyssey expedition.
The vessel also acted as a conference center for the first "From Plastic Waste to Energy" seminar and for the first workshop of the Odyssey 2017-2021.
Over the past week, the boat also transformed into a scientific station and welcomed the first researchers from the EPHEMARE project, supported by the European consortium, JPI Oceans. During this time, Race for Water witnessed a series of micro-plastic samplings, which will enable the study of their toxicological effect on marine ecosystems.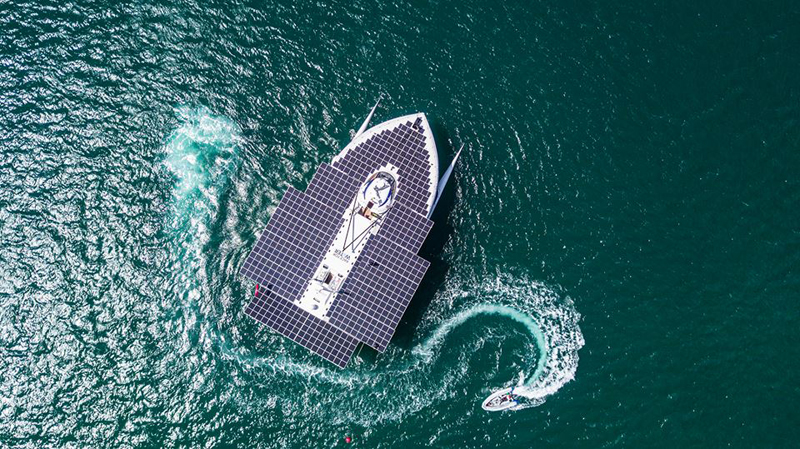 The Race for Water website says of their time in Bermuda, "From the reception for Mr. Michael Dunkley, Prime Minister of Bermuda, to the reunion with many of the committed people from the island that the Race for Water Foundation met in 2015 during the first Odyssey, this first stopover was notable for some great new encounters.
"Through the enthusiasm for the America's Cup, the Foundation was able to raise awareness among the general public about the importance of the oceans and of the solutions that exist for conserving them from plastic pollution.
"Meeting with the various racing teams was naturally a highlight, as was the visit of 150 school children and the first seminar organized on board this ambassador vessel. It enabled the experts from Race for Water to present their project to create a value chain from plastic waste through energy recovery.
"More than 20 Bermudian business leaders, government technical officials, and NGO members, as well as Mr. Sylvan Richards, minister of the environment, were on board to share their thoughts on this critical issue in Bermuda and for islands in general.
"Other highlights were the scientific workshop on the problem of plastic waste, organized in collaboration with the Keep Bermuda Beautiful Association, led by Anne Hyde, and promoted online through the Foundation's social networks.
"And also the Bermuda Underwater Exploration Institute's conference, which gave the crew of Race for Water a wonderful public platform to present the specifics of the Odyssey 2017-2021 to the general public."
For more information, or to track the boat, visit the website.
Read More About
Category: All, Environment