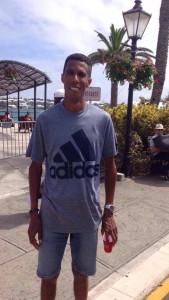 [Written by Maya Palacio]
Jay Donawa wins the Appleby Bermuda Day Half Marathon after many years of competing.
The 44-year-old athlete says he has lost count on the number of Bermuda Day races he has competed in, but yesterday's race was his last.
"I'm retired now. I'm going to go off on the top."
Before the race yesterday, Donawa had good intentions on finishing in his well deserved first place but remained alerted of endeavors an athlete may face while competing.
"I went into the race optimistically cautious," says Donawa.
"I used my experience and my experience paid off because it was a technical race and my tactics sort of dictated the race early and once I made a move I was able to be victorious."
As a dedicated athlete who preaches that one should never give up in life, Donawa strived for his success yesterday through continuous training.
"I train regular, once a day. I keep it pretty steady."
Many long-time supporters of Donawa exclaimed that "this is his -Donawa- day" and Donawa was congratulated throughout the Bermuda Day parade where he spent the rest of his day with his son.
"I plan to be with friends and family today."
The now retired athlete was not focused on time for the race, crossing the finish line at 1:20:08. Donawa was more focused on running his own race and keeping a good pace that will put him on top.
"I wasn't really too concerned about the time. It was so serial, I mean I had done it and finally won the race and it was exciting to come across like that."
1 hour 45 minute live video replay of the Half-Marathon finish line

Read More About