"It's a dream come true," Jay Donawa said after winning today's [May 24] Bermuda Half Marathon Derby, adding that today will be his last marathon, as he wants to "go out on top."
Saying that he is "still a little bit deaf from the crowd support," he thanked everyone for supporting him, saying he is very thankful to everyone.
The veteran runner crossed the finish line in a time of 1:20:08, followed by Evan Naude, who finished with a time of 1:21:50, Christopher Harris with a time of 1:23:16, Artur Paulino with a time of 1:25:27, and Glen Wilks, who crossed the line with a time of 1:28:35 to round out the top five finishers.
Jay Donawa crossing the finish line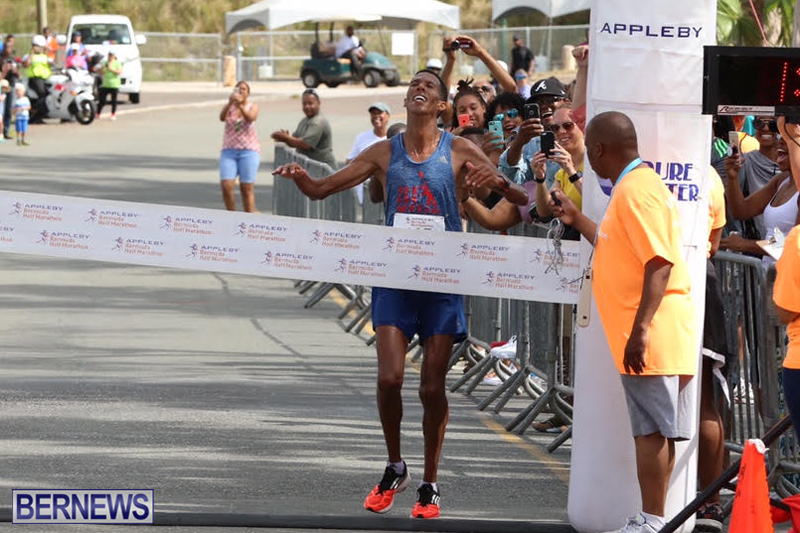 Following his victory, Mr. Donawa told Bernews, "It's a dream come true. As a boy, it's something I always thought about. Say like about 10 years ago I finished second for the eighth time; somehow I found myself to be, at 44 years old, in shape enough to go out there and compete.
"I ran against the competition that was there today and I was able to withstand any of the challenges. I'm still kind of at a loss for words.
"You know, for me, it's like this is just don't ever give up, because you never know. That opportunity is just going to come, and if you think about it now, I don't have to ever, ever, ever prove that I did it.
"So, today is going to be my last marathon for me. I'm going to go out on top because you know, at 44, I guess I'm not going to be able to compete against the younger guys that are really fit and stuff like that.
"But today is my day and I'm very thankful to everybody that supported me."
Audio of Mr Donawa's comments
Regarding the race course, Mr. Donawa said, "It wasn't too bad you know, I thought it was favorable wind, it was a little windy coming across the causeway, as to be expected, but I thought it was going to be a lot harder, but it was pretty good.
"I just sort of maintained myself and I did it. I'm proud to be one of the oldest, oldest runners, it's probably the slowest time but hey, I don't care, I won. That was all that mattered.
Mr. Donawa said, "I came across the line and I'm like, I think I'm still a little bit deaf from the crowd support. If you ask me, people had better know my name today, this morning, they know it now, just because of the amount of people that shouted out to me, so yeah, I'm thankful."
For continuing live updates during Bermuda Day events click here, and for all of our Bermuda Day coverage, click here.
1 hour 45 minute live video replay of the Half-Marathon finish line

Read More About