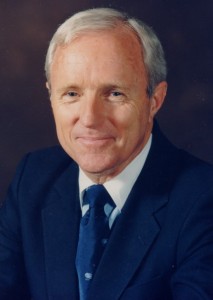 [Written by Don Burgess + Updated]
Tributes are pouring in for former Premier Dr. David Saul, who passed away today.
Dr. Saul, 77, served as Bermuda's fifth Premier from August 25, 1995 to March 27, 1997 for the United Bermuda Party.
Dame Pamela Gordon, who served as Premier immediately after Dr. Saul, said "On behalf of myself, husband and my family it is with the deepest of sorrow that we acknowledge the passing of David Saul, who, in my mind, was a phenomenal guy."
Dame Pamela said she had seen Dr. Saul a few weeks ago as they were coming through the L.F. Wade International Airport after his first stroke.
"We could tell that he was struggling but he was his normal, wonderful self and gave us big hugs. Our thoughts and prayers were with him then and, more importantly, our thoughts and prayers are with Christine, [his children] Johnathan and Robin, and his grandkids. We wish them peace because they were a very tightknit family.
"I genuinely believe that Dr. Saul had his priorities right. He always believed you look after your family first, your country second and then you take care of the rest."
"It with a heavy heart this morning that offer our deepest and our most sincere condolences."
Dr. Saul took over the reins of the country after Sir John Swan stepped down after the referendum for independence failed.
She said his approach was one of "no nonsense. He always believed that if you did the right thing, the right would prevail. Unfortunately,…the way the political landscape evolved in a place as small as Bermuda, you had many people who didn't like his analogy of 'Bermuda Inc.' He was a realist.
"The truth is we see lots of times a pompous display of arrogance that comes through with people who are involved in politics in Bermuda when we are technically small town USA. We are this little place and we have been extremely blessed.
"We have been well-governed over the years, and unfortunately that goes to people's heads and we think we have a greater significance on the world stage than we generally do.
"David Saul was a realist about where we fit and what we needed to do because of her size, because of our abilities and because of our strategic location.
"All these things made Bermuda a good place to do business and it was well-governed.
"His leadership was such that he did the best that he could. I believe what took the wind out of his sails was that censure. When they censured him, that was enough for him to say 'enough.' And this was somebody who had Bermuda's best interest at heart and to be censured in the way he was censured was enough for him to say 'to heck with this' and he walked away and rightly so."
Former long-time Tourism Minister Jim Woolridge, said: "I had the pleasure of working with him as Premier and worked with him in Cabinet and there wasn't a far more astute person than David Saul. He was very, very dedicated person. He did everything perfect.
"I would like to pass my condolences on to his wife Christine and family and hope that they will be able to withstand the strain of this shock."
Opposition Leader David Burt said, "On behalf of the Progressive Labour Party, I extend condolences to the family of former Premier Dr. David Saul.
"Dr. Saul served as Premier under the United Bermuda Party administration from 1995-1997 and we thank him for his service to our country. Dr. Saul was a man of tremendous energy and, in every pursuit, he was determined to do things well.
"To his wife, Christine, children Jonathan and Robin, grandchildren, extended family and friends, I pray that your memories will sustain you during this difficult time."
Premier Michael Dunkley said, "My colleagues and I were so saddened to learn of the passing of former Premier, Dr. David Saul. On behalf of the Government and the people of Bermuda, I extend deepest and sincerest condolences to Dr. Saul's family and friends.
"Dr. Saul was a man of great integrity who had such an immense love for Bermuda. His career spanned many years in public service, including serving in the roles of Permanent Secretary of Education and Financial Secretary.
"As the Minister of Finance and later as the Premier of Bermuda, he represented our Country with passion, pride and vision, advancing key policies aimed at progressing Bermuda forward.
"In his later years, as the public is keenly aware, he devoted all of his energy and attention to his philanthropic endeavours. Working with various charitable organizations Dr. Saul made it his mission to raise awareness about the importance of protecting and preserving our marine environment.
"Personally, I was proud to call Dr. Saul a friend. I will remember him for his kindness, his generosity, his adventurous spirit and for embracing all that life had to offer. He will be greatly missed. May he rest in peace."
Update: Minister of Economic Development Dr. Grant Gibbons said, "I was very sad to hear of Dr David Saul's passing this morning and extend my deepest sympathies to his wife Christine and his children, Robin and Jonathan.
"I had the pleasure of serving in Dr David Saul's Cabinet as Minister of Finance and can say that David led by example. He was extremely bright, inquisitive and focused, with an enduring passion for Bermuda and her people.
"He often reminded Cabinet of Government's responsibilities to "advance the peace, prosperity and welfare of these islands…"
"His extensive experience in business and as permanent secretary in both Education and Finance prepared him well for the difficult challenges he faced as Premier following the contentious referendum on independence in 1995.
"As a former educator, he coined the phrase "Bermuda Inc." as a way of explaining to the public the important contributions of both tourism and international business to the welfare of all Bermudians and our economic viability as a country.
"Dr Saul made significant contributions to Bermuda during his life and will be sadly missed by those of us who were fortunate to have worked with him as a friend and colleague."
John Barritt said Dr. Saul deserves a lot of credit for creating the mandatory national pension scheme. Mr. Barritt, who was also the first leader of the One Bermuda Alliance, said he had many fond memories of Dr. Saul
"First, my sincere condolences to David's family: his wife, Christine, children, Jonathan and Robin, and grandchildren. I appreciate their loss. David was foremost a family man. He loved them all dearly and was proud of each of them.
"Bermuda has lost a good friend too. He dedicated much of his life to making this island a better place in which to live, for all us. Politics, and becoming Premier, was just a part of the selfless service he chose to give, but an important part nonetheless.
"There were other areas in which he worked just as hard and just as diligently and here I have in mind his work with the National Trust and the environment, and with the Bermuda Debate Society, always helping and encouraging young debaters.
"David loved to debate himself. I expect quite a few people inside and outside the House of Assembly will remember him as a strong debater. Never at a loss for words or for quick quip. He could and always would give a good account of himself and, such was his grasp, on any issue as well. David was capable of holding his ground.
"I remember his tenure as Minister for Finance before he became Premier. He kept a tight hold of the purse strings as he thought he should, much to the chagrin of some of his colleagues in Government, and he would not back down when he thought he was right. I also think David deserves a lot of credit for helping to introduce a mandatory national pension scheme.
"I got to know David even better as his running mate back in the 90's in Devonshire South. We spent a fair bit of time together back then on the road. As I recall, we had around 2400 voters in the constituency and we endeavoured to try and canvas them all on a regular basis, almost weekly if we could. Such was his commitment, notwithstanding his onerous duties first as Minister of Finance and then as Premier. It was a valuable lesson.
"It was also consistent with David, the runner, the athlete: perpetual motion, as I remember. Always moving, yes, but always moving forward.
"It was through canvassing that people also got to see the other side of David: a warm and personable man who would also listen and do what he could to help them. I remember fondly too, how he helped organise and then get down on his knees to nick marbles with kids in the Cedar Park neighbourhood. He not only could be, but was a regular guy at heart.
"Finally, David was always full of optimism, matched only by his enthusiasm, and there was no challenge or problem that he didn't think could be overcome by hard work and by perseverance; and when that didn't work, by working even harder.
"It was not surprising now that I look back on his life, that Rudyard Kipling's poem "If" was one of his favourites. David always kept his head and maintained a common touch. He wasn't big on awards and ceremonies either.
"He taught all of us who knew him a lot about how to tackle life and its problems: by the scruff of the neck and never ever let go until you have to. May he rest now in peace."
The SeaView Ultimate Fitness Club said, "What can we say about Dr. Saul, kind hearted, witty, always positive, walking encyclopedia, strong will, straight up, and just an overall nice person.
"We, at SeaView Gym are very sadden by hearing of the passing of our family member Dr. Saul, he was a member since 2005. Every person that has come into the gym, doesn't have a bad word to say about him, we are all pretty bummed out.
"We were all looking forward to him coming back and telling us how he survived another 'obstacle' in life. He had a heart of gold and loved Bermuda and her people, and loved having a good conversation about, well pretty much anything.
"Dr. David Saul, we appreciate you, we love you and we will definitely miss you. Our condolences and our love is with Mrs. Saul, his children and grandchildren."
Update 6.39pm: Governor John Rankin said, "I and my colleagues at Government House were sorry to learn of the passing of former Premier Dr David Saul. He was an individual who served Bermuda and many good causes on this island with dedication and distinction. We offer our condolences to his wife and family and hope that the prayers and support of friends will help them in the coming days."
Update May 16, 6.41am: Project Action Chairperson Cindy Swan said, "On behalf of Project Action I would like to add to the condolences offered to the family of former Premier Dr. Hon. David Saul. It was through Project Action's charitable tea parties and silent auctions that I became acquainted with Dr. David Saul.
"I recall David calling me and offering lovely cedar sculptures he'd hand carved. As a matter of fact, he invited me up to his home and proudly shared his extensive rare stamps and coin collections and other fabulous artifacts.
"I recall joking with him, telling him he still had that special teacher instinct as showed me around, including pointing to the spot in the ocean where his eternal remains would rest. He not only donated the signed whale sculptures, he attended Project Action's High Tea to conduct the auctioning himself.
"On behalf of Project Action's board of directors, Kim and I, we send our heartfelt condolences to Christine, Jonathan and Robin"
Read More About