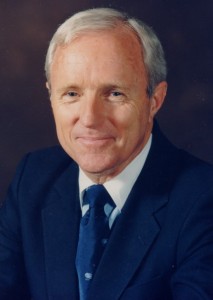 [Written by Don Burgess]
While often recalled as a former Premier, Dr. David Saul was also one of Bermuda's most accomplished runners.
He was elected to the Bermuda Sports Hall of Fame in December 2014 for his feats, but that election almost didn't happen.
He had been nominated for election but in the verification process of his achievements, Dr. Saul was not able to find his record for the mile. Being a man of honour and integrity, he had submitted the withdrawal of his name to the Sports Hall of Fame Committee.
Fortunately, earlier that day, the Committee's researcher had found proof that the record existed in a small excerpt in an old edition of the Royal Gazette. His name was restored to the list, and his election as one of Bermuda's great athletes was ensured.
Dr. Saul attended Mount Saint Agnes before finishing his last year of schooling at Saltus Grammar School. When he was 14, DJ Williams, an educator and fellow Bermuda Sports Hall of Famer, challenged Dr. Saul to train to see just how good a runner he could be. On Saturday mornings he would meet Mr. Williams at at Horseshoe Bay at 5:30am to run the sand dunes.
In a small inkling of what was to come for him, he became the second Bermudian to break the five-minute mile. Unfortunately for Dr Saul, the first person was Ross Menzies who crossed the finish line ahead of him in the Bermuda National Championships in May 1957 shattering the mile record by 13 seconds.
Mr. Menzies said in the December 2014 Bermuda Sports Hall of Fame programme: "It was pretty close most of the way and just before the final turn I passed him." He added: "He was my closest competitor in the mile and was a much better distance runner."
Some of Dr Saul's running accomplishments:
Second Bermudian to run a sub-five-minute mile
Set Bermuda mile record 4:42.0 in 1958
Set Bermuda two-mile record 10:37.9 in 1958
Set Bermuda three-mile record 15:38.8 in 1958
Set Bermuda 10-mile record with a 52:53, which stood for 22 years
Runner-up for Athlete of the Year in 1957
Dr. Saul also won the three-mile race for the same National Championships. Those two results were enough for him to finish runner-up for Athlete of the Year behind Mr. Menzies.
The committee that was picking the Athlete of the Year said it was by a "very close margin. We had to divorce from our minds Saul's engaging personality, his quick smile even in defeat and his unselfishness in helping others — even his closest competitors. If the award were for sportsmanship, Saul would have won it."
Dr. Saul was a mainstay of the Bermuda Amateur Athletic track team and competed in several meets against airmen from Kindley Field, beating them in the mile and the 880.
Within the next 12 months he began a prodigious chase to own every running record between one and 10 miles and his 10-mile record of 52:53 held for 22 years before it was broken.
Dr. Saul's improvement as a runner was remarkable. He lowered the mile record to 4:43.2 and a few weeks later at the 1958 Track and Field Championships, he lowered it again, this time to 4:42.0.
In 1959, Dr Saul settled in at Loughborough College in England, which was the perfect environment with one-third of the British national athletics team in attendance.
He qualified for the 1960 Rome Olympics with a time of 15:31 in the 5,000 metres.
However, his Olympic hopes were crushed in January 1960 when he entered the hospital for a simple surgery which went horribly wrong.
Not only did that put an end to his 1960 Olympic bid, but for the 1964 Tokyo Games as well. It took years before the surgery was corrected and another two years before Dr. Saul was back at his best.
He ran a 2:42 in the Bermuda International Marathon in 1969, and in April of the same year he ran a superb 2:47 in the highly competitive Boston Marathon.
With a lifelong passion for running, Dr. Saul would regularly win his age group in races as he grew older, whether it be the Over 40s, Over 50s, Over 60s or Over 70s.
He was a regular participant in the Bermuda Day Half Marathon and loved waving to the crowds as he made his way from Somerset to Hamilton. He also took part in the 2015 race which started in St. George's.
Over the course of his lifetime he ran more than 500,000 miles, and up to the times of his recent stroke you could have still seen him on Sunday mornings going up and down Mt. Kilimanjaro at Horseshoe Bay.
Dr. Saul has had many honours over the year. He was Premier of Bermuda as well as the Minister of Finance, and was awarded an Honourary Doctorate from alma mater Loughborough, but called his election to the Bermuda Sports Hall of Fame "something truly special."
*Don Burgess wrote Dr. Saul's biography for the Bermuda Sports Hall of Fame and this article encompasses much of that material.
Read More About