The Doppler Weather Radar has been undergoing repairs and today [Aug 30] appears to be functioning under testing status. The Bermuda Weather Service Doppler Radar page has a notice that says, "Under Test. Expect Radar Imagery To Be Unavailable From Time To Time For Extended Periods While Repairs Are Conducted!
"Bermuda Airport Authority [BAA] apologizes for the inconvenience of the radar outage. CI2 Aviation Bermuda is diligently working to make the necessary diagnostic checks and repairs to the weather radar to bring it back into service as soon as possible."
Screenshot from the BWS Doppler Radar page: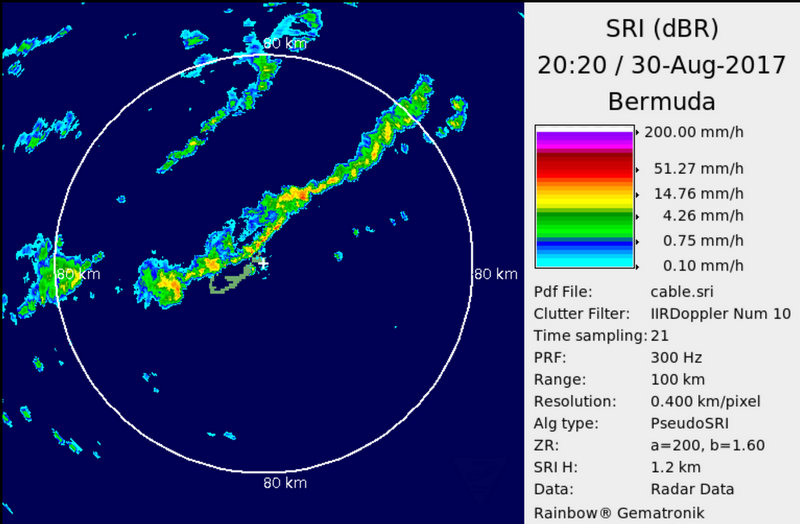 The Bermuda Airport Authority assumed responsibility for the former Department of Airport Operations weather radar system in March 2017. The weather radar system at Cooper's Island was originally installed in 2004 and is now approaching the end of its useful life, according to officials.
A Bermuda Airport Authority spokesperson previously said, "Recently, the system has become increasingly less stable with more frequent outages and the need for specialized maintenance and replacement parts, some of which have to be manufactured overseas.
"The weather radar system was last operational in mid-June 2017 and, since then, several efforts have been made to repair it. Earlier this month the German manufacturer sent an engineer to Bermuda to work on the system, however, it remains out of service.
"Additional replacement parts are now due to arrive within the month and, pending success of the repairs, the weather radar system could be back in operation by mid-September.
Read More About