The Doppler weather radar – which has been out of service since February of this year — appears to be back in operation, with the page noting that "testing and observations continue through Monday."
Screenshot from the BWS Doppler Radar page: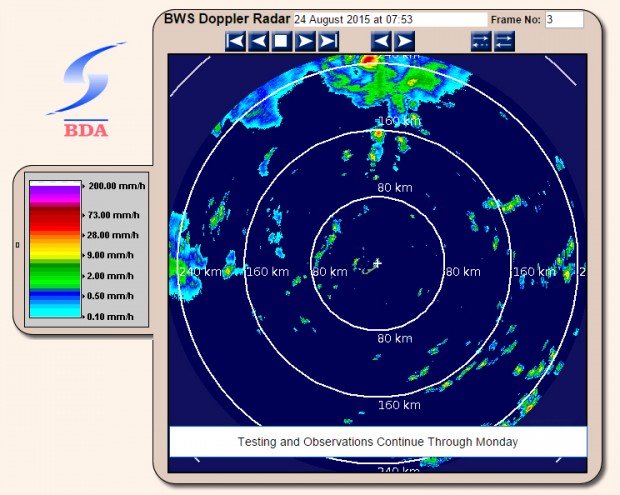 In May 2014, a spokesperson said, "The Doppler weather radar, which provides a moving graphic of rain and storms, is a specialised and complex radar that uses the Doppler effect to produce velocity data about objects at a distance.
"The current Doppler weather radar was purchased and installed in July 2004. The Radar replaced a smaller and much lower powered system, and was primarily intended to enhance the provision of weather forecasting in Bermuda.
"The radar experienced an outage earlier this year and extensive troubleshooting has been necessary in order to identify what the issue was and what parts were required to restore the system to service.
"The necessary repair parts have been ordered and once received on-site technical assistance will be provided by the vendor to complete the installation, inspect the system to identify any further enhancements which will extend the working life of the system and to help ensure that the operating platform remains robust for a number of years to come."
Read More About
Category: All, News, technology