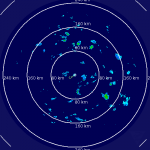 The Department of Airport Operations has advised that the Doppler Weather Radar has been repaired and service restored.
The Doppler radar malfunctioned on February 14 and the Bermuda Weather Service developed a substitute product, derived from satellite data and other sensors, which was put online and provided to Cablevision and WOW for airing on the Bermuda Weather Information Channel within 24 hours of the service outage.
The Department of Airport Operations and the BWS thanked the public for their patience and understanding while technicians worked to address the problem.
Read More About
Category: All, technology