The Managing Directors of KPMG in Bermuda announced that this year's KPMG Scholarship has been awarded to Conor Lohan, a graduate of The Hotchkiss School in Connecticut.
He is pursuing a Bachelor's Degree in Economics at McGill University in Montreal, Canada and aims to obtain his Chartered Professional Accounting designation upon completion of University.
The KPMG Scholarship is awarded annually to a Bermudian student committed to a career as a Chartered Professional Accountant [CPA-Canada], Certified Public Accountant [CPA-US] or an Associated Chartered Accountant [ACA-UK].
Steve Woodward, Managing Director; Conor Lohan, scholarship winner; Wanada Armstrong, Senior Manager; and Craig Bridgewater, Managing Director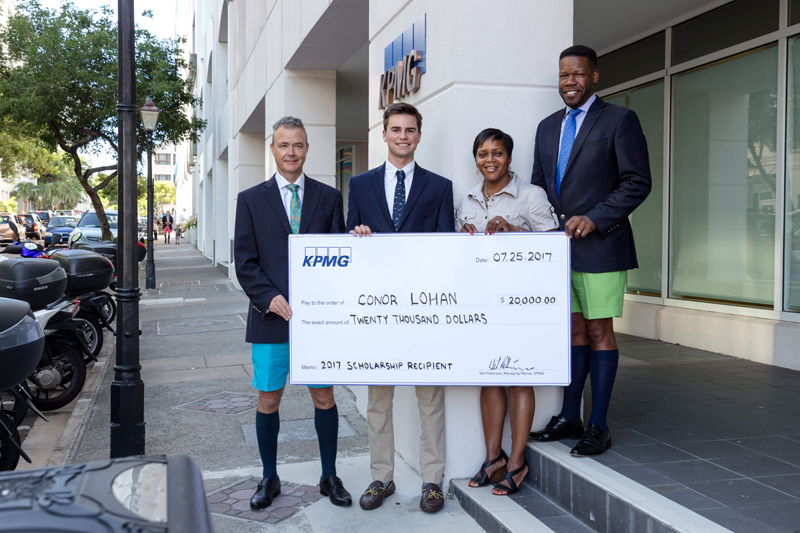 The scholarship provides financial assistance for undergraduates and postgraduates, guaranteed internships, co-op Placements, an invitation to a career and a future full of possibilities.
The KPMG Scholarship has a value of $20,000 per annum and is renewable for a total of three years, providing the recipient meets all of the required conditions.
Recipients are placed in the firm's mentor-driven graduate programme and ensured that every professional step taken is well-planned, supported and coupled with a personalised development plan tailored to meet the individual needs of each graduate.
Steve Woodward, Managing Director, KPMG in Bermuda stated: "The Managing Directors of KPMG in Bermuda are proud to award the 2017 KPMG scholarship to Conor Lohan. Conor has shown a keen interest in Economics, accounting and business and has an excellent academic record. He is well on the way towards obtaining his Bachelor's degree in Economics with a concentration in business.
"Conor has always enjoyed Economics and learning how individual business and markets thrive or struggle. He has excellent leadership qualities, which was an important factor for KPMG's Scholarship Committee when considering his application.
"The Committee was also impressed by Conor's passion for volunteering and his commitment to community services, his work ethic and his commitments to achieving his Chartered Professional Accounting designation, upon graduating from university and pursuing a MBA program in Accounting."
Conor commented, "I am so honoured to be the recipient of the 2017 KPMG Scholarship and am excited to be in a position to start giving back to the firm in the future.
"What appealed to me most about the KPMG scholarship was having the opportunity and mentoring to study for and obtain my CPA and the wide breadth of positions offered within the firm for internships and full-time jobs.
"Through the KPMG scholarship and graduate programme, I now have a clear opportunity to enter a world-renowned firm that has the size and guidance procedures set in place for me to enter an industry that interests me and will allow me to excel with the firm.
"I hope to join KPMG in their Advisory or Financial Services team providing research and consulting services to local companies, helping them to operate to the best of their abilities and thrive in their industry."
To find out more about the KPMG Scholarship visit the KPMG website's "Careers" page.
Read More About