The Continental Society of Bermuda has awarded bursaries to three students in need of financial assistance to go abroad to university.
The winners are Markia Peterson-Williamson, Nia Dailey and M'Dory Woods. Ms Peterson-Williamson was the top winner and received a $4,000 bursary. Ms Dailey was the second place winner of a $1,500 bursary and Ms Woods won a $1,000 bursary. They were selected out of 102 applicants.
The scholarship has been in existence for more than 14 years. The amount awarded is typically $4,000 in total, but due to the large number of applicants, the charity decided to award extra funds.
Denise Simons, President, Continental Society of Bermuda, says: "Our educational and community initiatives are dear to our hearts and we look forward to providing students across the island with whatever help we can. We were thrilled with the response to our annual scholarship and after careful selection, we have chosen the three young women who we believe will greatly benefit from these funds."
Markia Peterson-Williamson, Nia Dailey, Josette Matthew of the Continental Society of Bermuda and M'Dory Woods, Photo courtesy of Damon Hunt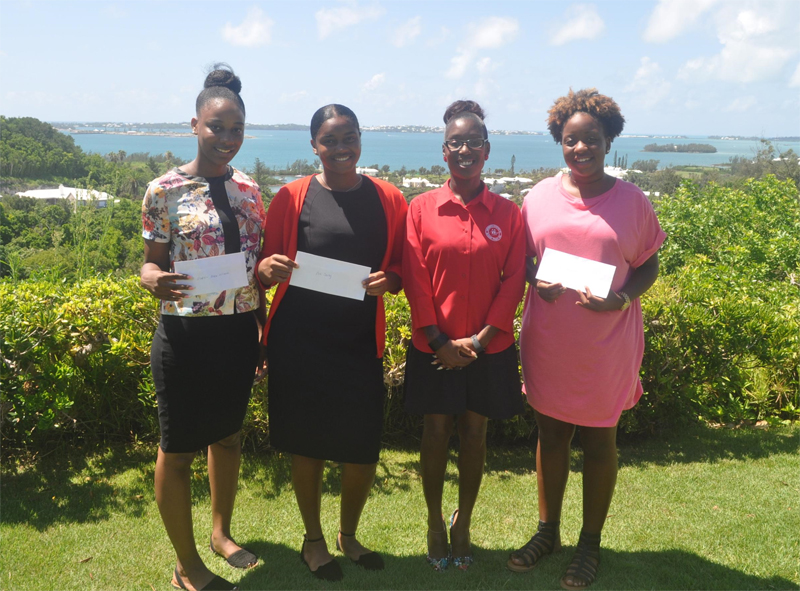 The top winner, Ms. Peterson-Willaimson, 22, will attend North Carolina A&T University in Greensboro, North Carolina to obtain a Bachelor's Degree in Clinical Psychology with a focus on child development and family studies. She is a graduate of Bermuda College, having obtained an Associate's Degree in Liberal Arts in 2016. She was then accepted to university overseas, but was unable to attend for financial reasons.
Ms. Dailey, 19, will attend Spelman College in Atlanta, Georgia where she will study Psychology and Pre-Medicine. She graduated from Berkeley Institute last year with advanced honors, Cum Laude, top community service award, gold award and most well rounded student award.
Ms. Woods, 17, will attend Mount Saint Vincent University in Halifax, Canada where she will study Psychology, a subject she became interested in after the passing of her sister last year. Ms. Woods also chose Psychology because she feels Bermuda's youth are in an emotional and difficult state dealing with violence, Bermuda's politics and the education system.
The Continental Society of Bermuda is an affiliate chapter of the Continental Societies Incorporated, an international public service organization committed to improving the welfare of children in communities across the USA and Bermuda.
Founded in 1962 as charity number six, the Continental Society of Bermuda is supported by 100% volunteer membership of approximately 30 Bermudian women.
For more information on the Continental Society of Bermuda, email continentalbda@gmail.com.

Read More About
Category: All