More students at three Bermuda schools will be able to do their homework on laptops this school year with the help of a donation from DHL Express Bermuda to Beyond Rugby.
DHL is donating 90 reconditioned laptops to Beyond Rugby Bermuda, the program that helps children achieve by providing them with training and life skills alongside academic support.
Approximately two-thirds of Beyond Rugby's efforts are focused on helping the youngsters academically and socially, with one-third dedicated to using the sport of rugby to teach them core values such as teamwork, respect and sportsmanship—tools that the program believes serves them well on and off the rugby field.
Beyond Rugby Bermuda is the vision of John Layfield, a former World Wrestling Entertainment [WWE] champion.
The program is a partnership between the Bermuda Rugby Football Union and Family Centre Bermuda. It provides a place for youngsters to do their homework in a structured environment, have a nutritious meal and also play rugby, two days a week during the school year.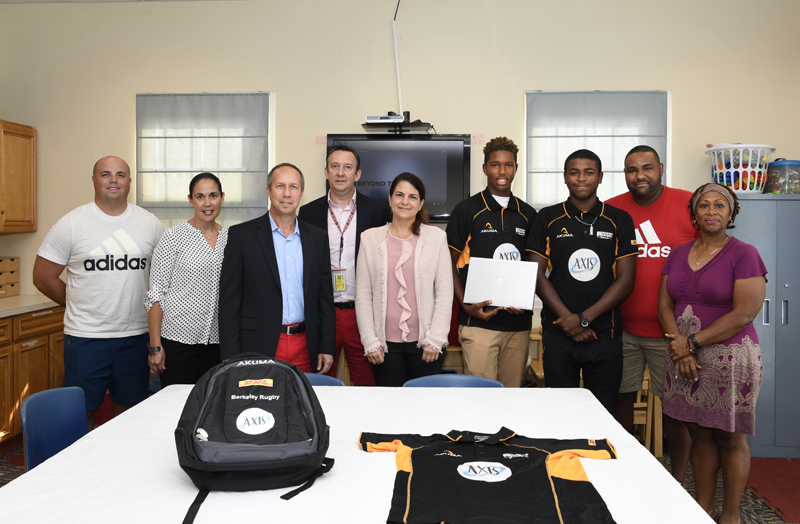 DHL is providing the recycled laptops to the Beyond Rugby programme for distribution among the students.
"The kids will be able to use them at the academy while they're doing their homework and also at home," said Rob Brown, DHL Bermuda Country Manager. "It's critical in today's world that all students be able to learn in a digital environment."
Beyond Rugby will distribute the laptops to registered students of the Beyond Rugby program from Cedarbridge Academy, Berkeley Institute and Dellwood Middle School. Students from age 11 to high school seniors will benefit from the initiative.
"The honor of working with Beyond Rugby is not just the incredible youth we love so much, but also the volunteers and great partners like DHL who have helped make this program a life- changer for at-risk youth," said Layfield.
"The partnership we have with DHL is invaluable and the main reason Beyond Rugby has been so successful. We cannot thank DHL enough for the kind donation of 90 laptops for our youth. Education is the one thing that can break generational cycles that must be broken for a society to truly be equal for all."
Gareth Nokes, co-founder of Beyond Rugby and Chairman of Youth Rugby in Bermuda, noted, "This is yet another example of this wonderful charity working hard to the benefit of Bermuda's youth.
"The Beyond Rugby program looks after these athletes both on and off the rugby pitch, and we are extremely grateful to DHL for this act of generosity. Beyond Rugby is possibly the most relevant charity for Bermuda's youth in operation today, and hopefully this will allow the students to excel and flourish to achieve their full potential in today's digital world."
"We are so grateful for DHL's generous donation of 90 laptops to support the academic and personal growth of our Beyond Rugby students," said Dr. Sandy De Silva, Psy.D., Director of Services at Family Centre.
"This donation is another resource to help support and inspire youth to reach their full potential on and off the rugby field. This helps to remove yet another barrier to achieving academic success which gives way to more positive opportunities in the lives of young people."
DHL recently made a comparable donation to a foundation in Costa Rica that works with schools in remote rural areas.
"DHL is committed to both a sustainable environment and sustainable communities," said Brown. "We're grateful to Beyond Rugby for providing such a great program where we can do both."

Read More About