On Saturday, October 14th at the Hamilton Princess and Beach Club, DJ Younguls! will host an "epic party," which will put the 'fun' in fundraising, with part proceeds set to be donated to charity.
Starting at 9pm, Younguls! will connect and celebrate Old School and New School with Bermuda's finest DJ talent – "deep skill sets" that include DJ Cavon, Jugglin' J, Mikey B. and DJ Chubb.
This particular event is significant because it will also serve as a fundraiser, with part proceeds set to be donated to SCARS Bermuda and to communities that have been affected by Hurricane Irma and Maria.
As a community member who makes it part of his life mission to "give back", Younguls! plans to provide his own style of support, by focusing on those who have been hit hardest by life events.
Debi Ray-Rivers, Executive Director of SCARS is appreciative of the partnership. She says "Saving children from child sexual abuse is vital. Each sexual offence against a child creates a victim and leaves a scar. It can destroy lives – the child's life, their family, and an entire community. It can affect a community in terms of relationships, health costs and crime.
"Child sexual abuse is preventable and the funds raised from this event will help SCARS continue its work in educating our community in prevention. We thank DJ Younguls! for his advocacy in protecting children and future generations of children by supporting our cause."
Younguls! says, "This is a great opportunity for Bermuda to continue to lend support to ongoing Caribbean hurricane relief efforts and assist organizations such as SCARS. Both have platforms to help people to restore. The funds will help communities heal from the expeiences that life challenges have brought."
Tickets are $40 in advance, $50 at the door. To purchase, visit ptix.bm, The 27th Century Boutique or Custom Acoustics.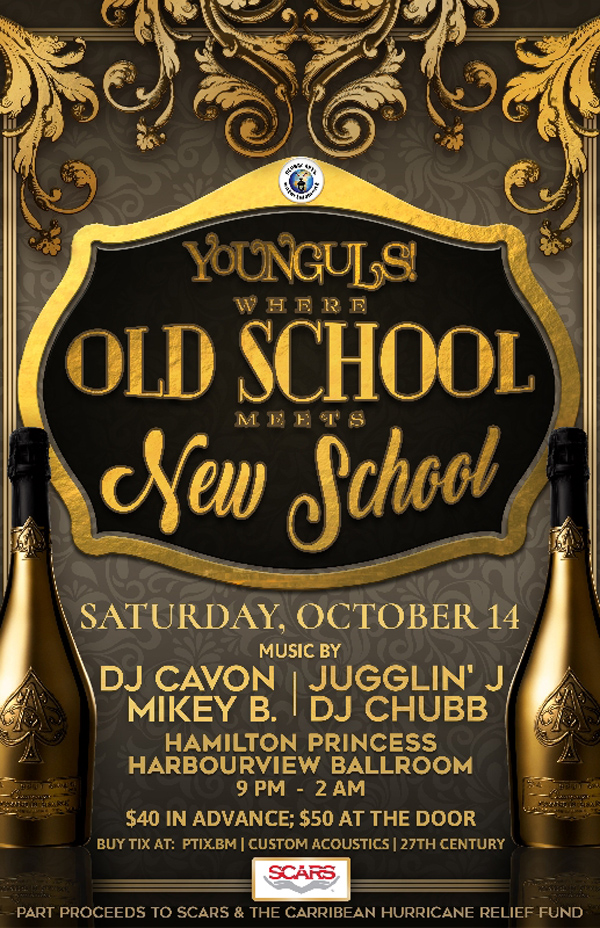 Read More About
Category: All, Entertainment, Music