Students from Harrington Sound Primary School have generously donated over $800 towards the hurricane relief efforts.
The students delivered their donation to the Bermuda Credit Union who said, "The pupils of Harrington Sound Primary School demonstrated the milk of compassion when they answered the call of the Bermuda Credit Co-op. Society to reach out and help the devastated families hard-hit by hurricanes Irma and Maria. Acting Principal Cindy Weeks spontaneously channeled the thoughts of the pupils in this direction and with the least bit of nudging heir response was heart-warming.
Mikale Willis, Tanah Edwards, Andre Amaro and Ra'eesah Robinson, pupils Harrington Sound Primary School. Back row Mr. Micah Davis, CEO/General Manager, Credit Union, Mesdames Ronaldine Burgess, Secretary, Board of Directors, Credit Union; Stephanie Bridgewater and Roslyn Archer, representing Harrington Sound Primary, on the occasion of that school's courtesy visit to the Credit Union to hand in their hurricane relief contribution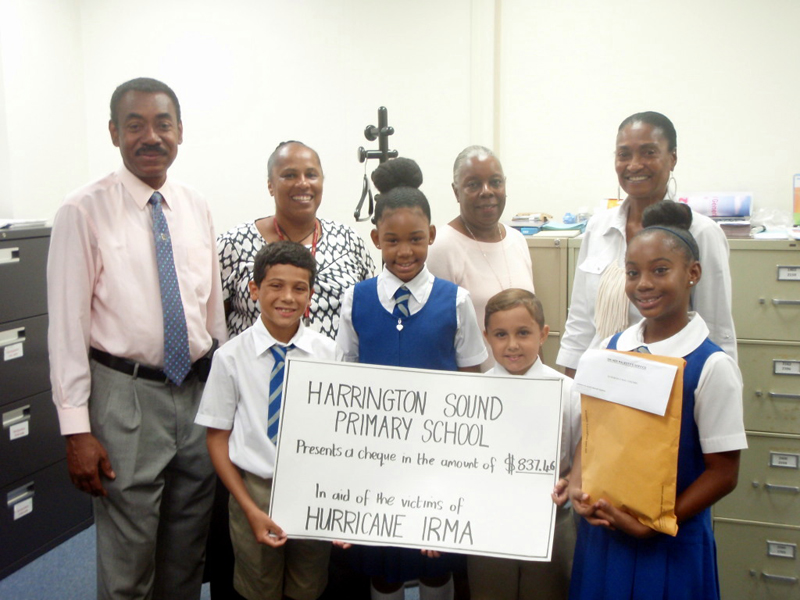 "This demonstration of humanitarianism if replicated across the island's schools though a mere modicum of the humongous losses experienced, could, if nothing else be a source of comfort to the thousands of pupils displaced right across the Caribbean archipelago that they are remembered and their pain is our hearts.
"The Credit Union in association with their regional and international bodies, Caribbean Confederation of Credit Unions and the World Council of Credit Unions have launched an international appeal to their 100 over million members in over 200 countries where their 70,000 credit unions are to be found for monetary assistance for these hundreds of thousands distressed victims.
"Parents, guardians, wards are behooved to speak to their respective PTAs to get their schools into action in this drive. The Credit Union has already opened an account where funds for this purpose may be donated. Online transfers are also possible. The account number for online transfers may be received from the Credit Union by telephoning the Credit Union at 292-0385 or via e-mail; creditunion2@mbrscu.bm."

Read More About