[Travel column written by Don Burgess]
Imagine getting to travel the world and being paid to do so.
As a bonus, your spouse gets to work alongside you in this adventure.
That's the life of John Blair, a cruise director for Royal Caribbean International. Bernews caught up with John on the Radiance of the Seas on a recent Alaskan cruise to ask him about his life on the sea and what are some of the best things to do on that itinerary.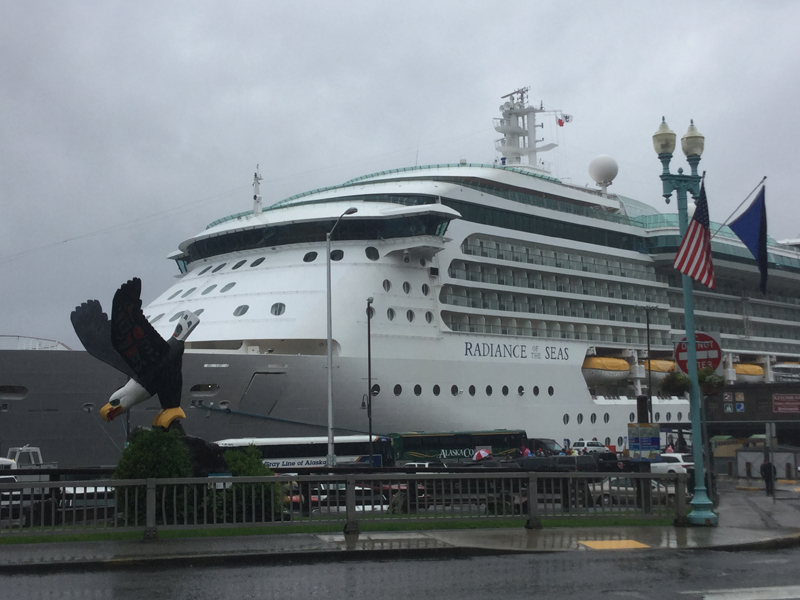 What was your beginning in the industry?
I've spent a lot of years as cruise director. I know you're from Bermuda. Katrina [his wife] started sailing on the Nordic Prince between New York City and Bermuda for seven-day cruises that would take us to St. George's and downtown Hamilton.
We would spend overnight in St. George's and would go to Tobacco Bay. We all had mopeds, and the next morning we would drive over and meet the ship in Hamilton on Front Street. We really love Bermuda. We love Horseshoe Bay and all the wonderful places in Bermuda.
I remember going to the Clayhouse Inn and watching the Coca-Cola Steel Band. We'd go to the Hamilton Princess and the Southampton Princess and watch the shows.
What are your favorite things about doing an Alaskan cruise?
We've sailed with you before on the Panama Canal, and every destination brings with it a different personality. In fact, every cruise has a different personality.
People often ask "You do the same cruise over and over again, does that get repetitive?" No, because the guests change the dynamic. On our Panama Canal cruise with you, a lot of variables showed up that kept us on our toes so we have to be very flexible and that keeps the job very fresh.
Alaska is great. When the weather is great, it's even better. There is an expectation that there will be some rainy days and some cold days. But we've sailed Alaska where every day is incredible with 80-degree weather. The experience can change with the weather, so we have to flexible.
Like today where the weather in Ketchikan was pouring down rain, and you put on extra activities on the ship?
The weather can change on a dime, and it can be frustrating sometimes for guests and crew alike. In Icy Straits, it was raining, and the moment we sailed away from Icy Straits the sun came out. Today is a great example. We had a challenge, so we made some announcements and changed some things around. The key to this industry is flexibility.
How important is having good staff when you have to be flexible?
The ultimate success guide starts with them. If you start with great people and have a great product, then you work for a company like Royal Caribbean that has a great product and a great structure, it makes it easier. People from more than 50 different countries typically work aboard a Royal Caribbean ship. It is a global approach to customer service.
You're lucky in that you get to work with your wife. What's it like being able to have her alongside you?
She is a gift, but it's not uncommon anymore for spouses to be working together. However, when Katrina and I were first working for the company back in the Nordic Prince days sailing from New York to Bermuda, we were the first couple to be hired in this capacity. They had no idea how to berth us, and we had to change cabins every week. We really were an experiment. It worked out because it's a very common thing to have married couples on Royal Caribbean ships.
Does that promote more stability?
For stability, yes. Happiness for us, yes. My heart often breaks for crew members when I hear they've left their children at home, and they are out to sea for six months at a time, but it is the sacrifice they make for their families. I haven't had to do that as my family has been with me, but we have a different sacrifice.
When you work on a ship, you run a parallel life with your friends on land. You miss Christmases, anniversaries and birthdays. After missing many of those, your connection with your family isn't as deep as perhaps people who work on land would be.
What are three excursions you would recommend on an Alaskan cruise for three different budgets?
One for a budget tour for people who may not have a lot of money; a medium priced one; and one for people who money is no expense.
Alaska is a very specific itinerary. You are coming here for wildlife; You are coming here for glaciers; You are coming here for the beauty and majesty that is Mother Nature. If I am recommending shore excursions, you better believe they are encompassing that.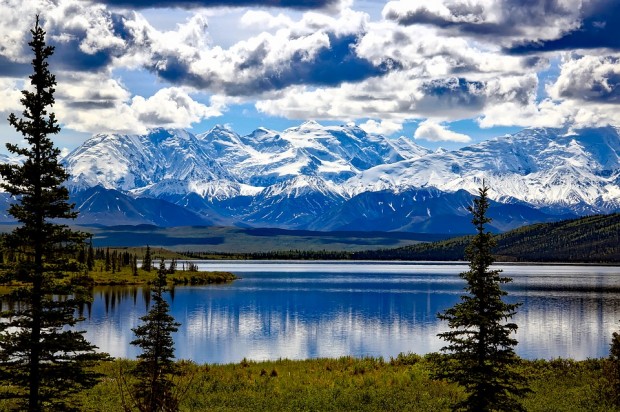 We had a group of kids on the morning show, and I've been asking them about their Alaskan experiences, and their eyes were really wide open when they were telling me about their whale watching experiences.
Oddly enough, the next guests were older guests, and they had the same experience. Coming in contact with these whales, these incredible creatures, is something that is a once-in-a-lifetime experience that people do not connect with in their normal life so I would definitely say a whale watching tour. They are not that expensive.
We take people to the Hubbard Glacier, and a glacier experience is one that I would recommend. In Juneau, one of the nicest glaciers is the Mendenhall Glacier, and I would definitely recommend it.
Now, if you have money, and money is no object, then you want to see it from the air. The helicopter tours where they take you onto the glaciers are magnificent and absolutely incredible. Yes, they are pricey, but they are very, very special.

Read More About
Category: All, Entertainment, News