[Travel column written by Don Burgess]
Basic Economy Fares
If you are a budget-conscious traveler, then you might like the new Basic Economy fares some US airlines are pushing.
American, Delta and United all plan on using them as a price point below their Standard Economy tickets. They are not available on most flights for these carriers but will be rolled out to more routes if travelers flock to them.
Generally, these tickets are less than $50 cheaper than Standard economy but come with restrictions. For example, you are not allowed a carry-on suitcase. However, you do have the option of paying $25 to bring a carry-on which negates much of the price advantage of the cheaper seat.
American Airlines is allowing its Aadvantage members to still put one item in an overhead bin even if they fly Basic Economy.
Also, you can expect to sit in the middle seat. That's awesome if you don't mind being sandwiched in between two other people.
The other negative is on many of these Basic Economy fares you will not be allowed to change or cancel your ticket.
Electronics check
Last week I wrote about the new TSA policy of having to pull all your electronic devices out of your carry-ons instead of just your laptop. As I pre-cleared US Immigration in Edmonton, Alberta, I experienced that firsthand.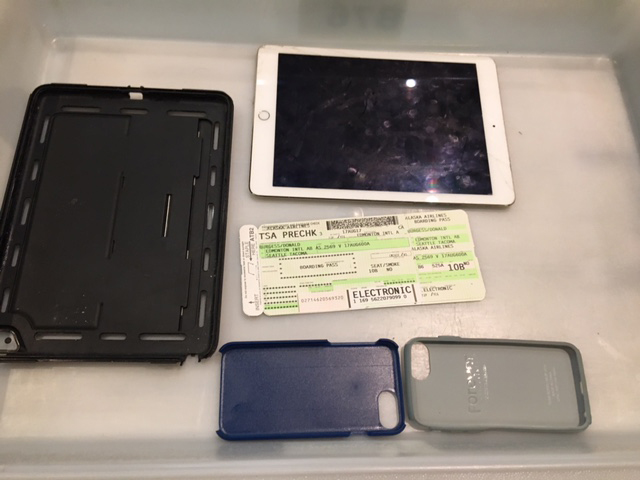 Not only did I have to put my cell phone and iPad in the bin to go through security screening, I had to take both devices out of their cases. It was slightly more of a hassle, but it wasn't that big of a deal.
Immigration Kiosks 2
The Edmonton airport was the second time on this trip that I passed through immigration, this time the US were using kiosks to check people's passports. The week before I had passed through Toronto and had to use a kiosk rather than an immigration officer.
This trend will only expand to more airports and, hopefully, Bermuda will get these when the new airport is built as it speeds up the process. It doesn't necessarily mean a loss of jobs as multiple kiosk machines can be handles by one immigration officer.

Read More About
Category: All, Entertainment, News