A family who moved to Bermuda recently were devastated when their beloved dog escaped from workers when they were getting ready to load her on a plane at Tampa International Airport are now celebrating after their dog, Brady, was located.
The couple told ABC Action News that they had relocated to Bermuda for work and "The airlines would not fly their dog down until it was less than 85 degrees outside, so the dog has been staying with their friend in Tampa."
Finally, on October 11, everything was set to bring their dog to their new home. However, they were contacted by officials telling them that their dog 'Brady' had chewed through her crate and escaped Tampa International Airport.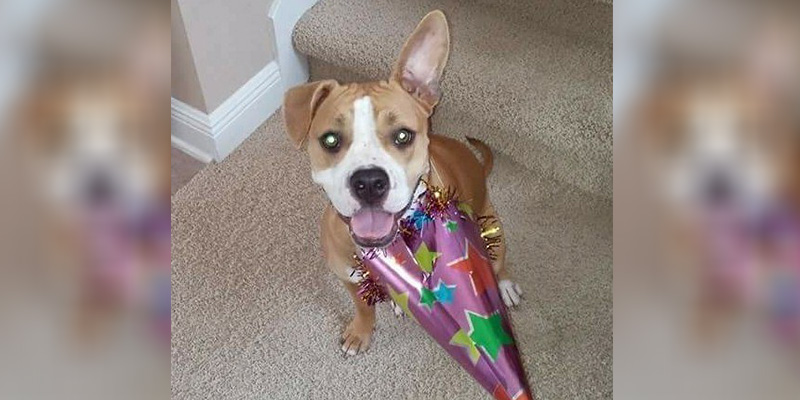 According to Fox 13 News, "since then, an army of complete strangers has stepped up to search for her missing canine.
"They've been posting flyers in the area, checking out reported sightings, even hiring search dogs to try and track Brady's scent. But in the end, the breakthrough happened where the whole ordeal started, at Tampa International Airport. The Hillsborough County Animal Control set fresh traps on the property Wednesday night, baited with cat food."
The next morning Christia Pennell was reunited with Brady.
"She kind of looked at me and she just got right up and started jumping on me," Pennell told Fox 13 News. "Her mouth's all mangled but she's trying to lick me, and just, she hasn't let me leave her side since. It was the best moment in the whole world."
Fox 13 News added that "Brady survived 15 days on her own with alligators, coyotes, rattlesnakes, and clearly not a lot of food. The canine is down about 17-pounds, has bug bites and scratches, and a lot of damage to her mouth."
Pennell plans to stay in Tampa until Brady is healthy enough to fly and the family is looking into options to make sure the dog successfully makes it to Bermuda this time.
A post made this morning on an the 'Bring Brady the TIA Dog Home' Facebook page said, "I am searching for a Private Charter Plane to bring Christie and Brady home to their family. There is no way Christie is going home without Brady being on the seat right next to her.
"I am currently working with Exclusive Charter Service & I will know more by the end of the day. If they have a flight already going to Bermuda, we will be able to get a discount but if they don't, we are looking at 20 Grand. Please, please if anyone knows of a private airline that can help them get home SAFELY, please post their names below so I can work on getting costs and coordinating their flight."
Read More About