A CedarBridge Academy student is getting hands-on work experience thanks to a partnership between the school and the National Sports Centre.
Sixteen-year-old Isaiah Smith is spending two days a week at the NSC, learning skills such as grounds keeping, from the staff.
"I am out helping the guys," he said. "And learning the ropes. It is interesting work and maybe one day it is something I can do full-time."
Trevor Madeiros, Terence Minors, staff member at the National Sports Centre, Isaiah Smith and Gary Adams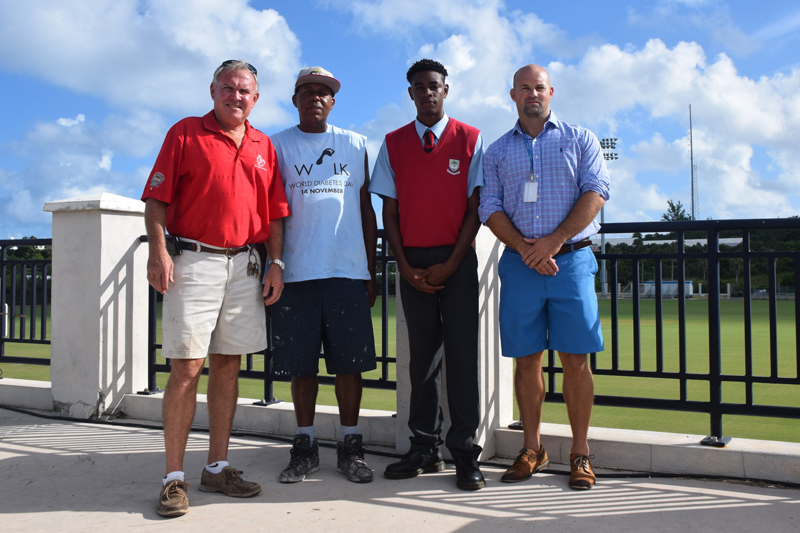 Gary Adams, a Para Educator at the Department of Learning Support, said that some people were better able to learn through real life experience and hands on training, rather than from the traditional classroom setting.
The idea of the work placements, he said, was to get students at CedarBridge placed in areas that interest them.
"This kind of partnership helps the student's personal growth. Isaiah does two days a week, 8.30am to 4.30pm, and is accredited to a programme they are on," said Mr Adams.
"The Cedarbridge Vocational Placement Programme understands that practical experience is imperative to the learning and teaching of many young people.
"This programme aims to develop students personal and professional development, obtaining real life experience, in the hope it may lead to further educational studies and or a potential career in their field of interest."
He said other students were working at the Corporation of St George's as well as the Aquarium and Zoo.
Trevor Madeiros, Facilities Manager at the NSC, said: "We are very happy to help young people like Isaiah and hopefully we can help him find a future career.
"The grounds staff at the NSC work extremely hard and are very skilled at what they do. I am sure it would provide an interesting and varied career if Isaiah chooses to go down that route after school."
Anyone interested in helping with the programme can contact Mr Adams at gcadams@cedarbridge.doe.bm

Read More About