ThinkMedia announced that the Bermuda College has agreed to host the remaining installments of ThinkFest 2017.
After six successful events with three different venue partners, Bermuda College will now host ThinkFest until the end of the seminar series in late November.
ThinkMedia founder Ayo Johnson said: "We're pleased that Bermuda College has joined Bermuda High School, the St George's Heritage Centre and the Liberty Theatre as a venue partner for ThinkFest 2017. The facilities are excellent and there is tremendous potential for a deeper collaboration for ThinkFest 2018."
Dr Duranda Greene, Bermuda College president, Ayo Johnson, ThinkMedia founder, and Dr. Phyllis Curtis-Tweed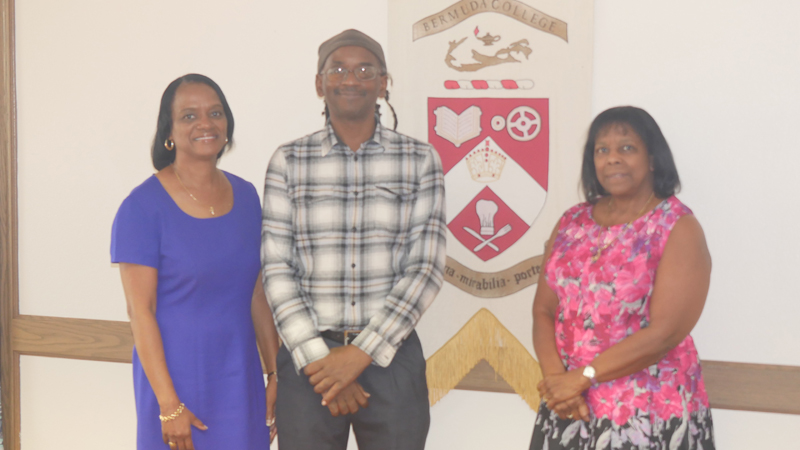 He added: "We have been working hard to increase the numbers of young Bermudians attending ThinkFest and can now offer free admission to students at the Bermuda College as a result of this arrangement."
Up to 25 members of the Bermuda College family will be entitled to free admissions on a first come, first serve basis – to be booked online by the Friday before the ThinkFest event.
ThinkMedia is also offering half price admissions to another 25 young people [under 24] if booked online on the same basis.
Phyllis Curtis-Tweed, Bermuda College's vice-president of academic and student affairs, said, "We are very pleased to welcome ThinkFest to the Bermuda College.
"It is a fresh and exciting way to foster intellectual discourse in our community, and we will be encouraging our students to take advantage of this unique opportunity. It also aligns with our efforts to deepen Bermuda College's involvement with the community."
She added: "All of the ThinkFest presenters are Bermudians who are thriving in their respective fields. They are excellent role models for our youth and I would encourage adults in our community to bring the young people in your lives to ThinkFest."
The next ThinkFest presentation is on Sunday at 5 p.m. at the College's North Hall lecture theatre where Kevin Minors will deliver a talk entitled: "The Mathematics of Invading Fish, Hostile Bacteria and an Election" based on doctoral research completed last month.
ThinkFest is Bermuda's first seminar series featuring an all Bermudian cast of outstanding academics and independent thinkers.
Produced by ThinkMedia, ThinkFest is an opportunity for the island to celebrate and acknowledge Bermudian academics and independent thinkers, a platform for networking with potential employers, funders, other academics and researchers and a forum for discussing the latest research in a wide variety of fields.
Each of the ThinkFest presenters dive deeply into a single topic for an extended period, followed by a chat with a host and audience Q and A.
For ThinkFest 2017, more than a dozen academics have been invited to present on topics such as the latest developments in cancer research, linguistics, media and race, ethnobotany and crime talk.
Interested persons and organizations can contact us directly for more information. Tickets for ThinkFest 2017 events can be purchased online at think.bm or at the door. Early bird, youth and group discount tickets are available.
Read More About
Category: All