Winston Godwin and Greg DeRoche — who successfully filed a legal challenge which paved the way for same sex marriage in Bermuda — sat down with Bernews this weekend for a live interview on our Facebook page, where they discussed the historic court case, LGBTQ rights, their recent marriage, the possible legislation pertaining to same sex marriage and more.
In May of this year, the court ruled in the legal case brought by Mr Godwin and Mr DeRoche, which followed their marriage application being declined by Bermuda's Registrar-General, with the court ruling in their favour, saying "the common law discriminates against same-sex couples by excluding them from marriage."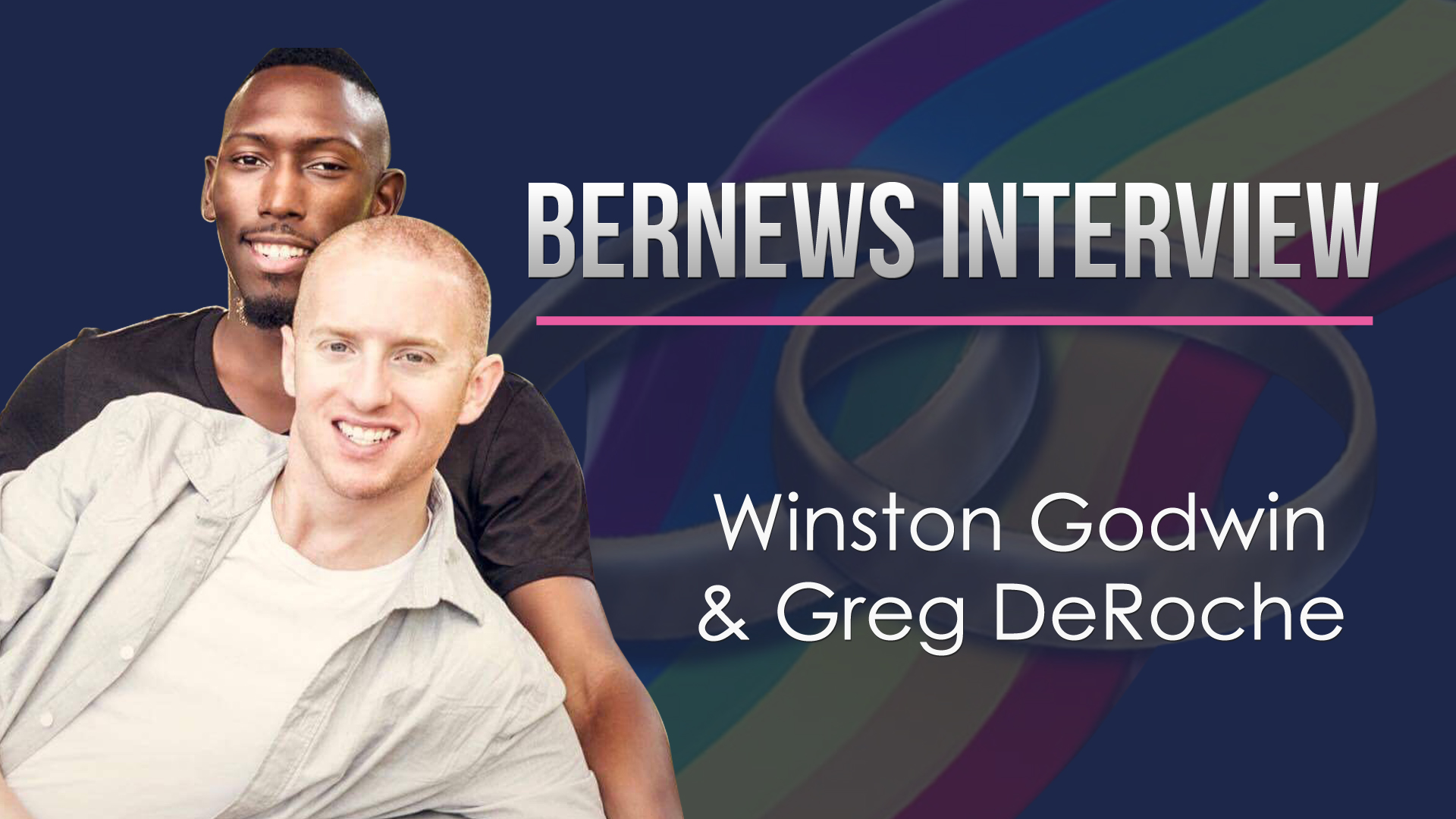 Speaking about the ruling with guest interviewer Jeremy Deacon, Mr. DeRoche said, "For me, and I think Winston kind of hit most of the things that I agree upon, it was not about something that was personal to our relationship so much.
"It was more how it would impact the LGBTQ community in Bermuda and their day-to-day life. Just going about day-to-day life, being able to get married and have their relationship recognized in that sense.
"To just kind of go about their everyday kind of life just like you, me, and anyone else here. We all get up. We all either go to work, go get our groceries, pick up our children. Whatever it is. All of us humans do that."
Asked about a statement, when the court case came to a conclusion, where Mr. Godwin said, 'It's been a long time coming, this ruling, although it was in our favor, but there's still so much more to do in Bermuda,' Mr Goodwin expanded on it, saying, "Yes, it's just a piece of paper, but that doesn't change the mindset of people. That doesn't change because the ruling's been made and because this is what the judge deemed; clearly there's still a lot to be done. "
"It's still a process in itself. While the ruling's in our favor, and while people have gotten married due to this ruling, there are still a lot of people not happy with that and trying to actively stop that. That in itself is something that we're working on."
"Unfortunately it's still something we're trying to keep here because Bermuda, if they were to do it, it'll be the first country to take away same sex marriage. That's one of the most obvious things, but otherwise, again, it's this shift in mindset to get people to see that we are not different."
Mr Godwin added, "I'm not here, and I don't think either of us are here, to change their minds. I think I have encountered a lot of people, family members even, where it's like, I'm not here to change your mind, you're not here to change mine. I just want you to accept and recognize me me for who I am, and I will give you the same respect."
Asked if they would be willing to talk with members of Preserve Marriage, Mr Goodwin responded, "I would absolutely consider talking to Preserve Marriage about it. I don't understand why not.
"I think when the court case and referendum was kind of in its early stages, they were so vocal against it I was like, 'Well, how about you come and talk to me?' I have no idea who's in Preserve Marriage. I don't. There is no face of Preserve Marriage for me."
"I would love to see someone come up to me and make their stance and argument as to why. We can have a discussion about it."
"I have no problem with people voicing their opinions and having discussions and having debates. My problem is when you are actively working to deny someone a right. In us doing what we did, I don't think we're ever denying anyone anything.
"I think with the opposite side is they're not just trying to stand up for their side. They're working to stop us from having the same right as them.
Mr Godwin added, "I guess the question for me now at this point is that ruling was made on May 5th, how has society been reordered? Are we in some crazy society now that pigs are flying and other things are happening? Because nothing's changed.
"My thing is we're not imposing some sort of gay culture or gay agenda on heterosexual people. It's not ramming basically some sort of gay culture or ideas down their throats. We just want to live our life like everyone else." He added, "We haven't gone door to door with books or anything, preaching our agenda to anybody.
Addressing the possibility of legislation that seeks to restrict marriage as between a man and a woman, Mr DeRoche said, "A lot of the people I've talked to internationally can't understand if there was a potential for the rights to be revoked, they just can't comprehend it, because it's never been seen in history.
"To them they just can't fathom this and it doesn't make a lot of sense. Sadly a lot of my friends are kind of angry at that thought, which, I mean, I would be too if it happened. I'd be kind of disappointed."
If you want to listen 'on the go', you can also access the audio only version of this interview, and all our past interviews, in the podcast section of the Bernews app.

Read More About