The new Bermuda Tourism Authority [BTA] Board Chairman Paul Telford sat down with Bernews this week for a live interview on our Facebook page, discussing a range of topics related to tourism.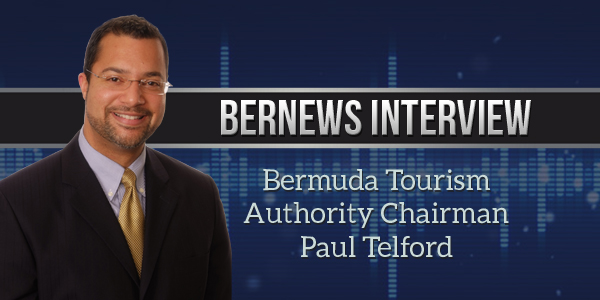 Speaking with guest interviewer Jeremy Deacon, Mr. Telford discussed the Tourism Investment Act, superyacht visitors, a possible film commission, AirBnB, the America's Cup, the Bermuda Events Authority and more.
Mr Telford, 43, is currently the managing director at Rosewood Tucker's Point, and has sat as a Director on the Bermuda Tourism Authority Board since 2014.
He began his hotel career at the Elbow Beach Hotel as a bus boy and eventually went on to work in the U.S. and Mexico, including for the prestigious Four Seasons brand, before returning home to Bermuda in 2008.
He was appointed as chairman of the Bermuda Tourism Authority Board of Directors last month, after the founding Chairman David Dodwell retired from the role and from the Board.
The 23-minute live video replay is below:
If you want to listen 'on the go', you can also access the audio only version of this interview, and all our past interviews, in the podcast section of the Bernews app.

Read More About