Minister of Tourism and Economic Development Jamahl Simmons today [Oct 12] named Bermudian hotelier Paul Telford as chairman of the Bermuda Tourism Authority Board of Directors as the founding Chairman David Dodwell retired from the role and from the Board.
Mr Dodwell led the creation of the Bermuda Tourism Authority since January 2013, becoming Chairman of the Board when the late Shawn Crockwell, former Minister of Tourism, appointed him.
BTA CEO Kevin Dallas, New Chairman Paul Telford & Minister Jamahl Simmons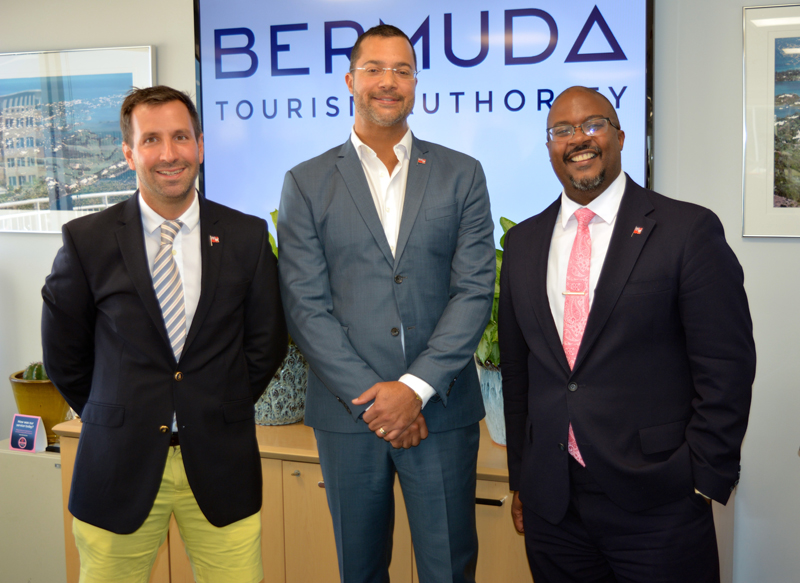 Paul Telford, 43, currently managing director at Rosewood Tucker's Point, has sat as a Director on the Bermuda Tourism Authority Board since 2014.
He began his hotel career at the Elbow Beach Hotel as a bus boy and eventually went on to work in the U.S. and Mexico, including for the prestigious Four Seasons brand, before returning home to Bermuda in 2008.
He ascends to Chairman at a time when the hotel he manages is recently under new ownership and making major investments in the property.
At a press conference today Minister Simmons said: "Truly Paul's journey is something that all Bermudians can see as tangible evidence that the tourism industry is not just a job, but a career. With a good work ethic and dedication to your trade there is no limit to your dreams."
Mr Telford said: "I am excited to accept this appointment at a time of great opportunity and optimism for tourism in Bermuda. I look forward to leading the Bermuda Tourism Authority through the next chapter of its existence and working with Minister Simmons and the Government on our shared priorities."
"David Dodwell's four-year term ended in December 2016, but he agreed to stay on through the 35th America's Cup given the importance of continuity through that milestone tourism event. During his almost five years of service, Mr Dodwell oversaw the execution of many key achievements in tourism," the BTA said.
"I'd like to thank the former Chairman David Dodwell for his service and leadership over the past five years," Minister Simmons said.
"He helped build the structure of the BTA from the ground up, provided guidance and assistance in securing the Bermuda Tourism Authority's accreditation as an official destination marketing organisation and steered the BTA through a seamless chief executive changeover."
Mr Dodwell said, "I am proud of the founding Board of the Bermuda Tourism Authority and its hard working staff.
"We achieved a tremendous amount with the members of the community, without whose support, the success we have seen would not have been possible. I am confident that Paul Telford is the right leader to take the board and the organisation forward."

Read More About