Reprehensible but not unconstitutional, between a rock and a hard place, the Bill will be reluctantly signed into law, hoping that the Bill is rejected by the Governor, and asking why we want to follow directives from a European colonial power, were some of the responses when Bernews asked a number of people on their views on whether the Governor will sign the Domestic Partnership Bill.
The Bill passed in the Senate on December 13th 2017, and requires assent before the policies can be put in place. This is normal procedure for all Bills, and widely seen as a formality, however in this case there has been speculation and discussion about the assent.
There does not appear to be a formal time frame for assenting to Bills, and this week Government House confirmed that the "Governor is continuing to consider" the Bill and is "taking legal advice as appropriate."
It is apparently not that unusual for the Governor to seek advice from the UK Foreign Office about the compatibility of a Bill with international obligations, as the Governor is obliged to ensure Bills are "consistent" with the UK's obligations towards "any other state or power or any international organisation."
The section about assent in the Bermuda Constitution Order states
When a bill is presented to the Governor for assent, he shall signify that he assents or that he withholds assent or that he reserves the bill for the signification of Her Majesty's pleasure:

Provided that, unless he has been authorised by a Secretary of State to assent thereto, the Governor shall reserve for the signification of Her Majesty's pleasure any bill which appears to him, acting in his discretion

[A] to be inconsistent with any obligation of Her Majesty or of Her Majesty's Government in the United Kingdom towards any other state or power or any international organisation;
[B] to be likely to prejudice the Royal prerogative;
[C] to be in any way repugnant to or inconsistent with the provisions of this Constitution;
[D] to affect any matter for which he is responsible under section 62 of this Constitution; or
[E] to relate to currency or banking
Section 62, as referenced above in point "D" is the "Governor's special responsibilities" which states he "shall be responsible for the conduct" of external affairs, defence, internal security and the police."
In describing Bermuda's "constitutional status", the official UK Parliament website states, "Bermuda has a high degree of control over its own affairs. The Premier has complete responsibility for choosing the Cabinet, which must include at least six other members of the legislature, and allocating portfolios.
"The Governor does not attend Cabinet meetings, though he retains responsibility for external affairs, defence, internal security and the police. Unlike most Overseas Territories, where the Governor has certain reserved powers, the UK can only legislate for Bermuda by Act of Parliament, or by Order in Council under an Act of Parliament."
With the matter of assent still not concluded, we asked a number of people, from across both sides of the campaign, political parties, as well as legal and policy experts, for views on the matter of assent, and the responses we received follow below in full.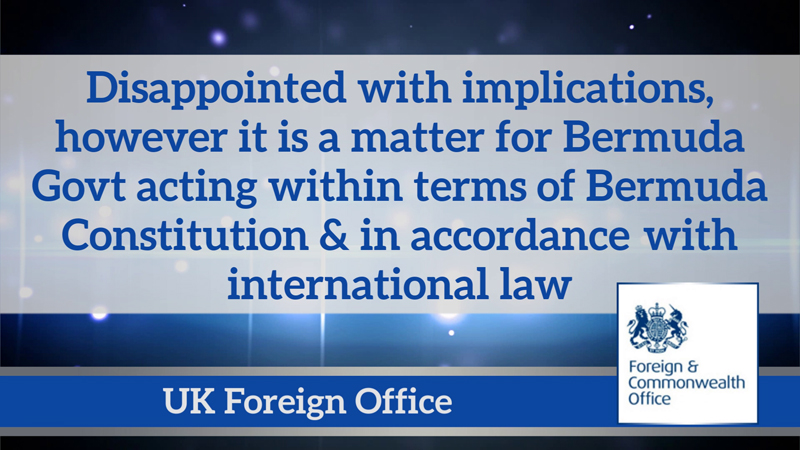 The UK Foreign and Commonwealth Office [FCO] has previously issued a statement saying, "The UK Government is a proud supporter of LGBT rights and continues to support same sex marriage.
"While the UK Government is disappointed with the implications of this Bill, this is a matter for the Bermuda Government acting within the terms of the Bermuda Constitution and in accordance with international law."
Bermuda Government House said, "The Governor is continuing to consider the Domestic Partnership Bill in accordance with section 35 [2] of the Constitution. In considering the Bill he is taking legal advice as appropriate."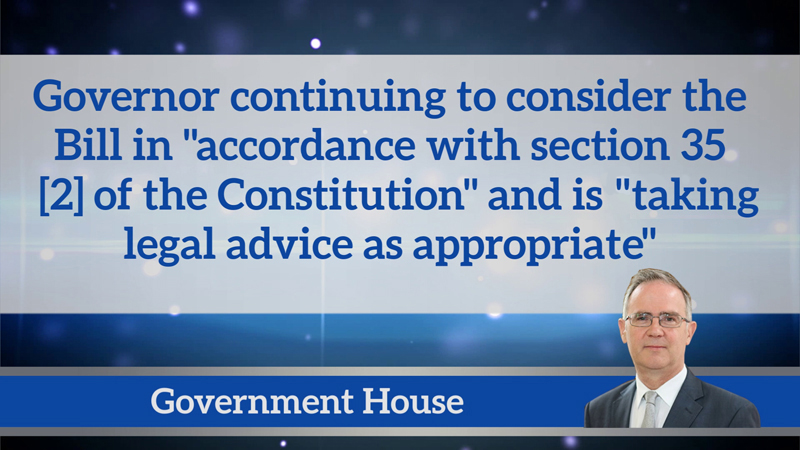 The Bill is "morally bankrupt and reprehensible" but is not "unconstitutional," said former Minister of Home Affairs and lawyer Michael Fahy, who added that he suspects that it will be signed.
Mr Fahy told Bernews, "The Governor will ultimately take direction from the Foreign Office in respect of what to do. Whilst the bill is certainly morally bankrupt and reprehensible I do not think it is unconstitutional and I suspect, unfortunately, that it will be signed.
"I believe this Bill was in fact brought to force a constitutional crisis and give a reason for the Minister of Home Affairs to restart his long standing campaign for Independence. I have no doubt this is also weighing on the collective minds in the Foreign Office. Nevertheless I do hope that the bill is rejected by the Governor."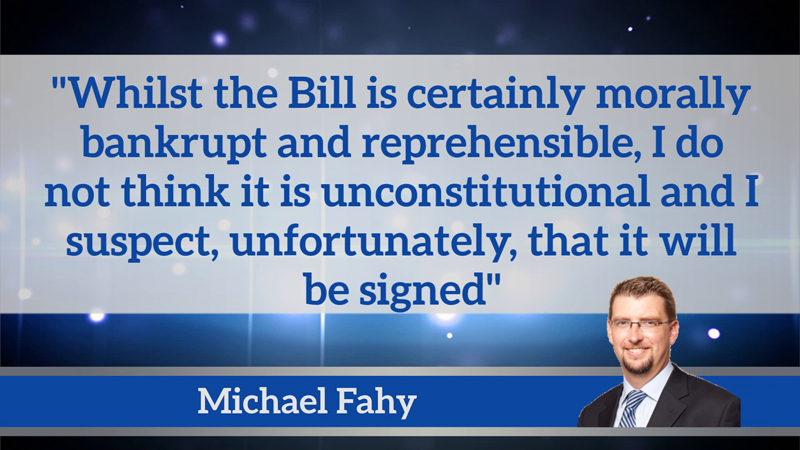 Former Premier Michael Dunkley said, "There has been a great deal of speculation on whether the Governor will sign the Domestic Partnership Bill or not. I will not join in that speculation as I have respect for the role and responsibility of the Governor; especially having worked closely with HE during my time as Premier.
"The Governor will, as he does on any Bill, review it carefully, take advice and then make the appropriate decision. I would assume that the Premier would be aware of the Governor's intent as it is important that any Premier and Governor always communicate and work together on matters where appropriate. Thus, I would be surprised if the Premier did not have an inclination of the outcome.
"It is disappointing to say the least that the PLP Government has seen fit to pass this Bill. As we have witnessed since the House and Senate debate and approval, media throughout the world have focused on this regressive step.
"It has not cast Bermuda in a good light as a jurisdiction taking rights away from people. The election is over and there is no need for the PLP to make decisions for votes. Now is the time for the PLP Government to govern for all people."
"OUTBermuda has repeatedly stated that it does not agree with the spirit of the Domestic Partnership Act," LGBTQ awareness group OUTBermuda told Bernews.
"However, the Act was passed by a democratically elected House of Assembly, and a Senate appointed in accordance with the Constitution. If the Act does not otherwise offend the Constitution we see no reason why the Governor would not assent to it.
"We recognize that in a democracy there will be times that we do not get the policies or legislation we would like. But living in a democracy also affords us the ability to influence both the Government and public to change that. OUTBermuda supports marriage equality, and will continue working towards advancing the rights of all LGBTQ people in Bermuda."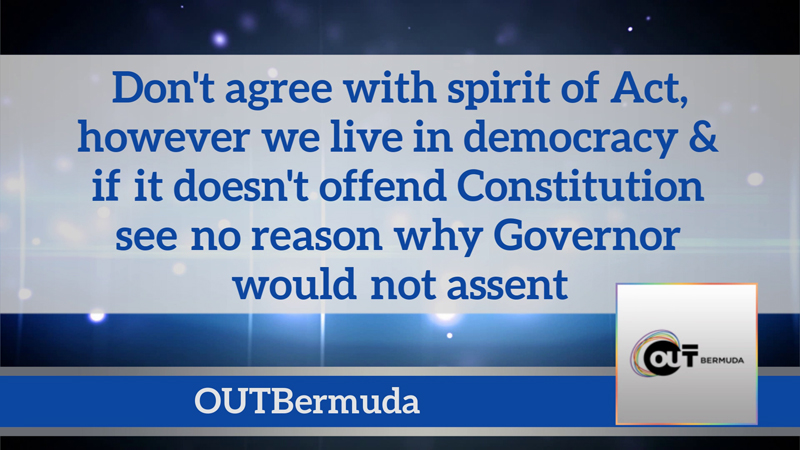 Pastor Sylvia Hayward-Harris, whose son and partner applied to get married in Bermuda back in 2015, told Bernews, "This is a conflictual issue for me. I totally disagree with any carve-outs from the Human Rights Act, as I think that sets a very dangerous precedent and places all of us at potential risk.
"I am also very aware that this DPA is a stop-gap measure to placate a supposedly majority PLP base while leaving a minority population stuck in separate and unequal status, a status that will hold no weight elsewhere in the world, except for a very small group of locations. It also leaves SS couples married elsewhere prior to the Court ruling in a state of unacceptable limbo with their marriages considered void and invalid on island.
"On the other hand, since I am convinced that the 'Independence crew' are on the look-out for any way to further their cause, this issue could be tailor-made for them if the Governor does decide not to sign.
"I think independence would be an extremely grave error for Bermuda at this crucial time, so there is a part of me that hopes he won't step out of the usual 'rubber stamp' mold that Governors have adhered to for the longest while. It's a rock and a hard place situation."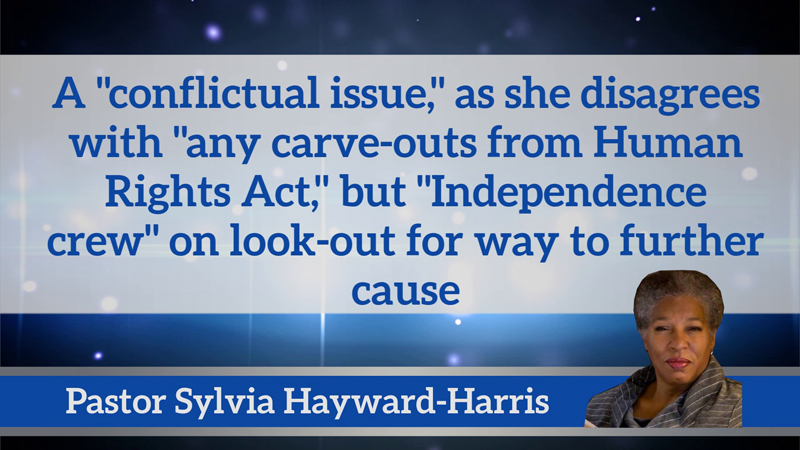 Political commentator Cordell Riley said he sees no grounds in which the Governor can abstain from giving assent, and questioned why we "still want to follow directives from a European colonial power."
Mr Riley told Bernews, "As the Domestic Partnerships Act complies with the directive given by the European Court of Human Rights, that said Court has stated that it holds no authority to change the culture of a country, that the vast majority of the Bermuda voting public in a non-binding referendum indicated that it is not in favour of a major shift in culture and that the British Foreign and Commonwealth Office has recently upheld the centuries-old tradition of non-interference with a colony, in this case, the 'Bermuda Government acting within the terms of the Bermuda Constitution and in accordance with international law,' I see no grounds upon which the Governor can safely abstain from giving his assent to the Bill.
"The more perplexing issue stemming from this Bill is why would a country, of which two-thirds of its voters are of African descent would, in 2017, still want to follow directives from a European colonial power?"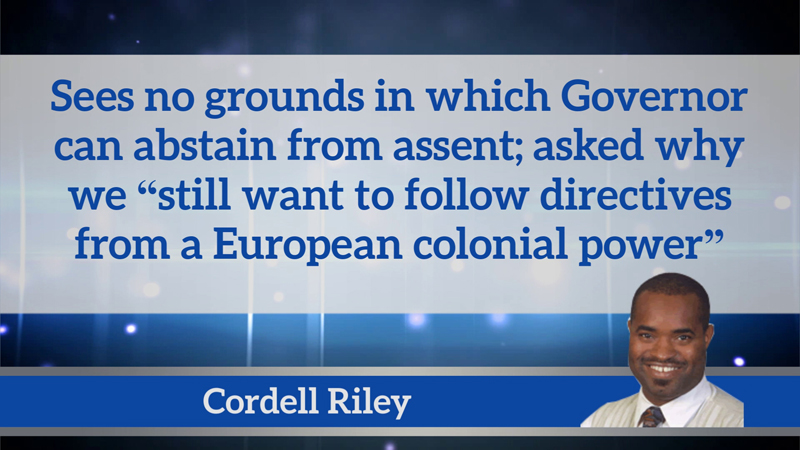 Winston Godwin-DeRoche, who along with his husband Greg, filed the legal action that led to last year's court decision allowing for same sex marriage, said, "I'm hesitant on making a public statement regarding the Governor's decision, simply because I don't want to to influence his decision 'positively' or 'negatively'.
"I don't envy the position he has been placed on him but I suppose it comes with the territory. I hope that he does take his time and I hope he makes and legitimizes the decision he does eventually make on this matter.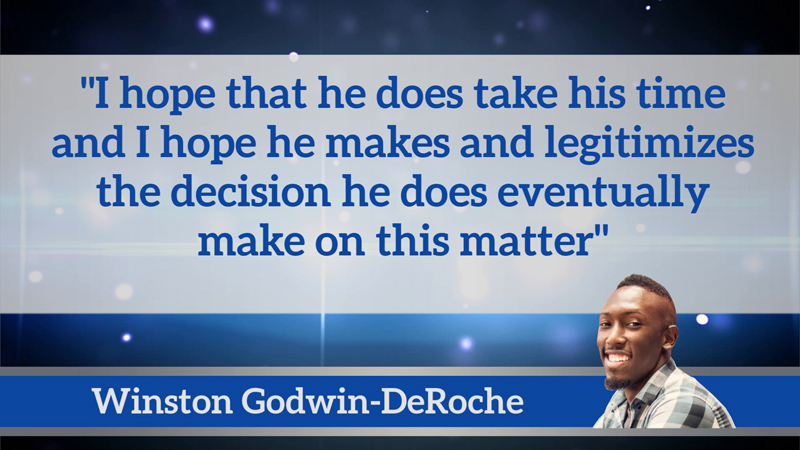 "Robert Ehrlich, a US politician once said, 'Leadership is about doing what you know is right – even when a growing din of voices around you is trying to convince you to accept what you know to be wrong.' This quote accurately reflects my position and feelings to the issue in an number of ways. "
Lawyer Mark Diel said, "My view is that the Governor is between a rock and a hard place. In order for him to decline to sign the Bill into law it has to be either repugnant or contrary to the constitution.
"Repugnancy is a very high difficult thing to be able to establish and by its nature can also be very subjective. I suspect the end result will be that the bill will be reluctantly signed into law and the matter will be left to the Bermuda Courts to have to resolve.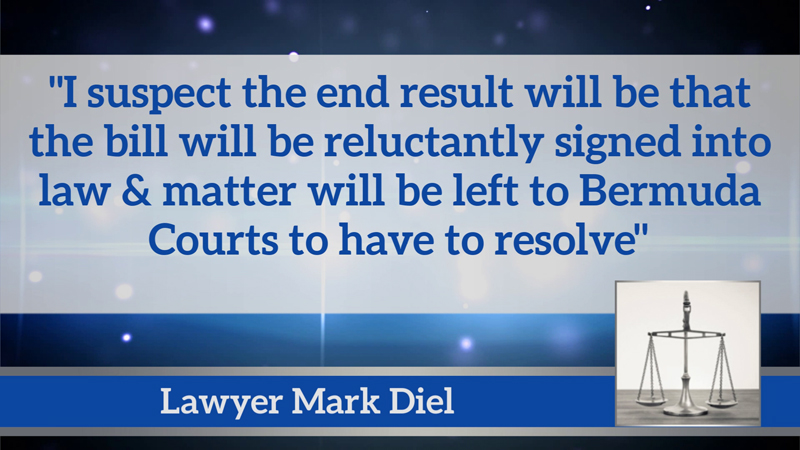 Former Cabinet Minister Renee Webb said, "I am on record as supporting both Domestic Partnerships and Same Sex Marriage.
"Consenting adults should have the right to chose who they want for their partner in marriage or otherwise. Equality must prevail in a democracy like Bermuda. No group should be left behind based on the choice of any majority.
"With respect to the Governor, he must follow his conscience. Both the Bermuda Constitution, and the British law on Same Sex Marriage are in his favour in that they give him a choice that only he can make. Hopefully, his conscience will dictate his choice."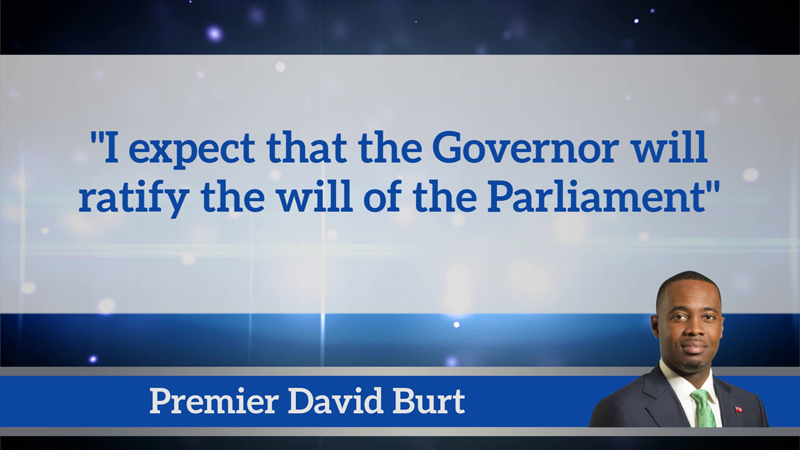 "I expect that the Governor will ratify the will of the Parliament," Premier David Burt said during our interview last month when asked about speculation on whether the Governor will give assent.
Premier Burt added, "We can understand that different people may have different opinions on this, but the fact is, under the laws of which Bermuda is ascribed to, same-sex marriage is not a human right under the European Convention of Human Rights."
Read More About