[Opinion column written by Ryan Robinson Perinchief]
The recent saga surrounding the passing of the Domestic Partnerships Bill has done a great disservice to the majority of Bermuda.
I say this not on the basis that it is a step towards the inevitable legalisation of same-sex marriage, nor that it has stripped away fundamental rights from the LGBT+ community.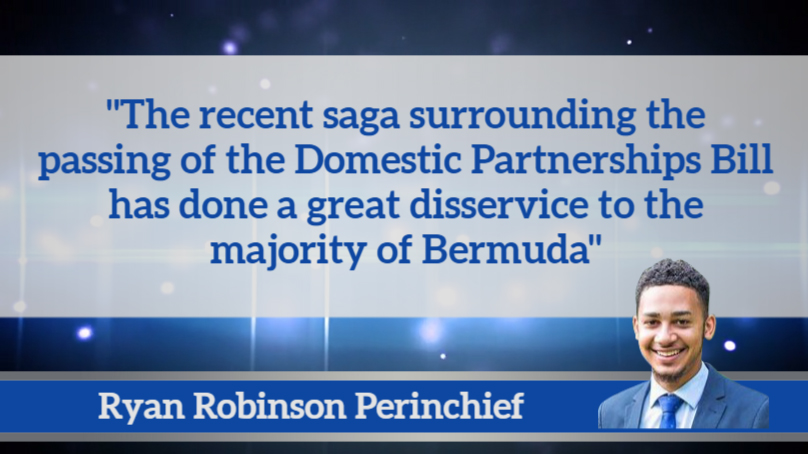 The shame lies in that throughout this entire ordeal, not once has the polarity of the debate on same-sex marriage been properly outlined in consideration of Bermuda's colonial history and unique socio-political reality.
The result has been a year-long shouting match between two diametrically opposed groups, neither of which have proven to comprise a true majority of Bermudians – who evidently did not care enough to vote in the non-binding referendum and, quite frankly, appear listless somewhere in the middle.
In one corner is Preserve Marriage,  ostensibly a coalition of local members of the religious community. Whilst there may be truth to the claim that they are supported by individuals of various faiths, ethnicities and nationalities, it is evident that the loudest opponents of same-sex marriage have been Black Bermudians of the predominant Christian faith.
Firstly, in considering the background of Preserve Marriage, it is important to acknowledge that the church can never be fully excluded from participation in political affairs.
Various movements have been sparked by religious institutions in response to the struggles faced by its members. The backbone of the traditional Bermudian, the church has taken active roles in galvanising and politically influencing black communities in particular since the 20th century.
This has been exemplified by the impact of grassroots figures such as Reverend Martin Luther King Jr. during the Civil Rights Movement, and locally with Reverend Nicholas Tweed and his prominent role in the People's Campaign as recently as last year.
Accordingly, the claim that religious organisations should be denied their say in political affairs based on a belief in the strong separation of church and state is not only unrealistic, but demonstrates a lack of consideration as to the pervasiveness of religious influence in the recent history of Bermuda and its predominantly black and Christian inhabitants; without which, we would not have seen the various historic advances in civil rights for African-Americans overseas and Black and working class Bermudians alike.
Nevertheless, the recent selectiveness of which principles the local church has chosen to unite on and campaign for reveal its misplaced priorities.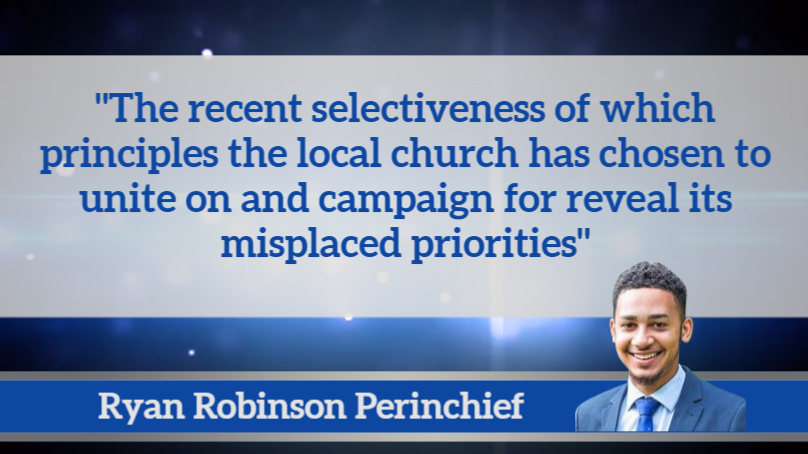 Indeed, it is disappointing that the nearly two decades of continuous gun violence and dozens of black deaths were insufficient to produce even a single sustained movement to preserve the lives of members of our own community.
In contrast, what is perhaps the largest mobilisation of the church in Bermuda's recent history was sparked by the mere prospect of 'same-sex marriage', resulting in the rapid formation of Preserve Marriage – complete with charity status, public awareness campaigns, a website and online advertising, bumper stickers, a legal team, and a symposium of religious leaders from various faiths in a rare moment of multi-denominational unity.
Let me be clear: I normally would not go out of my way to criticise any institution that has contributed to the upliftment of so many persons in our society, myself included. But this is a clear example of the hypocrisy of a community which has divided so many of the families that it proclaims to protect – particularly in directing a tremendous amount of resources to something which is inevitable according to Biblical prophecy.
In uniting various denominations and religious factions over the course of a year to establish a political lobbying group and charity to protest same-sex marriage, Preserve Marriage has set a precedent that it is indeed possible for the religious community to take a more active role in political issues affecting the public when deemed important enough to do so.
Accordingly, I remain hopeful that the momentum seen in the fight against same-sex marriage can now be redirected to other issues such as gang violence, poverty, and the many mental health, abuse and identity crises which have all been intensified by broken homes and families.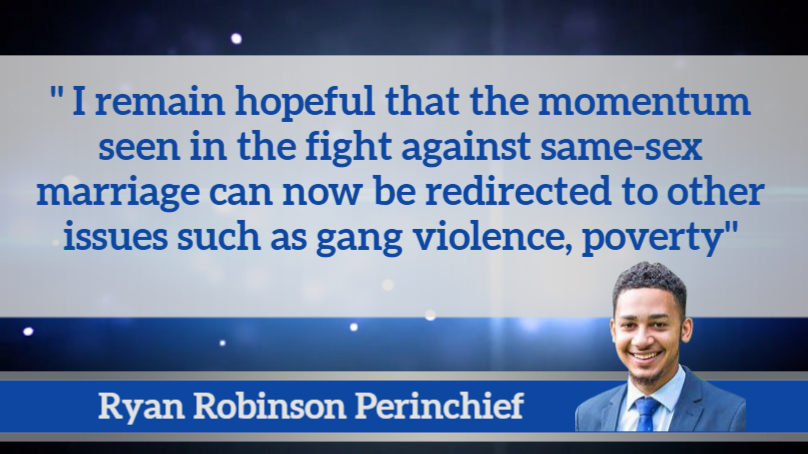 On the other side of the fence are the various groups and individuals in favour of same-sex marriage, some of whom have actively campaigned for LGBT+ rights for a number of years.
Only a minority in this camp are fully conscious of the various nuances in Bermudian societal attitudes, and were therefore unsurprised at the eventual rejection of same-sex marriage. I am particularly reminded of activists such as Linda Mienzer, who is LGBT,black, and a woman, and would consequently be no stranger to confronting discrimination in multiple dimensions.
Although the remaining advocates for same-sex marriage are by no means confined to any one religious or ethnic group, it is clear that many of its vociferous advocates seem to have been either expatriates from more socially liberal western nations, Bermudians living overseas, or Bermudians of European descent in general.
It was largely these groups that were completely astonished that so many Bermudians could be completely unashamed in denying approval of same-sex couples to marry.
Certainly, when compared to our 'developed' counterparts, we natives ought to know that "the world has progressed" such that same-sex marriage is just as valid as any other in the 21st century and that its reversal would put us back in the dark ages.
But it is in such outbursts that the extreme cultural incompetence is revealed. Surely, all those involved in the debate have not forgotten that Bermuda's societal temperament toward the entire concept of homosexuality, morality and rights is shaped as much by Jamaica and our Caribbean cousins as it is by England and the rest of Western Europe?
Indeed, we cannot ignore the colonial links in the debate on homosexuality and same-sex marriage.
Many African and Caribbean nations and their black populations, which for the purpose of this topic includes Bermuda, have been continuously berated as homophobic, bigoted or undeveloped for holding the very same views which were largely imparted upon them through the laws and religious ethics during the colonial era.
Indeed, an examination of 185 countries printed in the Washington Post found that former British colonies are much more likely to have laws criminalising homosexuality than other nations in general.
Accordingly, it is ironic that some blacks claim that acceptance of homosexuality is a European import, when in fact it is the laws rejecting homosexual conduct that are European in origin. It is furthermore sanctimonious that the influences responsible for advancing the stigmatisation of homosexuality through colonial laws and religion mere decades ago, are now shaming those same populations for retaining the very attitudes which the west has only decided are outdated in as recent as the past 10 years.
Further fanning the colonial flames are the present-day supporters who audaciously urged Britain to direct our Commander-in-Chief to overturn democratically enacted legislation.
And I should not fail to point out the glaring hypocrisy in that many Bermudians were blamed for destroying the tourism industry with their various strikes and boycotts by some of the same activists who are now calling for an international economic boycott against Bermuda via social media.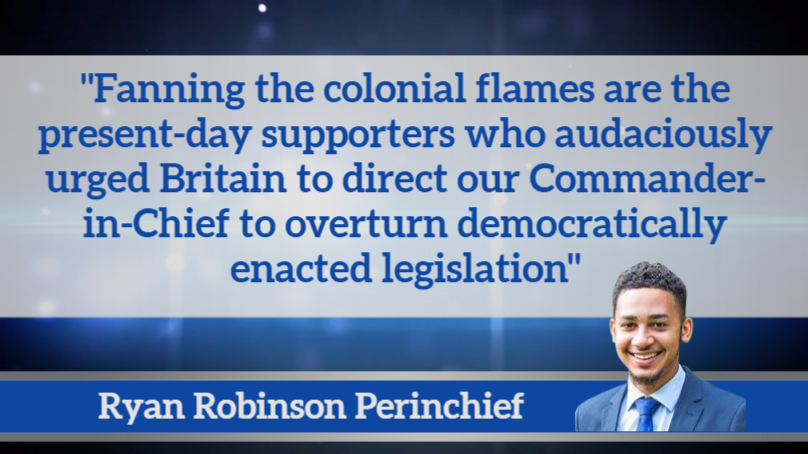 Finally, as for the claims of a 'generation gap' being used as political fodder to run the narrative that young Bermudians are overwhelmingly in support of same-sex marriage, it is intellectually dishonest to deny that the youth also are divided on this issue and will differ considerably by ethnicity, religious background, class, and moreover, whether one has studied at an overseas institution and been exposed to a more western-liberal worldview.
Overall, both parties have demonstrated an unwillingness to critically engage with the underlying causes of disagreement – which clearly extend beyond religion – and have failed to reflect internally and intersectionally in order to place the debate in its true context.
On one hand, a population that eagerly wishes to bring this traditionally socially sluggish colony up to the times with no regard to its damaged history; on the other, a religious community that is so focused on the forthcoming moral apocalypse that it has largely neglected the most prominent issues plaguing its own congregations.
Having achieved a temporary victory, it is yet to be seen whether Preserve Marriage will redirect its energy toward more pressing social problems.
In the meantime, if the proponents of same-sex marriage have any hope of changing the mindset of a people still under colonial rule, they will have to begin – not by making misguided accusations of homophobia or economic threats – but with leadership that is willing to undertake the enormous task of deconstructing the prevailing resentment of homosexuality with a new approach that is self-reflective, intersectional, and inclusive of all histories.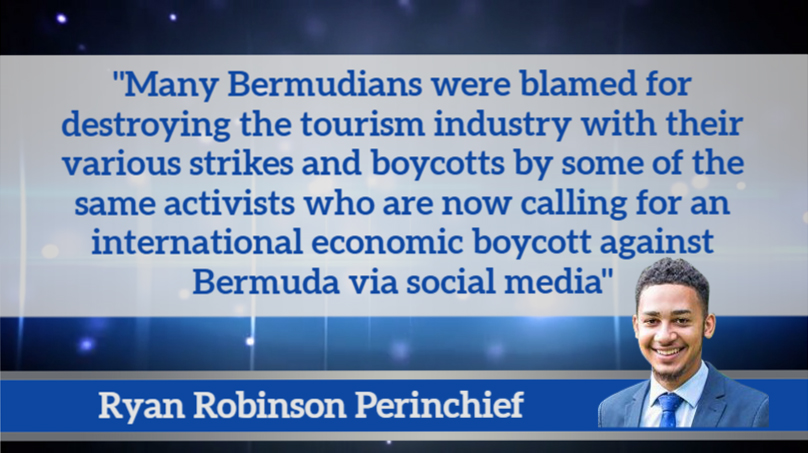 In any event, it is inevitable that the debate on same-sex marriage will re-emerge– for those who believe in religious prophecy, and for those who believe that in the end, "love wins". Perhaps when it does resurface, both parties will do it justice.
- Ryan Robinson Perinchief is studying law at Durham University in the UK. He graduated with honours from the Berkeley Institute, where he served as Head Boy, Student Council, and a Peer Mediator. A former Youth Premier of the island's Youth Parliament, he won the Alpha Beautillion, an Outstanding Teen Award, and the best youth submission to the SAGE Commission. Ryan is also the founder and director of the Future Leaders Programme.

20 Most Recent Opinion Columns

Opinion columns reflect the views of the writer, and not those of Bernews Ltd. To submit an Opinion Column/Letter to the Editor, please email info@bernews.com. Bernews welcomes submissions, and while there are no length restrictions, all columns must be signed by the writer's real name.
-

Read More About