[Updating] The Governor has given assent to the Domestic Partnership Act 2017, Government House has just confirmed, meaning the legislation can now take effect.
In a statement this afternoon [Feb 7], Governor John Rankin said, "After careful consideration in line with my responsibilities under the Constitution, I have today given assent to the Domestic Partnership Act 2017."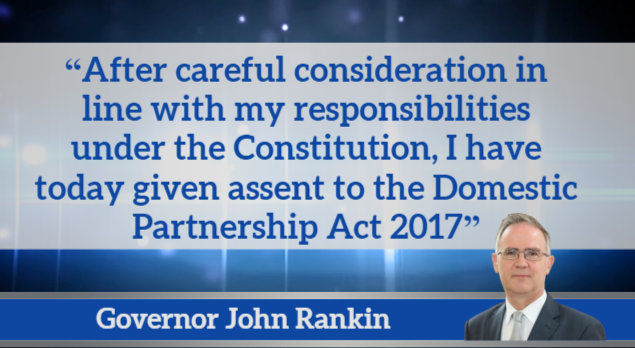 The Domestic Partnerships Act passed in the House of Assembly, and then passed in the Senate and will replace same-sex marriages with a domestic partnership which can be entered into by both same-sex and heterosexual couples.
Once approved in both the House [24-10] and Senate [8-3], the Bill went to the UK-appointed Governor for assent, which is normal procedure and generally seen as a formality, however it was been a topic of speculation in this case since the Bill was passed in December 2017.
The announcement has just been made and we have asked a number of people for comment, including local LGBTQ groups, Preserve Marriage, the OBA and others, and will update as able with reactions.
Minister of Home Affairs Walton Brown
Update 4.30pm: Minister of Home Affairs Walton Brown said "Today I am pleased to learn that His Excellency the Governor Mr. John Rankin CMG has signed into assent the Domestic Partnership Act.
"With the introduction of the Domestic Partnership Act, Bermuda – an associate member of CARICOM – will be amongst the first English-speaking Caribbean islands to introduce and pass a law that provides legal recognition to same-sex couples.
"The Domestic Partnership Act permits any couple [heterosexual or homosexual] to enter into a domestic partnership and gives same-sex couples rights equivalent to those enjoyed by heterosexual married couples; rights that were not guaranteed before the passage of this Act.
"The rights now guaranteed under the Domestic Partnership Act include: the right to inherit in the case of no will, the right to a partner's pension[s], access to property rights, the right to make medical decisions on behalf of one's partner and the right to live and work in Bermuda as the domestic partner of a Bermudian.
"While the majority of Bermudians do not agree with same-sex marriage – as evidenced by the referendum – it is the Government's belief that this Act addresses this position while also complying with the European Courts by ensuring that recognition and protection for same sex couples are put in place.
"The Act is intended to strike a fair balance between two currently irreconcilable groups in Bermuda, by restating that marriage must be between a male and a female while at the same time recognising and protecting the rights of same-sex couples.
"Same-sex couples already married under Bermuda law before the commencement date of this Act will continue to be recognized as being married. Also, any overseas same sex marriages taking place before and during the transitional period will also be capable of recognition as marriages in Bermuda.
"Bermuda will continue to live up to its well-earned reputation as a friendly and welcoming place, where all visitors, including LGBT visitors, will continue to enjoy our beauty, our warm hospitality and inclusive culture."
Tony Brannon
Update 4.41pm: Tony Brannon, who has been a very prominent activist, said, "I am saddened to hear that Bermuda has just become the 1st country in the world to reverse same sex marriage. The Governor of Bermuda just gave assent to legislation [of discrimination] that has taken away same sex marriage. This is a sad day for Bermuda. The fight goes on."
British MP Chris Bryant
Update 5.43pm: British Labour MP Chris Bryant — who led a debate in the UK House of Commons on this matter last month — told Bernews, "I am deeply saddened by this reactionary move. It takes away a right. It does add a right. And the UK government has fatally undermined its reputation for advancing equal rights and respecting the decisions of the court. In a hundred years Christians will be as ashamed of this as they are today about slavery."
Winston & Greg Godwin-DeRoche
Update 5.51pm: Winston Godwin-DeRoche – who along with his now-husband Greg filed the legal challenge which resulted in the Bermuda Supreme Court making same sex marriage legal in May 2017 – said, "Greg and I are deeply saddened to hear that the DPA has been given assent to by the Governor.
"With that said, it did not come as a surprise. The Governor was placed between a rock and a hard place with this poorly planned and rushed bill.
"It's a sad day for Bermuda, it's a sad day for human rights. Bermuda has officially become the first country to reverse same-sex marriage.
"To the LGBT community, this is not a defeat. While Greg and I were the face of this case, we represented every single one of you, and helped to give a voice to those that didn't have one. Because of you, we were able to make a difference in the lives of 8 couples, and that's something that shouldn't be understated or forgotten. You are all loved and are worthy of love.
"Walton Brown has repeatedly said, 'Bermuda isn't there yet' [with respect to same sex marriage]. We don't believe this bill was the solution, but hope that it can be used to continue the momentum.
"As we all know, equality doesn't happen overnight, it takes time, it takes brave individuals to stand up for what's right regardless of what society says. Today is far from a loss and we can't stop here.
"Thank you to everyone that supported us and continues to support us. We wouldn't have been able to achieve what we have over the last year and a half. It truly is a testament as to what can be achieved by working together.
Mr Godwin-DeRoche ended by quoting Dr Martin Luther King's famous words: "Darkness cannot drive out darkness: only light can do that. Hate cannot drive out hate: only love can do that."
Lawyer Mark Pettingill
Update 6.26pm: Lawyer Mark Pettingill, a former Attorney-General who represented Winston and Greg Godwin-DeRoche, told Bernews there is a "constitutional position" which "may warrant a legal challenge," with Mr Pettingill, saying it is "currently under consideration."
"Obviously we are deeply disappointed by this outcome which many people will regard as a step backwards in human rights," Mr Pettingill said.
"I do believe it was given due consideration by the Governor given the amount of time that it took in reaching a final decision.
"Having said that I remain of the view that there is a constitutional position which in my assessment may warrant a legal challenge and I can indicate that this is a matter which is currently under consideration."
International Media Report
Update 8.08pm: The international media is reporting this, an AP report is on websites such as ABC, Fox, Washington Post etc. It appears comments that are being attributed to the Governor may be the ones included in the statement by Minister Brown, as at 7.30pm, we confirmed with Government House that as of that time, the Governor has not made any statement past his initial one which said, in its entirety, "After careful consideration in line with my responsibilities under the Constitution, I have today given assent to the Domestic Partnership Act 2017."
Update 10.15pm: The international media continue to report on this, with stories now on websites including the Guardian and NBCNews, and some older articles have updated to change the comments previously attributed to the Governor.
U.S Based Human Rights Campaign
Update 10.21pm: The U.S Based Human Rights Campaign — who previously called for the Governor to "veto" the legislation — issued a statement and also posted on social media, where it has over 2,500 comments/share/retweets as of this writing.
"Governor Rankin and the Bermuda Parliament have shamefully made Bermuda the first national territory in the world to repeal marriage equality," said Ty Cobb, director of HRC Global said.
"This decision strips loving same-sex couples of the right to marry and jeopardizes Bermuda's international reputation and economy. Despite this deplorable action, the fight for marriage equality in Bermuda will continue until the day when every Bermudian is afforded the right to marry the person they love."

Read More About