There was plenty of excitement at the National Equestrian Center on Vesey Street in Harness Pony Racing as a new 2 Year Old Record was set by Kiwon Waldron in the bike of Gold-N-Glory.
The pair clocked a time of 1:02&3, which was the third fastest time this season and takes the Fourth Place spot on the Tracks All Time Top 10, moving his time of 1:03&3 set back on February 4th, 2018.
Reel Patrol with Andrea Westerfield in the bike clocked time of 1:05 flat during the 1:04&2 & Faster Time Bar Class, Its All About Me with Casey Trurann was second in 1:05&4, Candice Martins in the bike of Google Me was third in 1:06 flat.
.
In the 1:07&2 – 1:10&4 and 1:11 & Slower Time Bar Class Major Medical and Tahzii Flood clocked a winning time of 1:06 flat, with Ryan Manders in the bike of A Touch of Red second in 1:07 flat, Spirit of Brona and Demian Tucker was third in 1:08&3 and Darico Clarke in the bike of Kool The Fire was fourth in 1:15&3.
With a time of 1:05&4, Casey Truran in the bike of Big Mean Machine won the 1:04&3 – 1:06&0 Time Bar Class Race, Waldron in the bike of War Machine was second in 1:06&1 and Christian Truran in the bike of This Baby Rocks was third in 1:06&2.
The full results follow below [PDF here]: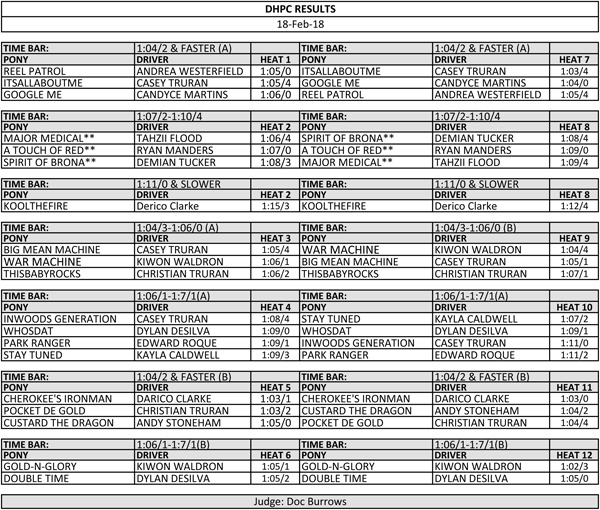 Click to enlarge photos:
20 Most Recent Sports Photo Galleries
-

Read More About