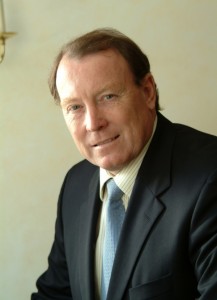 A scholarship for university students has been renamed to honour the late CEO of one of Bermuda's largest domestic insurance companies.
Alan Peacock, the CEO of Colonial Group International [CGI], died suddenly last year after suffering a suspected heart attack while travelling on business.
The firm has decided to pay tribute to Mr. Peacock by changing the name of an annual $25,000 scholarship it funds to the 'BFIS Alan Peacock Colonial Group Scholarship'.
It is awarded to a junior or senior year university student pursuing an undergraduate degree at an accredited university who intends to pursue a career in insurance.
CGI Chairman Dr. Grant Gibbons said: "Alan shunned publicity but he did a lot for Bermuda's young people, primarily through sport. He also gave many young people their first jobs and helped to nurture their careers. We felt it was only fitting to rename the scholarship as a tribute to Alan's legacy."
Last June CGI announced that Mr Peacock, who joined the company in the 1970s, was due to retire this year and that Naz Farrow, the firm's Chief Operating Officer – Health, had been appointed as CEO Designate.
"We lost a good boss, colleague and friend when Alan passed," said Ms. Farrow. "We are all still struggling to come to terms with the loss – he was a big part of Colonial and had a strong influence on the values and ethics of the company and employees.
"We hope the scholarship will continue to help young people embark on a career in insurance, and contribute to adding value to an industry that is a strong part of the Bermudian business world. I am sure that would please Alan immensely."
The scholarship is administered for Colonial by the Bermuda Foundation for Insurance Studies [BFIS] and a spokesperson said: "Renaming a scholarship that has helped several young people since its inception in 2006 is a very fitting and lasting tribute to Alan. There is no doubt that students will continue to take advantage of it and benefit from it in future years."
More information on the scholarship can be found on www.bermudascholarships.com.

Read More About