The Geoscience & Society Summit was scheduled to be held in Bermuda in September, however the organisers said as a result of the Domestic Partnerships Act, "Bermuda no longer meets AGU's meeting location requirements" and they "are evaluating the options for relocating."
A statement on the organisation's website under the title 'Location Change' said: "An issue has arisen with the location for the Geoscience & Society Summit slated for 23-28 September in Hamilton, Bermuda.
"Less than a year after legalizing same-sex marriage, Bermuda has reversed course and is implementing a law that prohibits same-sex couples from marrying.
"As a result of this change, Bermuda no longer meets AGU's meeting location requirements, and we are evaluating the options for relocating. We will provide an update as soon as we have more information."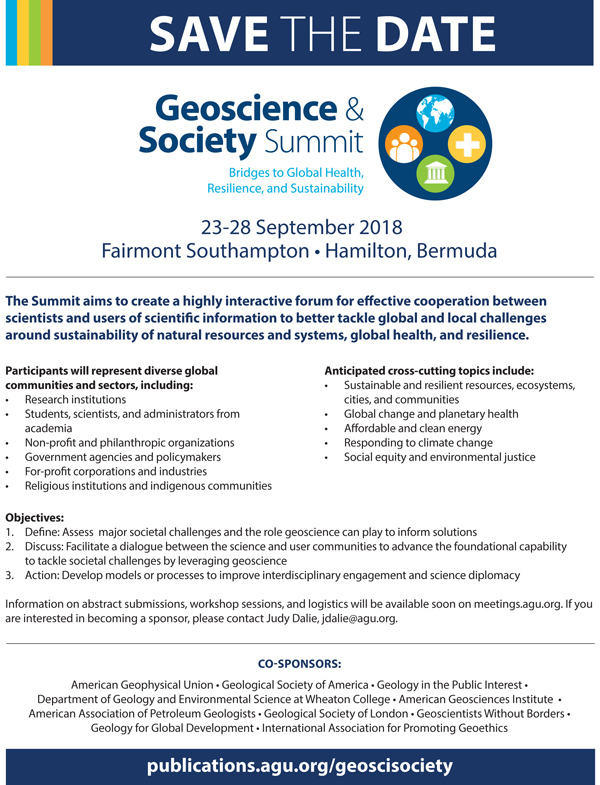 The organisation posted the announcement on their Facebook page, where they have 150,000 fans, with the post attracting three comments.
"I would be interested to know what all of these requirements are," said one person, while another said, "But, does this also mean that the USA doesn't meet the AGU meeting requirements? As far as I know gay marrage was only legal for a month in Alabama in 2015… confused??"
The third comment said, "As I understand it, the US also still has the death penalty, does this meet requirements? Also confused."
The organisation also tweeted saying, "Geoscience & Society Summit scheduled for Sept. 2018 in Bermuda. Bermuda ban on same-sex marriage violates AGU's location requirements. We are evaluating relocation options."
The tweet received two comments, one saying, "Way to stand up for human rights" and another saying "YOU ROCK !!!!! oxoxoxoxo."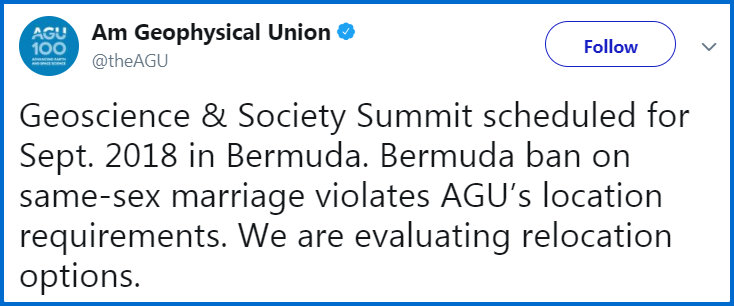 We asked the BTA for comment, and Glenn Jones, Director of Public & Stakeholder Relations, said, "The Bermuda Tourism Authority has requested partners report cancellations when the reason for cancelling is known for tracking and aggregation purposes. Our team is also collecting consumer feedback received directly from travellers. Questions about any specific groups or events should be directed to the organisers or their local hosts."
According to the organisation's promotional material the conference was scheduled to be held at the Fairmont Southampton, and the company explained to Bernews that they do not generally comment on their guests and provided this statement from its parent company, "AccorHotels operates in more than 95 countries.
"While we always conduct our business within local laws, we do not always share the philosophies behind them. Instead, we focus on ensuring that at our hotels, everything we do is governed by our shared values of respect, integrity, team work, excellence and accountability.
"We are proud of our differences and fight against all forms of discrimination, whether on the ground of ethnic, social, cultural, gender, age, or sexual orientation. Harassment and discrimination towards our colleagues and guests is not tolerated, regardless of location."
While Bermuda offers a legally recognized structure for same sex couples in the form of domestic partnerships, which the majority of nations worldwide do not, the fact the island had same sex marriage and then replaced it with the partnerships has been criticized for being regressive in nature, and the island has received extensive international media coverage for being the "first country to repeal same sex marriage."
Following the Bill's passage in the House of Assembly in December 2017 a #BoycottBermuda hashtag began being used on social media, which spiked again following the Bill being given assent earlier this month, and as of now, the hashtag has been used more than 1,000 times on different social networks and various websites.
On a related note, as we previously reported lawyer Jamison Firestone and his husband cancelled their Cunard cruise in protest over the legislation.
It does not appear the cruise was actually coming to the island, however cruise lines registered in Bermuda — Princess Cruises, Cunard, and P&O — also adhere to Bermuda law, and Mr Firestone said he does "not feel comfortable taking a cruise on a ship registered in a jurisdiction that does not accept my marriage."
Buzzfeed reported that Mr Firestone has begun discussions with a range of lawyers, business leaders, and advocates for the LGBT community to "oppose Cunard's stance and to try in turn to make clear to Bermuda that there are consequences to doing this in the 21st century".
The US-based LGBTQ rights group OutRight Action International have said a "misguided reaction is unfolding", and have called for people to not boycott Bermuda, saying the "campaign stands to hurt rather than help" and have called for people to "instead learn how to empower local organizations and the movement there."
Last week lawyer Mark Pettingill — who represented Greg DeRoche and Winston Godwin in 2017 — filed a motion on behalf of a client challenging the constitutional aspects of the Domestic Partnership Act.
Mr Pettingill told Bernews that Roderick Ferguson, a Bermudian man living in the United States, filed this lawsuit because "the right to have a same-sex marriage has been taken away."
The former Attorney-General maintained that as Bermuda created legislation that removes it, the Domestic Partnership Act is unconstitutional.
The Orginating Summons filed [PDF] is seeking an Order declaring that the "Domestic Partnership Act 2018, in so far as its effect is to reverse the decision in the case of Godwin & Deroche v The Registrar General, the Attorney General et al [2017] SC (Bda) 36 Civ, notwithstanding provisions of the Human Rights Act 1981, is void."

Read More About