Minister of National Security Wayne Caines held a lunch and learn event today [Feb 21] to discuss cryptocurrency, blockchain, and other aspects of digital currency, with the Minister joined by industry experts and attendees to discuss and the Government's plans.
"This is a phenomenal opportunity for our country to grow," said the Minister, who noted Bermuda's strong reputation as a "prudent jurisdiction," stressing that they plan to do things well, ensuring the arena is well regulated and vetting people who may become involved.
Minister Caines said they want to create legislation for ICOs, asset exchange and digital ID; saying that these things are 'in train' and have to go through the process.
The Minister said they want to get legislation to the House next month, and noted that he was very enthused and added that birthdays, holidays and weekends are "cancelled" as they work towards that goal.
The 1 hour and 45 minute live video replay is below:
Speaking on e-residency and EID, Minister Caines said he wanted to clarify, causing attendees to laugh when he said if people do not understand the concept correctly, they "will be like Caines is giving the island away."
"We have to have a conversation," the Minister said, adding that they feel it can be a "significant money earner" which can help everyone in the country, and "if we take our time and do it right, it will be seismic."
Premier David Burt also stopped by the event today and reiterated comments he made in the 2018 Budget, where he said, "The growth of digital currencies is among the fastest-growing areas of global economic activity.
"Blockchain-based technologies have the potential to transform the way in which business in the world is conducted. While digital currencies are the first breakout area, there will be many more advances, and the Government wants to ensure that Bermuda is positioned to benefit.
"In keeping with Bermuda's international reputation for sound regulation, the Government has assembled leaders in this area of emerging technology to develop a legal framework and regulatory regime that is strict but does not stifle innovation.
The attendees at today's event: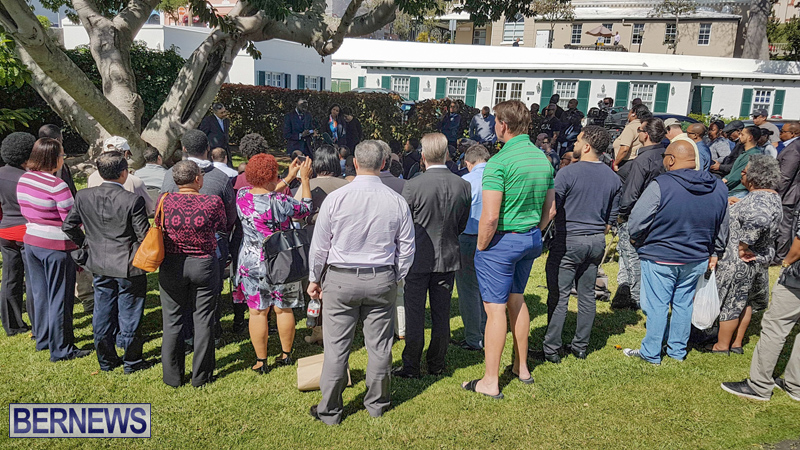 "Bermuda will be well served by the economic growth and jobs that this emerging industry can bring to our economy," Premier Burt said.
"The Government is moving at a pace reflective of the urgency of the need, while prudently ensuring that this new sector is internationally respected for its sound regulation and adherence to the highest standards of compliance, for which Bermuda is known.
"The Government, in conjunction with the Bermuda Monetary Authority, is currently developing legislation to govern Bermuda-based initial coin offerings and will, consistent with our vision, build a world-class regulatory framework for the oversight of digital asset exchanges and digital currency businesses in Bermuda."

Read More About
Category: All, News, technology, Videos