The final phase of the 2018 FEI World Jumping Challenge [FEI WJC] will take place on Saturday, March 31 at the National Equestrian Federation on Vesey Street in Devonshire, beginning at 10.15am.
A spokesperson said, "The FEI WJC is unique in that it provides Bermuda riders with an opportunity to compete against other countries without the need to travel overseas. Competitors from 10 different geographical zones compete over identical jumping courses designed, this year, by Jaime Morillo of Ecuador.
"In addition to a Regional Team ranking, the competition provides for an Individual ranking per Country, per Region and for the World for all 3 jumping height categories [Cat. A 1.20 – 1.30m Cat. B 1.10 – 1.20m and Cat C. 1.00 – 1.10m]."
Kayla Bardgett riding Causing Chaos [photo courtesy of Andy Gibbs]: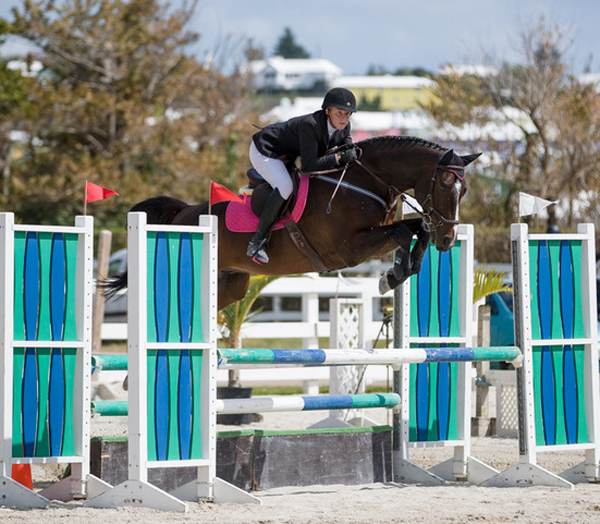 "Although three separate competition events are held, only the results of the best two competitions per category will count towards the final rankings.
"FEI Judge Wendy Chapot Nunn of the USA and FEI Judge Judy Hagen of Bermuda will judge this weekend's event.
"This event promises to be exciting and spectators are encouraged to support and cheer our local riders as they compete against riders from around the globe. There is no admission charge.
"The Bermuda Equestrian Federation extends its sincere thanks to its generous sponsors. Gold Sponsor: Clarien Bank. Silver Sponsors: Freisenbruch-Meyer Group of Companies and Hiscox Re. Bronze Sponsors: the Stempel Family and the Portelli Family and also to Sousa's Gardens for sponsoring the plants."

Read More About