Justin Donawa was crowned the triple jump champion at the 2018 Ivy League Heptagonal Championship, marking his second Ivy League title of the year as he is also a member of the championship soccer team; making the Bermudian athlete the first to accomplish this 'double feat' since the 1990s.
Donawa attends Dartmouth College and school's report said, "The Dartmouth men's track & field team finished fourth at the 2018 Ivy League Heptagonal Championship inside Leverone Field House on Sunday.
Donawa in action for Dartmouth College: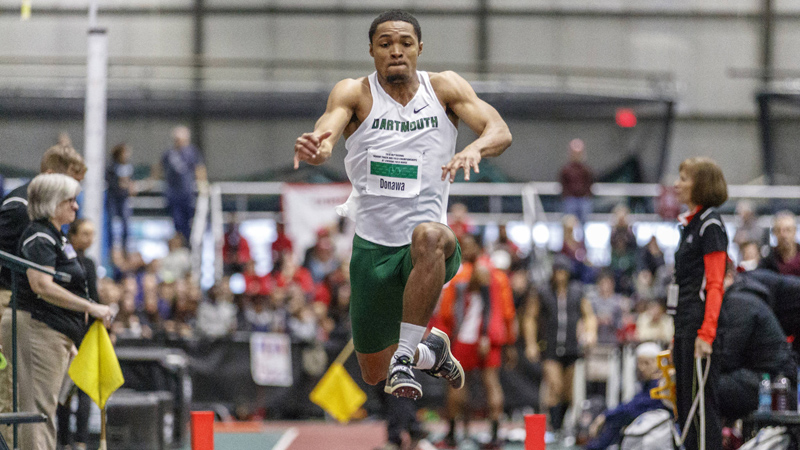 "In an impressive performance that stunned many in Ivy League circles, but few at Dartmouth, junior Justin Donawa was crowned as the conference champion in the triple jump.
"Donawa's 15.57m/51-1.0 came on his first attempt of the day and was good enough to secure him the title and the 10 points. After finishing fourth in last year's meet, Donawa took the crown at home and snapped Harvard [3] and Princeton's [4] seven-year stranglehold on the triple jump title.
"It was his second Ivy League title of the year as Donawa is also a member of the Big Green men's soccer team that captured the Ancient Eight crown.
"In the process, he became the first Dartmouth student-athlete to win a team championship in another sport and an individual Heps title in the same year since Adam Nelson '97 won a championship with football during the 1996 season and both the indoor and outdoor shot put in 1997."
Justin Donawa — who has represented Bermuda internationally in both football and track & field sporting events — is following in his family's footsteps with his outstanding sports showings, with the Donawa family having a long history of athletic excellence.
Video of Donawa's first college football goal in 2015, an impressive shot from some 40 yards out
Hey @TopDrawerSoccer how about this blast from Justin Donawa '19 for goal of the week. pic.twitter.com/NUR2UkIzvc

— Dartmouth M Soccer (@DartmouthMSoc) October 26, 2015

Read More About