Dellwood Middle School officially launched their M3 Drama T.E.A.M.'s Stop the Violence campaign 'SOS Save Our Sons' this morning [March 1], with the extremely well done presentation impressing all those in attendance.
M3 Drama Team with Drama Teacher Nishanthi Bailey and Dellwood Principal Tina Duke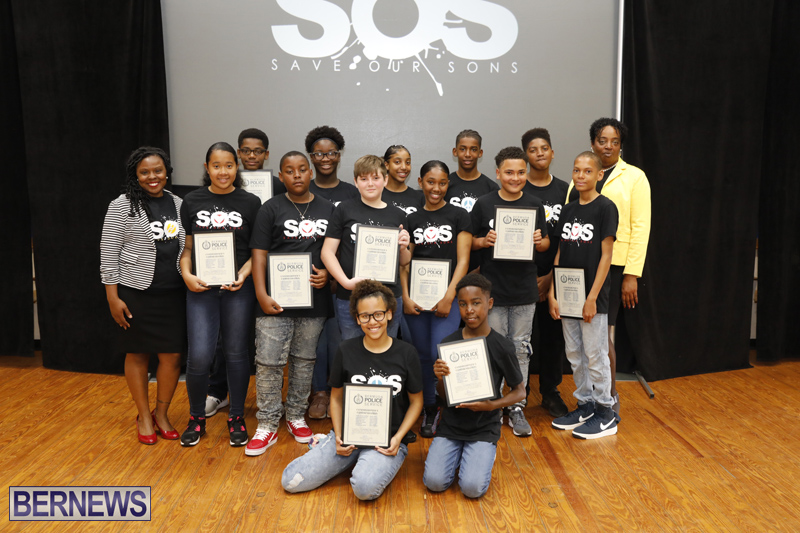 Everyone who spoke today expressed exactly how impressed they were by the students efforts, with Director of Public Prosecutions Larry Mussenden calling the video "one of the most powerful messages he has ever seen", while Nicole Fox, the mother of a murder victim, praised the students for their efforts and said everyone needs to see this video.
Lamone Woods produced the video, and he told those in attendance today that not only did the students make his job very easy, the young people actually inspired him.
The students and Ms Bailey received well deserved certificates from the Bermuda Police Service for their efforts, and the police expressed their support for the initiative, saying they are "one thousand times behind it."
Dellwood's anti-violence video which they hope will be a catalyst for change:
The video credit roll states it was written and performed by Dellwood Middle School M3 Drama T.E.A.M. [Taking Edutainment Above Mediocrity], consisting of Te'syah-Mahlé Astwood, Keanu Ball Severin, Zanai'A Bascome, Nyindae Berry-Hollis, Jahni Darrell, Camajé Easton-Smith, Makai Furbert, Nanami Ingram, Elijah Samuels, Kimahja Smith, Anthony Sousa, Njeri Thomas and Nyoaki Williams.
The video was arranged and directed by Dellwood Middle School Theatre & Drama Teacher Miss Nishanthi Bailey, and the film, video production and editing was done by Lamone Woods of Crimson Multimedia, while the audio recording was done Jason "Jugglin J" Ford.
The 54-minute live video replay of this morning's presentation:

Read More About