The Bermuda Economic Development Corporation [BEDC] recently opened the door for a local entrepreneur to be featured in a popular vendor market based in Brooklyn, New York on Saturday, March 10th 2018.
BEDC arranged for local business owner Felica DeRoza, of Butterfli [a brand of locally produced soaps, body creams and lotions] to sell her wares at The Reserve earlier last month.
Described as a multi-sensory shopping and networking experience, the event aims to stimulate business growth for multicultural business owners, while also providing a fun, inspiring and interactive experience for guests.
Set up as a way for millennial consumers to engage with new brands, as well as the entrepreneurs behind those products and services, it attracts the attention of some of the Big Apple's biggest influencers and trendsetters.
According to Erica Smith, the Executive Director of the BEDC, one of the Corporation's biggest goals is to create international opportunities for local entrepreneurs.
"We are always looking to provide opportunities for local business owners to grow and thrive," stated Ms Smith.
"In this case, we were hoping to bring at least one entrepreneur or vendor with us to New York, to gain greater overseas exposure and show off their Bermuda branded products to a wider audience. The trip was planned with short notice, but we reached out to Felica DeRoza, who has gained a steady following for her handmade soaps and other products utilising Bermuda-based ingredients."
Felica DeRoza shows off her Bermuda inspired soaps, lotions and creams at vendor market, The Reserve, in New York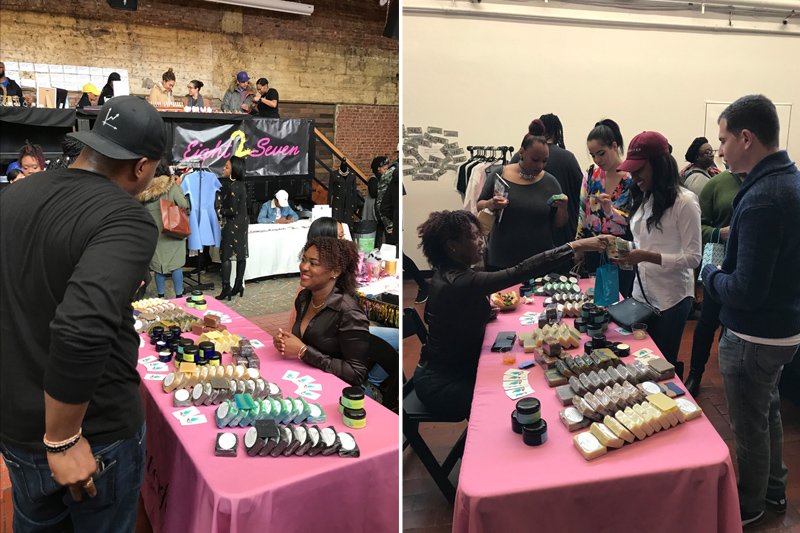 "She was excited to take part in The Reserve, a vendor market set in an eclectic co-working space in Brooklyn Commons, hosted by Driven Society. It was a chance for BEDC, as well as Felica, to engage with a dynamic community of influencers, as well as network with entrepreneurs from around New York City."
The Reserve allows patrons to browse through booths selling jewellery, clothing, candles, haircare products and other wares, while they also enjoy features such as an open bar, facial and mini-massage stations, as well as a 'Selfie-Cam'.
Felica DeRoza said it was an honor to be selected as the first Bermuda vendor to travel to the United States, along with the BEDC team, to experience The Reserve.
"I had an amazing experience. Butterfli was welcomed into the Brooklyn community with grace and excitement," Ms DeRoza said. "The event itself was phenomenal.
"The Brooklyn Commons provided an amazing backdrop and included a great mix of unique vendors, including barbers, beauty therapists doing mini facials; and specialty food and alcohol concessions."
Ms DeRoza at the Reserve with BEDC representatives [left to right]: Jamillah Lodge, Ray Jones and Valita Brown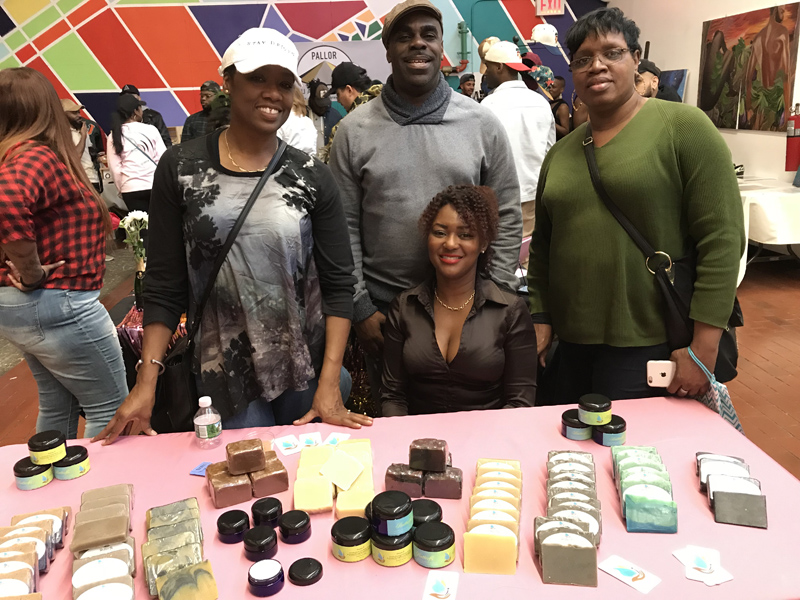 "It added to the overall atmosphere and encouraged attendees to socialize more than the usual in and out, which tends to happen at markets in Bermuda.
"The attendees were amazed at the Butterfli product selection, shocked to find out we flew into New York that morning, all products were handmade by me and to find products geared specifically for their skin care needs."
"They appreciated that I was able to answer their many questions and provide recommendations. Some attendees stated they will be in Bermuda in the coming weeks and months, and I look forward to meeting them again."
The small business owner is hopeful that similar events can be created on Island. In the future, she also hopes other vendors will get the chance to take advantage of this experience and other overseas markets as well. "There were so many lessons to be gained from my time at The Reserve," she added. "My aim was to promote the BEDC, Bermuda and Butterfli as well as expected."
This event was just the first of several that the BEDC intends to partner with the Driven Society on. There will be a larger vendor opportunity in New York in June that the BEDC is working with Driven Society on to create more opportunities for participation by local vendors.
Ondreyah Rochester, BEDC Trainee Economic Development Officer and lead coordinator for the June event stated, "We are excited about the opportunity to have more of our local vendors showcased at this international event in New York." She continued, BEDC is working on criteria for application and will follow up with more information about how to get involved."
For those who would be interested in participating in the June event, call 292-5570 or email orochester@bedc.bm. To learn more about upcoming events offered by the Driven Society, visit www.drivensociety.com.
Read More About
Category: All, Business, Entertainment, News, Style & Beauty