Bermuda residents will have an opportunity to discover various career, development and training opportunities available in the maritime industry, thanks to a partnership with the Bermuda Economic Development Corporation [BEDC], Bermuda Yacht Services and EDcellerate.
In preparation for the St. George's Marine Expo 2018, taking place on Sunday, April 8th at Ordnance Island, BEDC have conducted a series of presentations to encourage some of the Island's young people to consider career opportunities in the Marine Industry.
In March, Ray Lambert, on behalf of BEDC, took part in Endeavour Maritime Careers Springboard Programme by providing helpful tips and suggestions for budding entrepreneurs and those looking to be successful in their efforts to enter the maritime industry.
BEDC also conducted a presentation to a group of middle school guidance counselors at Whitney Institute to offer them a better understanding of some of the programmes and opportunities available.
Photos are from a recent Berkeley presentation hosted by BEDC's Raymond Lambert, Mark Soares of Bermuda Yacht Services and Sandra Dill, of EDcellerate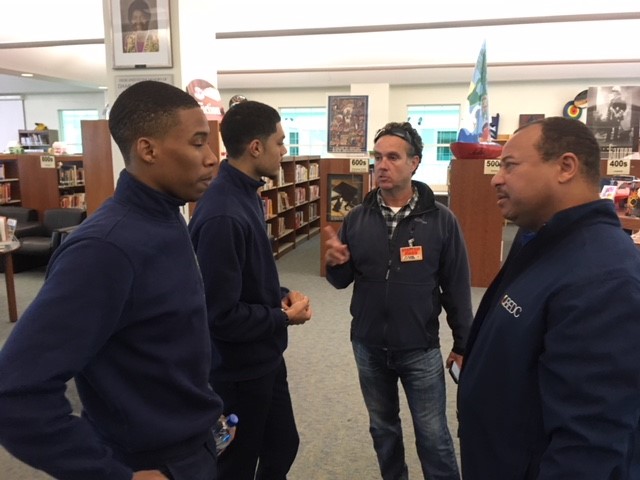 Last week, BEDC, Bermuda Yacht Services and EDcellerate went a step further by presenting at Berkeley Institute. Additionally, Sandra Dill, a college and career preparatory coach and owner of EDcellerate, will host a college and career booth at this Sunday's event for those interested in gathering more information about educational and career pathways in the marine or maritime industry.
Raymond Lambert, BEDC's Economic Development Officer for St. George's, said: "We are excited as this is the very first time the St. George's Marine Expo will feature a college and career information booth as one of our many highlights.
"By exposing young people to new and diverse education and training opportunities, we hope to help show our young people some of the programmes that are available for summer job and career opportunities. It is our aim that by educating residents on these areas in the marine and maritime industry, that it might stimulate growth and development of new entrepreneurs."
According to Mark Soares, Managing Director of Bermuda Yacht Services, the Marine Expo has always had an educational component to it, as organisers seek to make Bermudians more aware of the diversity within the Island's marine industry.
"Bermuda is a tiny island, surrounded by water and historically have always had a marine industry," he said. "By adding this component, we want to show Bermuda's young people that this is a viable industry and let them know there are great job opportunities in this field, whether you're interested in marine mechanics or want to train overseas to get qualified to become a captain."

Mr. Soares said the talks last week to students and teachers were powerful and many of their eyes were opened to new career options – from being crew or a captain on a charter boat, to a marine electrician or marine scientist.
"There are a host of marine related industries, which aren't actively exposed to our young people, so we use this presentation to help inform the kids of all the different avenues they can take to use their passions and interests and work in the maritime industry," Mr. Soares said.
One overseas college, New England Institute of Technology, will have a representative on hand at the Marine Expo to talk to interested or prospective students about its range of marine industry training courses. NEIT is not new to Bermuda. Twenty-six Bermudians have studied at the NEIT over the past three years.
Information and literature about programmes and courses from other colleges and universities from Canada, the UK and the US will also be available. Ms. Dill said: "We are looking to expose attendees to the different degrees or certifications in that industry, so they can broaden their horizons when it comes to maritime careers. So far, many of the young people we have spoken to have been surprised to learn there were so many different opportunities out there for them."
The 3rd Annual St. George's Marine Expo, hosted by Bermuda Economic Development Corporation [BEDC] along with title sponsor RUBiS Energy Bermuda, will feature entertainment, demonstrations, an art exhibition, races and a variety of vendors showcasing marine products and services. For more information, call 292-5570 or email info@bedc.bm.
Read More About
Category: All