[Opinion column written by Glenn Fubler]
Flora Duffy's performance this past weekend was far more than a victory in a sporting event. As Minister Michael Weeks pointed out; "..those who attended on Saturday, experienced something special." The Opposition Leader – Jean Atherden noted; "..it was an inspiration to all".
The response of the wider community during the MS Amlin World Triathlon Bermuda was euphoric. World Champion Flora demonstrated how a person from 'small Bermuda' could perform on the Global stage. Our community's response gave us a glimpse of our collective "Better Selves".
Flora was one of the smaller participants in Saturday's race– she's only 5ft 4.5ins. Her size contrasts with those towering figures from Bermuda's Sporting History: our only Olympic Medal-holder – Clarence Hill, Commonwealth Gold Medallist – Clarence 'Nicky' Saunders or Premier League 'Pioneer' Clyde Best.
She demonstrates to our young people that 'size' doesn't matter; either from the perspective of personal dimensions or the population of their island home.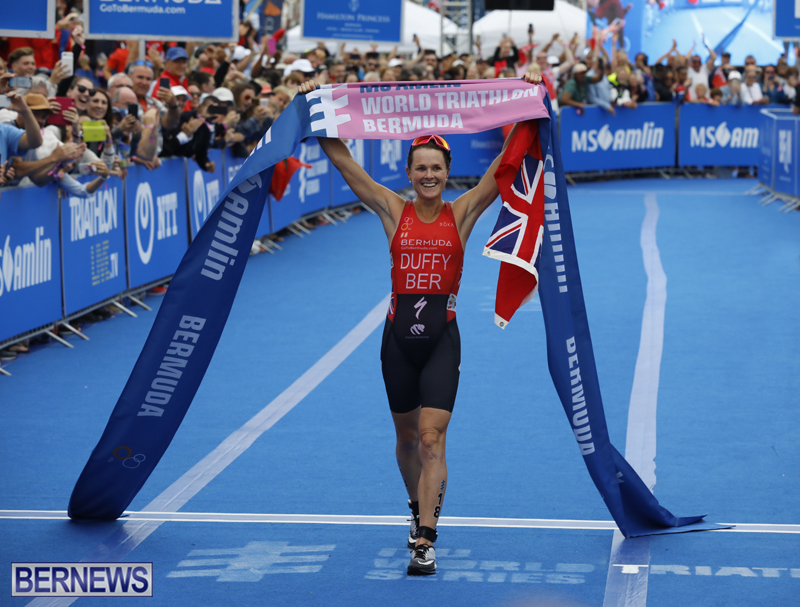 It could be that the 'something special' that Minister Weeks noticed about Saturday's event is a phenomenon that Prof. Otto Scharmer of MIT discusses in his work on societal transformation. Scharmer has explored a variety of societies undergoing significant change over the past few decades and finds that real progress takes place when countries build on glimpses of 'something special'.
The 'something special' that I detected down on Front Street on Saturday was an authentic sense of solidarity amongst the diverse crowd of hundreds that were in attendance. It was a response to Flora's genuine humility in the face of her extraordinary performance – something that is found in the vast majority of Bermudian exemplars in sporting and other areas.
Of course we know that Flora is 'standing on the shoulders of giants'. Those whose international success came before her were supported by a strong network. Notable supportive exemplars would include Sammy Wilson whose work at the Centre provided the foundation for Clarence Hill; Conrad Symonds at Somerset Cricket Club's former football coach did the same for Clyde Best. Of course, Clive Long and Randy Benjamin developed a strong foundation for local Track & Field which benefited Clarence Saunders.
Triathlon was something of a special niche and Jim Butterfield was a local pioneer who found success on the global stage. People such as Dave Morrison created a network for young tri-athletes – with scores of youngsters making 10 mile rides at 5 am, several mornings per week. This would have been the 'climate' that led Flora to blossom.
Flora Duffy speaks after motorcade
Upoun reflection, Bermuda has benefited for a rich heritage of mostly volunteers in a variety of sporting endeavours. The collaboration of that network benefited many. We are sure that Flora would be the first to credit that foundation as a key part of her success.
The MS Amlin Triathlon Bermuda success story demonstrated Bermuda leveraging the impact of America's Cup – notwithstanding any misgivings on that front. The work of the Corporation of Hamilton proved significant for this world class event- as 'Town' was transformed.
The collaboration of the Bermuda Government now means that over the next two years a sustainable platform for other international sporting events will be firmly embedded for our Island.
Flora has no doubt done her part – she was pleasantly surprised by our initial response. It is now up to the rest of us to take up the 'baton' that she is offering. We have seen a glimpse of the potential of building our sense of community solidarity – that 'something special'.
'Flora' means 'flower'. Our 'flower' has demonstrated that really 'size doesn't matter'. She is showing that we can 'get out', what we 'put in'.

Read More About