The World Triathlon organisation highlighted their 2022 event calendar, stating that Bermuda will host a race in November of this year, and noting that "the tropical paradise went triathlon crazy" and "collectively lost it" when Dame Flora Duffy won Bermuda's first ever Olympic gold medal.
The Triathlon website said, "We begin the 2022 World Triathlon Championship Series action already two events into a season that picked right up from the pandemic-punctured 2021, after WTCS Hamburg and WTCS Abu Dhabi kicked things off in style.
"The UAE capital will also host the 2022 Championship Finals, where the new world champions will be crowned in November. Two races in, seven to go, and WTCS Yokohama coming in hot this weekend – the best in the world are ready to toe the line again at last.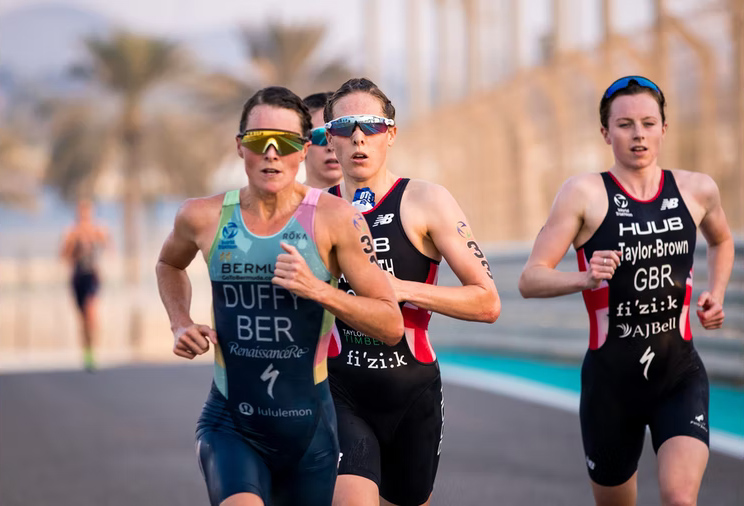 "Currently at number one in the men's Maurice Lacroix Rankings is Antonio Serrat Seoane, the 27-year-old who has been waiting patiently in the wings to pick up the Spanish torch held so long by Mario Mola and Javier Gomez. The German pair of Tim Hellwig and Lasse Nygaard Priester have each already amassed over 1,000 points. France's two-time World Champion Vincent Luis stands ominously by in sixth.
"The women's rankings look more familiar, headed by USA's Summer Rappaport and Germany's Laura Lindemann. Bermuda's WTCS Abu Dhabi winner Flora Duffy and 2020 champion Georgia Taylor-Brown [GBR] among the big names well in touch.
"Duffy is chasing an unprecedented fourth world title, a feat that would surely establish the Tokyo 2020 Olympic Champion as the greatest of all time."
As it pertains to the Bermuda event, the website said, "Bermuda is back! After two years out of the reckoning, the island returns to the calendar ready to deliver another blockbuster. The tropical paradise went triathlon crazy when hometown hero Flora Duffy won the first Series event here in 2018, and collectively lost it when she won the country's first ever Olympic gold in Tokyo.
"The party is sure to continue either side of the triathlon action, where the standard distance course again includes nine testing climbs of Flora Duffy [née Corkscrew] Hill. Norway swept the men's podium here in 2018, Katie Zaferes and Dorian Coninx won a year later. After two years out of the spotlight, Bermuda will be buzzing for its third outing."
The 2021 race in Bermuda was cancelled due to Covid, and the 2022 race will be held from November 5-6, giving Bermudians a chance to see our Olympic champion racing here on home soil.

Read More About