[Updated] The Bermuda Tourism Authority [BTA] holding a press conference this morning [August 10] to provide information on the 2018 second quarter visitor arrivals figures. We will have additional coverage later on and in the meantime the live video is below.
Update: The live broadcast has concluded and the 24-minute replay is below
Update 1.56pm: A spokesperson said, "The Bermuda tourism industry's growth trajectory continued through its tenth consecutive quarter, with both leisure air visitor spending and arrivals up solidly, the Bermuda Tourism Authority announced today.
"Vacationers who arrived by air spent six percent more in the second quarter of 2018 when compared to the same period a year ago, which included the 35th America's Cup. Meantime, vacation air arrivals shot up 15 percent year-over-year for the three-month stretch from April 1st to June 30th.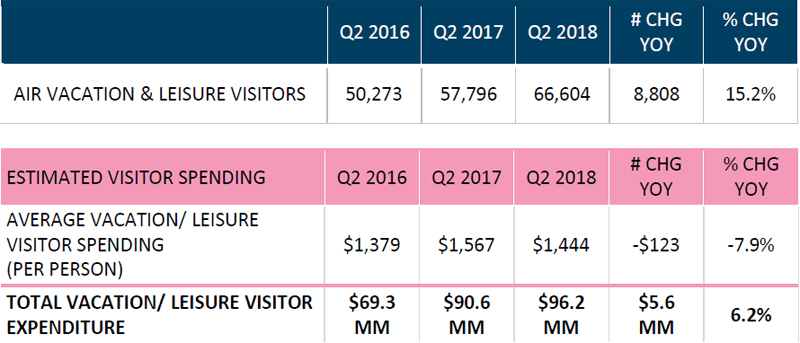 "Per person spending was down eight percent for the quarter, but since about 9,000 additional leisure air visitors came to the island the overall amount vacationers poured into the local economy was pushed higher.
"The Bermuda tourism economy has grown every quarter dating back to January 2016.
2018 Half 1 Performance
"The first half of the year was nothing short of spectacular compared to where we've been in recent history. We remain mindful that with a traditionally high volume third quarter there is limited capacity for further growth. We'll need to work hard, along with our stakeholders, to finish the year as strongly as we started it," said Bermuda Tourism Authority Chief Executive Kevin Dallas. "There will be fewer airline seats from JFK in this year's third quarter due to schedule fluctuations, so that presents a significant challenge."
"Additional airlift from Boston instigated a significant share of the growth thus far in 2018. Through the first six months air capacity from Boston is up 65 percent and leisure air arrivals from that market surged 66 percent.
"Overall leisure air arrivals grew 17 percent in the first half of the year, bringing an additional 13,422 vacationers to the island. Air vacationer spending is up ten percent when the first and second quarters are added together, which amounts to an additional $11.9 million dollars of direct spending for the island's tourism industry.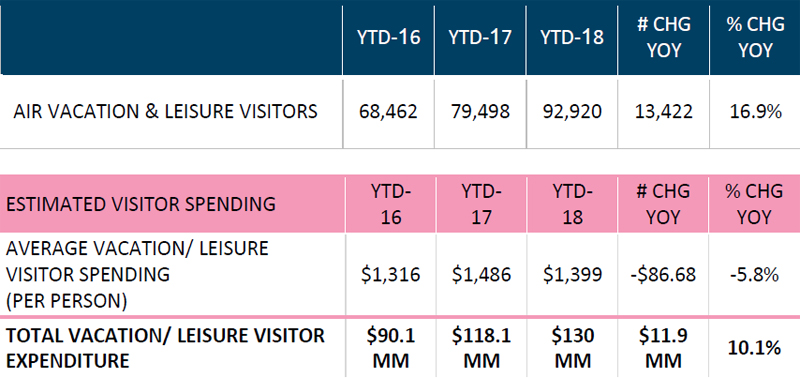 Accommodations Sector Performance
"The additional visitors in 2018 are driving hotel occupancy higher, up 5.3 percent through the first six months. Notably, June's island-wide hotel occupancy was 86.5 percent, the first time that number finished above 85 percent since 2007.
"Meantime, the average daily rate of a Bermuda hotel room this year is down two percent. Revenue for hotels remains strong though with RevPAR [revenue per available room] up three percent.
"The vacation rental market is also showing further growth, up eight percent in 2018 versus 2017.

Growth Trajectory
"Since 2015, second quarter leisure air visitor spending has risen from $60.6 million to $96.2 million. That's a move upward of 59 percent in three years, which equates to an additional $35.6 million for the local economy over the same three-month period.
"Meantime, leisure air visitor arrivals were 46,220 in the second quarter of 2015. In the second quarter of this year that figure was 66,604. That's an increase of 20,384 or 44 percent in three years.
Mr Dallas said: "Out here in Bermuda the tourism industry has been on a stunning comeback. It was reasonable to expect a slowdown in 2018, but the growth has continued. I congratulate all the people who are working long hours and thankless weekend shifts to service the increase in visitors coming to the island. Our collective efforts and market intelligence-driven strategies are restoring Bermuda to tourism prominence, where she belongs."
"Complete year-to-date visitor arrival statistics and the quarterly corporate activity report are available online."
The full Q2 2018 Visitor Arrivals Report follows below [PDF here]:

Read More About