[Updated] Unofficial information suggests that Justin Mathias has resigned as the Chairperson of the One Bermuda Alliance.
Party officials have thus far not issued any form of official statement, however multiple people with knowledge of the situation have confirmed that Mr Mathias has resigned his position.
He is the second person to resign from a position from within the OBA in the past few days, following after the resignation of Jeanne Atherden, who resigned as OBA Party Leader after eight MPs passed a motion of no confidence in her, with former leader Craig Cannonier being sworn in as Opposition Leader  earlier today.
Mr Mathias is pictured on the far left at yesterday's swearing in ceremony at Government House, at which point he was the OBA Chairperson. He is pictured with, left to right, OBA MPs Sylvan Richards and Scott Pearman, Deputy OBA Leader and Acting OBA Leader Leah Scott, newly sworn in Opposition Leader Craig Cannonier, and OBA MPs Susan Jackson, Ben Smith and Cole Simons.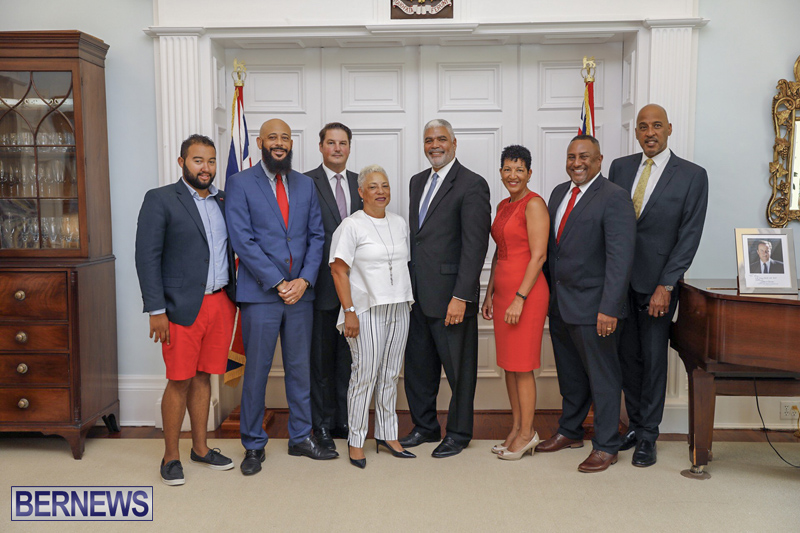 Update 10.57am: Speaking with Bernews, Acting OBA Leader Leah Scott confirmed that Mr Mathias has resigned, having submitted his resignation as Chairperson last night, with the resignation taking effect today.
Ms Scott noted that Mr Mathias remains a party member, and will remain as Chairperson of the Future Bermuda Alliance, the youth wing of the OBA.
Asked if any more resignations are expected, she said not that she knows of. She also confirmed they will be holding elections for Party Leader and Chairperson next month, and said "change is good, we are excited about the future of the party."
Update 11.34am: Nandi Outerbridge is now the Acting OBA Chairperson, which marks the second time she has served in this capacity, as Ms Outerbridge, one of the two Deputy Co-Chairs, also served as the Acting OBA Chairperson for a short time after Nick Kempe resigned as Chairperson last year.
Update 11.53am: This is the latest in a series of changes within the OBA over this past week; Jeanne Atherden resigned as OBA Party Leader, Craig Cannonier was sworn in as Opposition Leader, Leah Scott is the Acting OBA Leader, and Justin Mathias has resigned as OBA Chairperson.
Asked if there were any constitutional issues with Mr Cannonier replacing Ms Atherden, Ms Scott said, "No, as Ms Atherden resigned when she realized she didn't have the support of the majority of MPs, therefore creating a vacancy.
She also added, "Contrary to information circulated, all MPs had been invited by email to a meeting with a stated purpose of discussing leadership and strategy, and while eight MPs were able to attend, Ms Atherden, Mr Dunkley and Mr Moniz were not in attendance."
Read More About