Savvy Entertainment has announced that their first sporting event on the island will be the Poseidon Games Exhibition, which will be held on Saturday, October 6, from 12.00pm to 5.00pm at Cross Island Dockyard.
A spokesperson said, "A few months after taking over the leasing of Cross Island in Dockyard, Savvy Entertainment announces that its first sporting event on the island will be the Poseidon Games Exhibition. After much anticipation, the hydroflight event is set to take place on October 6th.
"Poseidon Games Exhibition will showcase three of the world's top hydroflight athletes. Athletes will perform some of the industry's most difficult tricks while commentators break down all the sport's details to the audience live."
"Cross Island was specifically designed as a water sports super arena and so it was only right that the first sporting event held on Cross Island since America's Cup be a water sports event," said Savvy COO Danilee Trott.
"It is very important to us to educate the public about the sport that is so dear to our hearts. Most people do not understand the level of skill that it takes to actually fly let alone be a professional hydroflight athlete."
"We designed this exhibition to not only be fun and interactive, but to really break down the mechanics of the sport in hopes of getting the public's attention and to inspire young people to take up the sport," said Savvy CEO Anthony Blakey.
"Poseidon Games Exhibition is free for the general public to attend. VIP tickets can be purchased at ptix.bm. VIP purchase includes athlete meet and great, tented seating, complementary drink tickets and free unlimited water. Other spectacular entertainment includes Bermuda Gombeys, inflatable bouncy castles, free hydroflight flying and a special shark sea breacher demonstration. Food and snack vendors will be on site for purchase.
"We would like to encourage the public and media to sign up for the Poseidon Games newsletter on the official website to stay informed about all the latest news about Poseidon Games.
"For more information about Poseidon Games visit the website."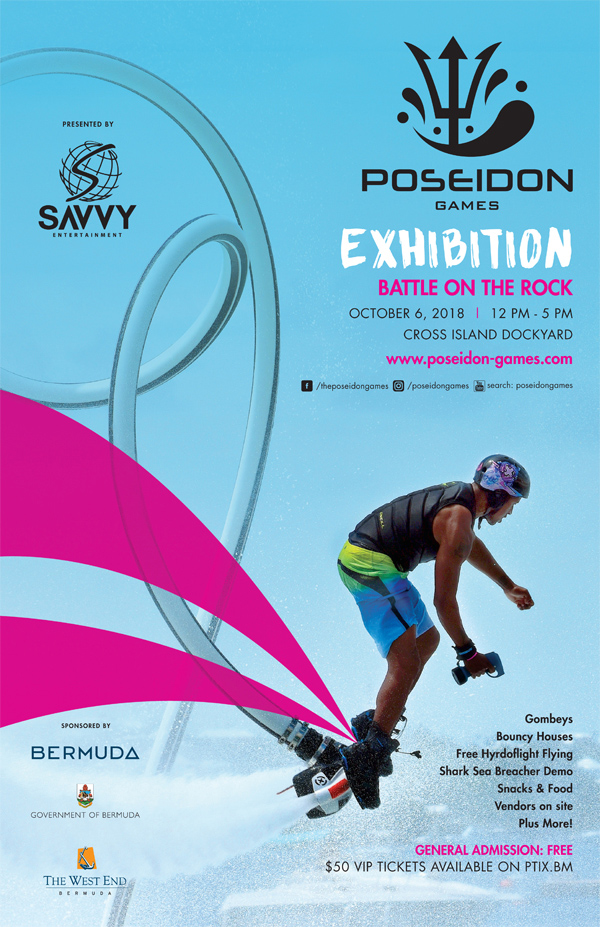 Read More About