Tedx Bermuda, the showcase for "ideas worth sharing", will be held again on Saturday, October 6th at the Fairmont Southampton, with a full lineup of interesting and engaging speakers.
Speakers will include Dr. Ayanna Howard, Professor and Chair, School of Interactive Computing at Georgia Tech; Eddie Sotto, President, CCO SottoStudios; Dr. Pradipta Ghosh, Professor of Cellular and Molecular Medicine, Founding Director, Center for Network Medicine, UCSD; Dr. Sam Wass, Developmental cognitive neuroscientist based at the University of East London; Jacqueline Olds and Richard Schwartz, Associate Professors of Psychiatry at Harvard Medical School; Michael Brett, Chief Executive Officer at QxBranch; and Coral Beats, Bermuda Women Brazilian Percussion Group.
A spokesperson said, "Eight speakers from various disciplines are coming to the Island, to inspire audience members with this year's theme being 'Connect'.
"Early bird pricing ends September 15th and tickets are being sold for $65 each, versus the regular pricing of $75 per ticket. Tickets can be purchased online at ptix.bm
Dr Ayanna Howard, Eddie Sotto, Dr Pradipta Ghosh, Dr Sam Wass, Michael Brett, Jacqueline Olds and Richard Schwartz, John Gardner, Marcel Adam Just, and Coral Beats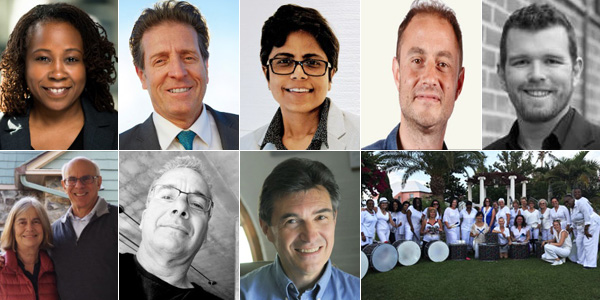 A spokesperson said, "Dr Ayanna Howard was recognized as one of the 23 most powerful women engineers in the world by business insider. Her work encompasses advancements in artificial intelligence [AI], assistive technologies, and robotics, has resulted in over 250 peer-reviewed publications.
"Eddie Sotto is a self-taught multifaced creative designer, with a career spanning over 30 years. Eddie branched into creating for television, restaurant, hotel and UHNW residential interiors, even into spacecraft and private aviation, where he won a recent IYAA award for best private Jet Concept. Eddie currently consults for Disney on marketing strategy and Resort R&D.
"Dr Pradipta Ghosh seeks to understand the fundamental rules of biological communication and networking with the intent to design drugs that can fix the broken machines in diverse diseases.
"Dr Sam Wass' research examines how concentration, stress and learning capacities develop during childhood. Sam was featured as an on-screen scientist in the award-wining Channel 4 series The Secret Life of 4, 5 and 6-year old's.
"Michael Brett is the CEO of QxBranch, which is a technology company solving challenging data analytics problems for finance, insurance, pharmaceuticals, media, and energy customers worldwide. QxBranch has a unique expertise in quantum computing, an emerging new technology that will have a transformative impact on computationally-expensive problems like optimization, machine learning, and chemical simulation.
"Jacqueline Olds and Richard Schwartz are a married couple who are both psychiatrists and psychoanalysts and have collaborated over many years. They share an interest in issues of loneliness and the difficulties of creating new relationships or maintaining old ones over time. They have published three books together, and they have also developed the first wearable tracker to 'dose' bright light therapy in the treatment of depression and other conditions.
"John Gardner is a local Bermudian architecture with an extensive career in architecture and design. In the last 7 years [because of frequent travel], his work has focused on the experience of flying. CNN Travel acknowledged his work in October 2017 as unique and revealing. John will be sharing insights arising from working uncharacteristically in a mass market, highly regulated and claustrophobic environment.
"Marcel Adam Just is a professor of Psychology and Director of the Center for Cognitive Brain Imagine at Carnegie Mellon University. His research investigates the nature of high-level human thought by relating it to the mechanisms of the underlying brain infrastructure. A person's thought or feelings are identifiable by machine learning programs, making it identifiable for the first time discover what someone is thinking or feeling. One application of this 'brain reading' approach is its potential to diagnose and suggest treatments for some psychiatric disorders. This research is in its infancy, but it is progressing rapidly and could enable a significant advance in understanding and enhancing human intellectual ability.
Coral Beats
"Coral Beats is an all woman Brazilian Samba Reggae Drum Band. Since its inception the group has grown to 30 members purely by word of mouth. Coral Beats is a diverse group of women having fun and building bonds that extend far beyond the music."
Read More About