Bermuda Broadcasting is set to launch a new business show — The Breakdown — starting tomorrow [Oct 4]
"Helping people to make sense of business matters in a changing economy – that is one of the key aims of a new television show produced by Bermuda Broadcasting," a company spokesperson said.
"The first episode of The Breakdown, a half-hour, weekly show, will air tomorrow [October 4]. It is hosted by Toni Waterman, who combines a wealth of broadcast experience with an infectious enthusiasm for all-things business.
"The theme of the first show is blockchain and Mrs Waterman's special guest is Brian Duperrault, doyen of Bermuda insurance executives. He will share his views on blockchain but also reveal what he sees as bigger game-changers for the insurance industry.
"There will be an interview with a Cabinet Minister who is helping to spearhead Bermuda's FinTech charge plus a panel discussion on blockchain's pros and cons.
The Breakdown's host, Toni Waterman, on set with Brian Duperrault of AIG.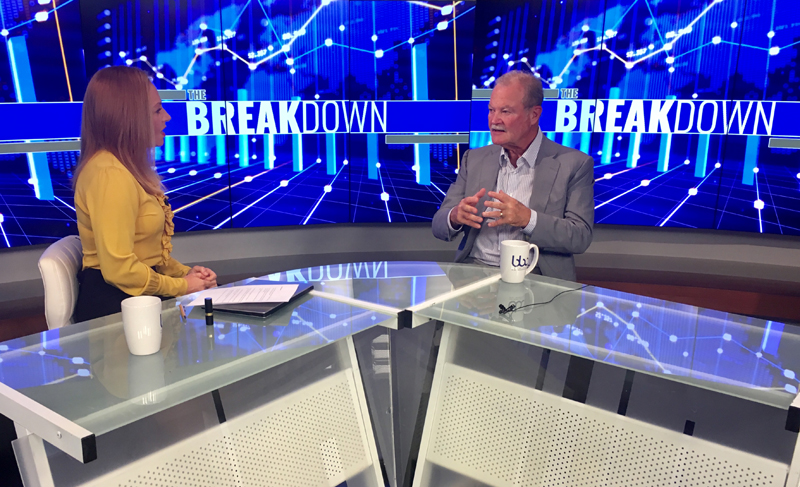 Mrs Waterman said: "The Breakdown will be not just informative, but engaging. The show will tackle big business concepts in Bermuda and tie them in to what's happening globally. I want to help people understand where Bermuda fits in the world.
"We'll be bringing you conversations you haven't heard before from industry insiders. We've got a line-up of new technology, including a large touchscreen, to help visually explain concepts like blockchain. And we'll be engaging with the public through social media and conversations on the street."
"An overarching aim of the show will be to simplify the complex and make seemingly abstract business matters relevant to everyday Bermudians," she said.
"Business scares a lot of people," Mrs Waterman says. "There are a lot of numbers and complicated terms. Yet, economics impacts every facet of our lives. It's hard to make sound decisions without understanding what's happening in the world of business.
"How do you know if now is the right time to buy that home? How should you invest for retirement? What does that new government policy mean for your income? The Breakdown will cut through all the complicated jargon to tell the actual story and what it means for you."
Patrick Singleton, Bermuda Broadcasting's CEO – who has a background in business journalism – is excited about the new show.
He said: "Business keep Bermuda's economy alive and everyone relies on business in some way – whether it's a mom and pop store operating out of their own home or a reinsurance giant. We want to tell this story and explain how business affects people.
"Content from The Breakdown will be shared online and will heighten Bermuda's profile overseas as a legitimate jurisdiction. Whether it's insurance, reinsurance, retail, financial services or tourism – the show will reinforce the fact that Bermuda is a fantastic place to do business."
The Breakdown will air on Thursday, October 4, on ZBM TV9 and ZFB TV7 at 8pm, and will be repeated at 9am on Sunday, October 7.
Read More About