As part of a major upgrade, the Bermuda Broadcasting Company has fired up two brand new radio transmitters that enhance audio quality for listeners island-wide, and the company said that "for the first time ever in Bermuda, viewers of terrestrial TV will soon be able to watch shows in beautiful high definition."
Trenches were dug to accommodate new fibre-optic cabling at Bermuda Broadcasting Company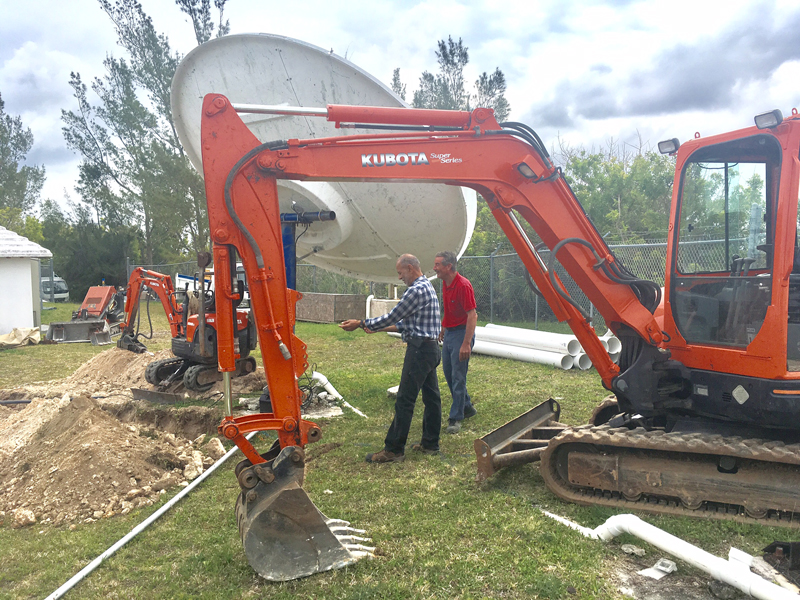 "Viewers who do not subscribe to a cable TV service will once again be able to access Bermuda Broadcasting's television service, which was severed when a lightning strike caused extensive damage at the station. Major repairs and upgrades are nearing completion and the terrestrial service will be restored well before the America's Cup in May," the company said.
Patrick Singleton, CEO of the Bermuda Broadcasting Company, is spearheading  technological upgrade at the station, alongside engineer Earlston Chapman and their management team.
Mr Singleton said: "Our radio stations Ocean 89 and Power 95 are already using the new gear and Inspire 105 is next, along with our two TV stations.
"The old transmitters have served us well but we want to be more eco-friendly with our power usage; the new transmitters are more powerful in their reach but also more energy efficient and we can tune them remotely. Engineers are now optimizing the audio output and we ask listeners to bear with us while we tweak the system."
Over at Inspire 105, a new antennae and cabling are being installed and these upgrades will take effect by the end of this month.
Mr Singleton explained that Inspire 105's reception has been quite weak in certain parts of the island, since the lightning strike, adding: "The new transmitter will enable Bermudians to fully enjoy the popular shows hosted by David Lopes and Kelly Zuill – wherever they are on the island."
The company added, "One of the most exciting developments will enable boat owners, among others, to enjoy America's Cup action in High Definition. Boaters watching the America's Cup on the Great Sound can listen to race feeds live on radio or watch TV in concert with the race. So when, for example, the Oracle boat is a few kilometres away, viewers can enjoy close-up action on big screens on their boats."
Mr Singleton said: "Our new UHF transmitters will enable us to show the America's Cup racing live and in HD for free, for all Bermudians."
Most TVs made within the last five years have digital UHF tuners already installed. People with older TVs will need to check if they have a digital UHF TV antennae; if not, a converter box can be purchased at most audio visual supply stores.
Mr Singleton said: "We are rolling out changes every week as part of a major, long-term investment by the owners of Bermuda Broadcasting, the benefits of which will stretch way beyond the excitement of the America's Cup.
"We have fully digitized, with a fibre backbone and we have new computers and improved workflows. This significant investment underscores the commitment of the owners and we want all islanders to take pride in what we do here at Bermuda Broadcasting."

Read More About
Category: All, Business, technology