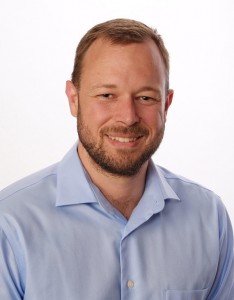 [Opinion column written by OBA Shadow Finance Minister Nick Kempe]
Over-taxation
It seems hard to believe that the current Government is pushing/planning to dramatically raise the total tax burden when businesses and individuals are feeling the crunch and our working population is down almost 1,500 people since 2016.
The Government budgeted for a current account deficit of under $30M for 2018/19, so why are they looking to add another $85M of new taxes in 2019/20 and yet another $30M on top of that again in 2020/21. Clearly with only $30M to go to balance the budget, $115M in new taxes is overkill to say the least on a community already struggling to make ends meet.
GDP is down, retail sales are down, business confidence is down, the working population is down: certainly doesn't seem like the right time to raise taxes beyond the bare minimum that is needed to balance the budget.
Given that this Government does not seem have much interest in tackling the Government expense side of the equation one can only assume that the cost of Government will simply swell to consume this "overtax".
More pain borne by less people
Our labour force is down and our economically inactive population is up which puts more pressure on Government to swiftly tackle the two elephants in the room. – our declining population and soaring healthcare costs. The total spend on health care rose 80% between 2004 and 2012 and only 3% between 2012 and 2016.
Recent actions by the PLP to unwind the cost containment measures implemented by the OBA to curb the overuse and overcharging of certain healthcare services should be of grave concern to every person in Bermuda that knows only too well the pain that double digit health care increases causes on take home pay.
Public and Private Health Financing [in $M]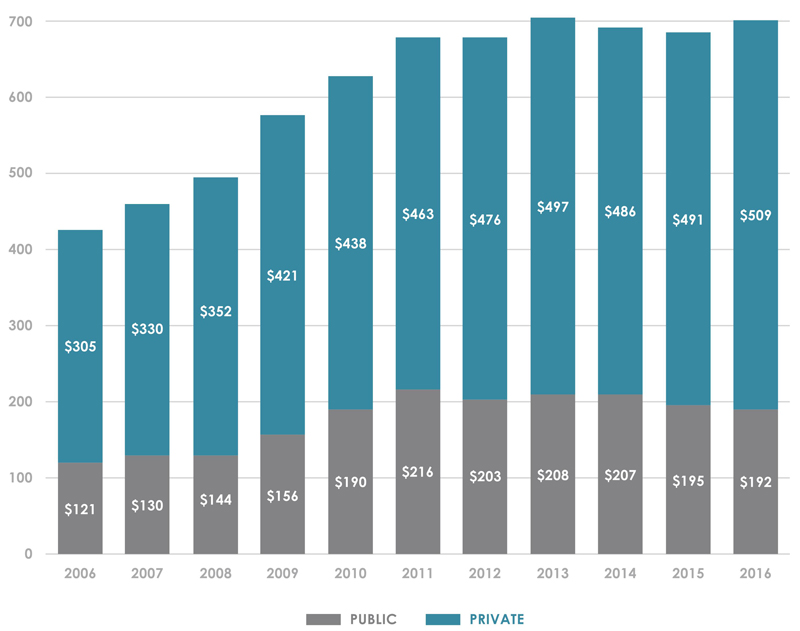 Source: http://www.bhec.bm/wp-content/uploads/2018/02/2017-NHA-Report-DRAFT-12-full-report-20180208.pdf p.15
Grow the base
Bermuda has a declining birthrate and without somehow increasing our younger working population [as well as tackling system abuse issues] the cost of health care will simply become unattainable for all. Our economy simply needs more people.
While a balance must always be struck to ensure that qualified Bermudians get a fair shake, the go-slow over the last few months in the processing of work permits under the outgoing Minister of Immigration Walton Brown's watch should be of concern to us all. We simply cannot afford to send jobs that are presently based in Bermuda to other more business friendly jurisdictions. The PLP government should have learned this lesson from past mistakes.
The Premier is correct when he says that there is no sense in opening up immigration if there are no jobs for people to go to. This begs the question of what are the PLP's stimulus plans? In June, the Premier promised 120 jobs to be created from 4 MOU's signed at the time, but since then Malta and Nigeria, not Bermuda, are mentioned in news about Binance. We need more than just unfulfilled Fintech promises.
Concerns about proposed taxes
The fact that the Tax Reform Commission even proposed a withholding tax that applies only to local businesses is as short-sighted as it is dangerous. "Ring-fencing" international businesses from local taxes is one of key items used to define a jurisdiction as a tax haven by the OECD.
Rental tax, the lion's share of which is residential, is probably the easiest tax to implement and the cheapest to collect but will directly attack the only source of real income increase for Bermudians in recent years. If, and this is a big IF given the rental market, Bermudian landlords are able to pass on the tax, then like all the other taxes in the Commission's Report it will simply drive up the cost of living for those that cannot afford to own their own home.
I commend the effort to explore different and potentially more equitable ways to restructure the way Government collects its revenue, however the rest of the taxes proposed are far more complicated to collect than our existing taxes.
I have questions about how efficient Government will be in its efforts to capture and enforce fair compliance of these new taxes. I also have serious concerns about the further compliance and administrative burdens that small businesses will have in order to collect and comply with the regulations.
More debt and continued deficits
Had the Premier pushed on with former Finance Minister Bob Richards' General Service tax targeted primarily on the legal and accounting sectors in the 2018/19 fiscal year [instead of the bitter tax on sugar], the budget would have been balanced by 2019 as promised in both Party's platforms. Instead, the country's finances experienced a year of slippage and the debt hole continues to grow deeper.
The recent refinancing of older, higher interest debt for cheaper debt at the lower current market rates is a smart move and is exactly what the OBA did when in Government. However, this recent move did more than simply refinance existing debt. It added an additional $226M in total borrowing which will put us terribly close to our debt ceiling. But as we know from past experience, debt ceilings don't seem to count for much with the PLP Government.
- Nick Kempe

20 Most Recent Opinion Columns

Opinion columns reflect the views of the writer, and not those of Bernews Ltd. To submit an Opinion Column/Letter to the Editor, please email info@bernews.com. Bernews welcomes submissions, and while there are no length restrictions, all columns must be signed by the writer's real name.
-
Read More About