Women who Own and Manage Businesses [WOMB] will be hosting their second annual market for female businesses this Wednesday [Nov 28] from 6.00pm to 9.00pm at the BAA Gymnasium.
"We are pleased and excited to bring this market to the holiday market circuit for the second year. The participants last year were so pleased and excited, many asked for the market to be held quarterly. Unfortunately, we don't have the capacity at this time to put on a quarterly market, but we are grateful to be able to bring this market for the second year," said Stephanie Lee, WOMB Facilitator and Market Organizer.
"We host this market on the Wednesday after Thanksgiving, as it is designated as 'Women Wednesday,' the day where shoppers around the world are encouraged to patronize female entrepreneurs in their community. As a part of our mandate, we host this market to provide a platform for the hundreds of female driven businesses in our community."
Over 30 businesses will be featured at this event, which is not limited to businesses with a physical product to sell, with Ms Lee adding that, "Service based businesses, and a few activity providers will be present. It's a great opportunity to bring children, and have them engaged with an activity while you browse."
"This is a platform to showcase yourself and your business. Bermuda's female entrepreneurs are the backbone of Bermuda's economy; whether large or small, operated full or part-time."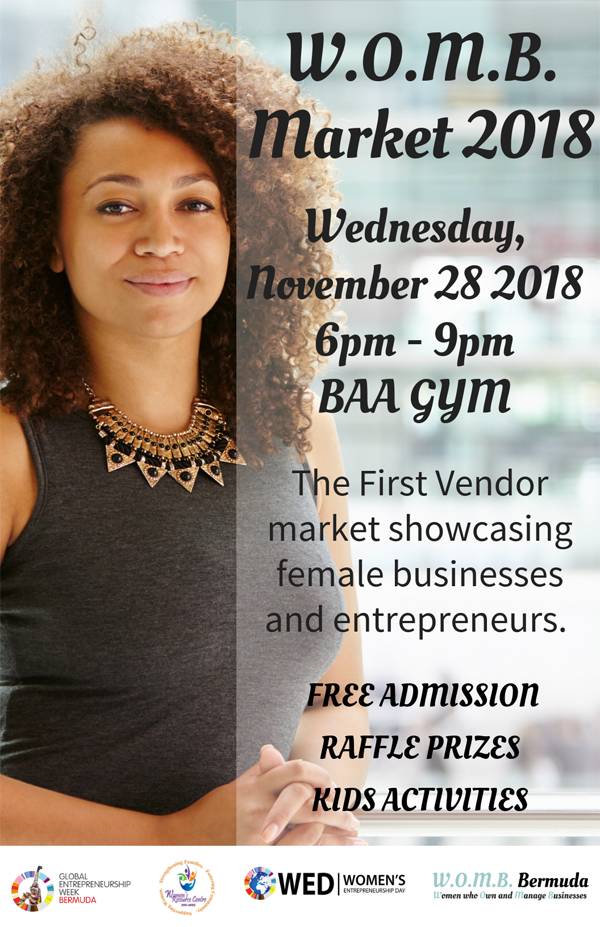 "Of course we encourage all of Bermuda to come out and support for Bermuda's female entrepreneurs. I am always pleasantly surprised and pleased by the quality of the offerings presented by vendors. By patronizing local businesses, you are helping these women provide for their families; which in turn benefits the country," Ms Lee said.
Current list of vendors:
Bridal Suite Bermuda
Marrakech Market
Wild Herbs N Plants of Bermuda
The Black Collective
Powerhouse Academy
Paw Paw Notes
Nubian Prints
Navi Delytz
Island Potions
SACRED – Faith Inspired Gifts
NaKID
Cherinas Fashion
Lady Macrame'
Scribbles Art Shack
Limestone + Cedar Co.
Lifestyles Co Ltd
Nubian Nook Bookstore & More
At His Feet
Mary Kay Cosmetics
Poetry
Sugar on Top
Aroma Love Bermuda
True Reflections
Ankh Designs
Rachel Sawden, Author
Klassiq Kidz
The Burning Bean
Twisted Creations
MNM Distributors / Alkaline Water
Thirty86
Endless Creations Pottery
Women's Resource Centre
BEDC/GEW
The Learning World
A Lover's Nature
Boyz to Men
There will also be a raffle draw, where items have been donated by female businesses, with part proceeds to be donated to the Women's Resource Centre. For more information about the market, visit the website here or email wombbermuda@gmail.com.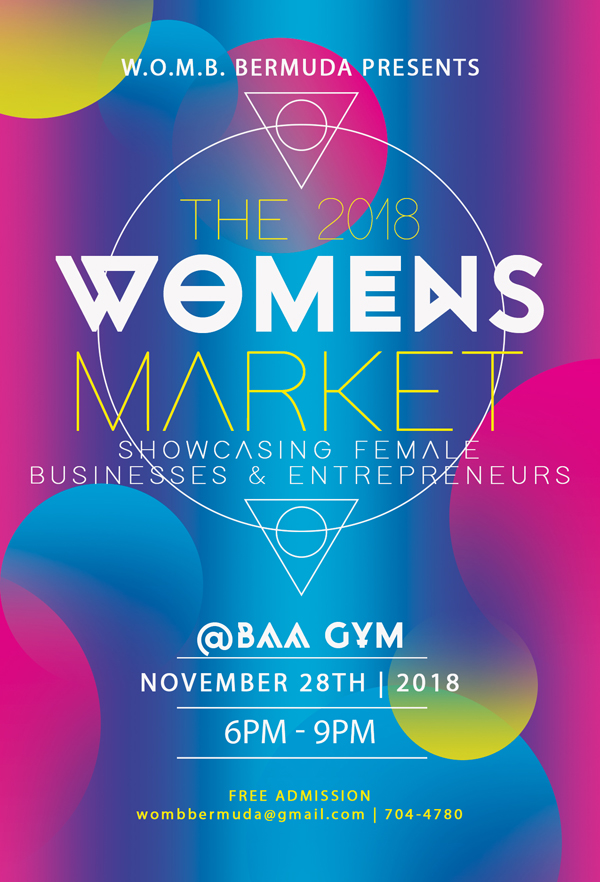 Read More About