Women who Own and Manage Businesses [WOMB] will be hosting a "Market Vendor Information Session" on Monday, August 17 from 6.30pm to 7.30pm.
A spokesperson said, "In these unusual times, businesses find themselves having to re-evaluate how they do business. Larger businesses have shifted to a remote working environment, other businesses are also looking to the internet for solutions.
"But what of those that rely on street festivals, flea markets, and car boot sales; most, if not all, of these annual spring and summer events have had to cancel, all in the name of safety. It is truly unfortunate as they provide opportunity for businesses yes, but also activity and entertainment for the community. But, these are not normal times."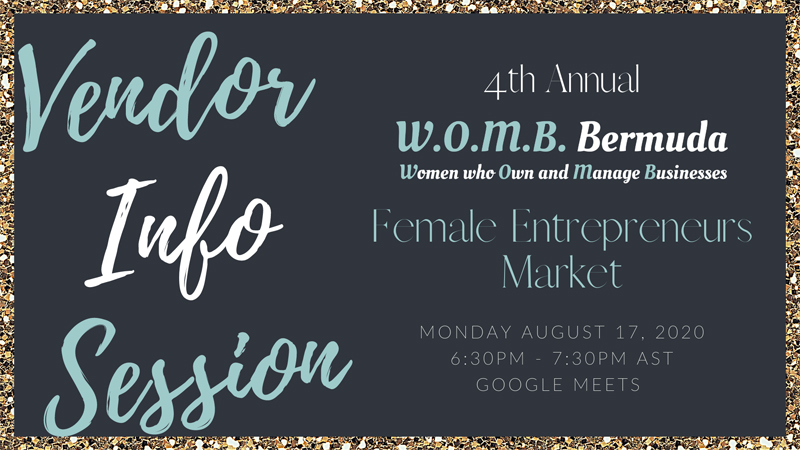 "'Knowing how important these events are for the community both economically and socially, I conducted hours of research to figure how to take a market digital. I had hoped to do something in spring, in the height of the lockdown and pandemic; unfortunately, things didn't pan out," said Stephanie Lee, founder of WOMB Bermuda and Facilitator for their annual market.
"As summer progressed, I watched how Bermuda handled the pandemic and celebrated as our active cases once decreased to zero. I was still hopeful to host the market in December. After a quick poll of the membership, it was felt having a virtual market would be best, to ensure everyone remains healthy. I've been able to find a platform that allows us to do just that-take the market experience online."
"An information session for persons interested in participating in the Virtual Market is being held Monday August 17 at 630 pm ADT. This platform allows us to engage with local and international businesses, reaching our Bermudian female-run business community around the world.
"As the organization is a female entrepreneur support group, we are limiting to women who run businesses in Bermuda or a Bermudian woman running her business from elsewhere in the world. This event is to provide them an opportunity to showcase their businesses."
"The way of the world right now is to maintain a sense of security while still creating normalcy. Small businesses have been heavily affected by the economic downturn COVID-19 has caused. The WOMB Market, which I have attended twice, has always been an event to look forward to. Although I've never been a vendor, it amazes me to see what so many women in Bermuda have to offer. While many are still getting accustomed to doing business solely online, now is the time to encourage small businesses to pivot and show the community that we are still open for business," shares Crystal-Lynn El, Founder of The Curvy Executive, a female owned Virtual Assistant firm in Bermuda.
Ms Lee added, "The market is being planned to run December 2 – 5, 2020. The Wednesday following Thanksgiving, this year is December 2, is acknowledged as #ChooseWomen Wednesday, a global campaign designed to elevate female owned and run businesses, encouraging people in their communities and globally to support them. Data shows that when women are economically empowered, their communities thrive."
"I am excited to be able to provide this opportunity for vendors and participants alike. Persons can register online for the information session here. For more information about WOMB or the market email wombbermuda@gmail.com."
Read More About