A group forum for female entrepreneurs is set to be held by Stephanie Lee of SociaLEE Consulting, with the first event to be held on September 22 at 5.30pm at Muse Skybar and Restaurant, with subsequent events on October 20, November 16, and December 15.
Regarding the idea for the forum, Ms. Lee said, "It was after a session on Women in Entrepreneurship hosted by the Bermuda Economic Development Corporation. This session, which was one of few sessions held specifically for women, was different; it was real.
"The presenters discussed some of their struggles and difficulties faced as female entrepreneurs. Topics ranged from trying to keep a family together as a single mother, to family and friends not believing in them, in their dream, because they are called 'woman'.
"Every soul in the standing room only audience was affected. This made me realise there aren't many, if any, opportunities for female entrepreneurs to meet and find support in someone else who might be going through similar challenges.
"Shortly after attending this session, the idea I had been incubating was born an online forum for women W.O.M.B [Women who Own and Manage BusinessBermuda].
"The W.O.M.B Facebook group, grew to a population of over 250 in 72 hours. That told me something; women want and need a platform to connect, without many of the perceived barriers, like industry, class, or income."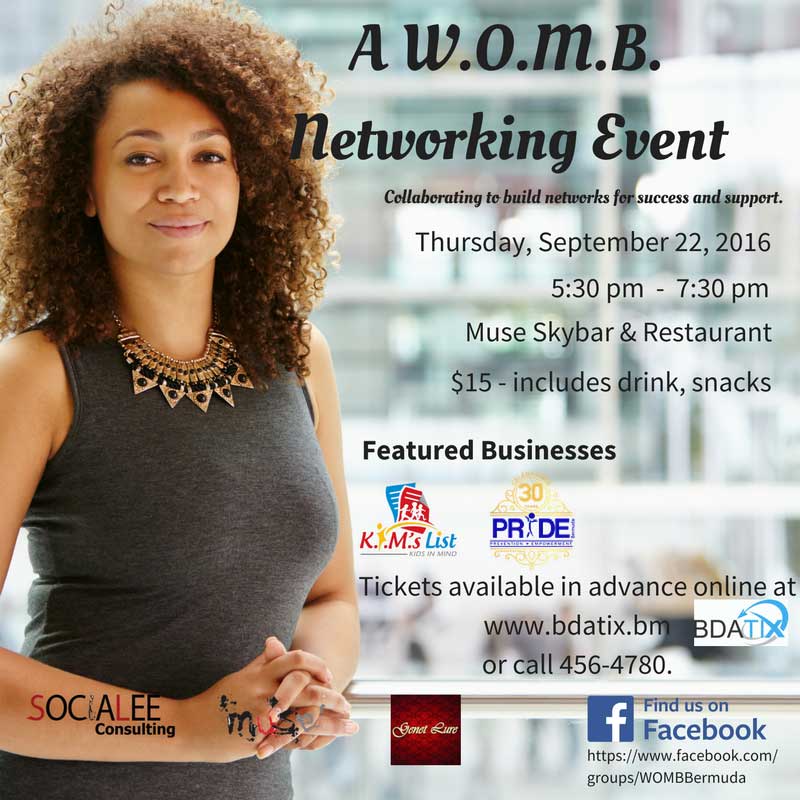 "Although the Facebook platform provides an outlet, I wanted to create more engagement amongst women and therefore have organised a series of networking events. At these events women can connect, interact and engage with other female entrepreneurs and leaders. They also have an opportunity to promote their business to a captive audience.
"Bermuda has a strong backbone comprised of women; it's time we honour and support each other."
The first event in the series is scheduled for Thursday, September 22, from 5.30pm at Muse Skybar and Restaurant and will feature female led businesses servicing school-aged youth: PRIDE Bermuda, a local charity that focuses on educating parents and youth on the harmful effects of drugs and alcohol, while teaching skills to manage life's stressors; The Learning World of Bermuda, a Teacher's supply store featuring educational products and activities; and K.I.M.'s List, a local resource website for parents to find information on products, businesses, and services that service children and youth.
Future events will feature other businesses from all sectors and industries. Subsequent dates are October 20, November 16 and December 15. The session in November will be held in conjunction with the Bermuda Economic Development Corporation [BEDC] for Women in Entrepreneurship Day.
Erica Smith, Executive Director of the BEDC, said, "The BEDC is pleased to partner with Stephanie on Women in Entrepreneurship Day. Entrepreneurship has been a game changer for many women all over the world and it is fitting that we celebrate this fact and the impact that women entrepreneurs have made locally during Global Entrepreneurship Week."
The $15 admission includes a drink and snacks, with proceeds going toward the funding of future events and activities. Tickets can be purchased in advance from Ms. Lee by calling 456-4780 or online at bdatix.bm; walk ups are welcome. In case of inclement weather due, the event will be held next week.
Read More About